Chris Hemsworth Would Be 'Perfect' For Guardians of the Galaxy Vol. 3, Dave Bautista Says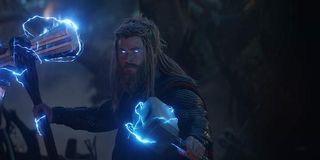 When Avengers: Endgame... well, ended, Chris Hemsworth's Thor and the surviving Guardians of the Galaxy left Earth for places unknown. They had just won a costly battle against the alien despot Thanos and were itching for a fresh start.
While this may seemingly confirm Chris Hemsworth's inclusion in the still-distant Guardians of the Galaxy Vol. 3, it actually doesn't guarantee anything. Even if Hemsworth is seriously interested in appearing. Dave Bautista, who portrayed Drax in every film in which the Guardians appeared, echoed Chris Hemsworth's enthusiasm.
In an interview with The Hollywood Reporter, Dave Bautista said:
Chris Hemsworth (and his co-stars) showed off some serious comedic chops in 2017's Thor: Ragnarok, which, to no one's surprise, proved to be both a critical and commercial success. Even Dave Bautista's co-star Karen Gillan agrees, although she wants to see Thor in a more... inhibited capacity.
Regardless of whether or not he drowns himself in outrageous amounts of booze, Thor would fit in perfectly with the Guardians, even if it's just a temporary deal. Hopefully he sticks with them for a while!
Because Guardians 3 hasn't even started filming yet, Dave Bautista has moved on to other projects (including Denis Villeneuve's Dune) while he waits for an official start date. And no, he hasn't been tapped for James Gunn's The Suicide Squad. Clearly, he's not desperate for projects.
Filming for Guardians of the Galaxy Vol. 3 probably won't even begin until 2020, so we still have a while to wait before those intergalactic misfits hit the screen again. Until then, we'll have to be content watching his other MCU appearances. Oh well.
Stay tuned for more Guardians of the Galaxy Vol. 3 updates as they come trickling in! We'll likely hear more about the project sooner rather than later. For now, find out what other Marvel movies are in development with our handy guide.
Your Daily Blend of Entertainment News