This Rotten Week: Predicting Once Upon A Time In Hollywood Reviews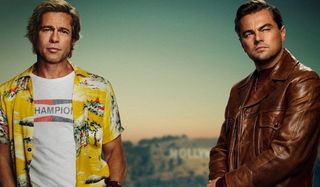 Some weeks just one movie comes out and it's a meh offering. Then there are other one-movie weeks that feature a new release from Quentin Freaking Tarantino. That's what we've got this time around with Once Upon A Time In Hollywood being the only new wide release set to hit theaters domestically this Friday.
Just remember, I'm not reviewing these movies, but rather predicting where they'll end up on the Tomatometer. Let's take a look at This Rotten Week has to offer.
It's rather ballsy to make a flick about the summer of '69 with the backdrop of the Sharon Tate/Manson Family murders while inserting your own story around a failing actor and his stunt double. But this is Quentin Tarantino, and frankly the dude can do whatever he wants at this point. That's the kind of trust he's built up as one of the best living film directors. And now we get Once Upon a Time in Hollywood, the ninth feature from the filmmaker.
On August 8, 1969 Sharon Tate and three of her friends were murdered by members of the Manson family in an effort to ignite some kind of race war or whatever their crazy-asses were trying to do. Tarantino, meanwhile, imagines a history in which Leonardo DiCaprio's Brett Dalton and Brad Pitt's Cliff Booth are Tate's neighbors. The model/actress will be played by Margot Robbie in the movie, and the rest of the ensemble is stacked with talent including Tim Roth, Kurt Russell, Michael Madsen, Damian Lewis, Emile Hirsch, Dakota Fanning, Nicholas Hammond, Luke Perry, Keith Jefferson, Clifton Collins Jr., Timothy Olyphant, James Marsden, and Al Pacino.
The Tomato meter is sitting at 92% with 65 reviews posted following its premiere at the Cannes Film Festival earlier this summer. I can't imagine it drops much at all over the course of the week even when we get to 150+ reviews. When all is said and done I suspect it may wind up being one of the best-reviewed releases of 2019.
I had a nice head start last week when it came to reviews, so it's not a huge shocker that I ended up with a direct hit. The Lion King (Predicted: 55% Actual: 55%) underperformed with critics, but the prediction came in right on the nose. Disney's new plan to bring back their entire animated catalogue has gone mostly well, but this arrives as a bit of a misstep from the professional critic perspective. The reviews mostly pointed to the film's one-to-one script correlation with the original. I still think there are plenty of hits with rolling out movies this way, but this one was definitely a miss.
Next time we've got Fast & Furious Presents: Hobbs and Shaw It's gonna be a Rotten Week!
Doug began writing for CinemaBlend back when Terminator: The Sarah Connor Chronicles actually existed. Since then he's been writing This Rotten Week, predicting RottenTomatoes scores for movies you don't even remember for the better part of a decade. He can be found re-watching The Office for the infinity time.
Your Daily Blend of Entertainment News
Thank you for signing up to CinemaBlend. You will receive a verification email shortly.
There was a problem. Please refresh the page and try again.