Quentin Tarantino's Once Upon A Time In Hollywood Has Screened, See What People Are Saying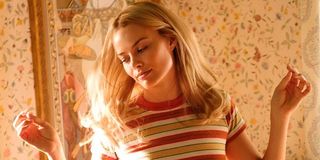 Quentin Tarantino's Once Upon a Time in Hollywood, the filmmaker's ninth directorial effort, premiered at the Cannes Film Festival, and while it'll be another two months before the general public gets to see it on the big screen, they can at least start getting a sense of how his latest offering was received over in Europe. Social media reactions to Once Upon a Time in Hollywood are pouring in, and evidently it was quite the hit at Cannes, earning a six to seven minute-long standing ovation from those in attendance.
Starting off, Deadline's Joe Utichi praised Once Upon a Time in Hollywood as one of Quentin Tarantino's best movies yet, saying:
Quentin Tarantino might not have the largest directorial resume in Hollywood, but all of his solo directing work over 25+ years has been met with mostly positive reception. So to say that Once Upon a Time in Hollywood is the film he was born to make is high praise indeed.
That Shelf managing editor Jason Gorber was also pleased by Once Upon a Time in Hollywood, although he admitted that not everyone will feel the same way:
Sometimes you can summarize your feelings for a movie in just a few words, and that's just what Thrillist's Emma Stefansky did with her praise for the latest Quentin Tarantino movie:
But not everyone was willing to declare that Once Upon a Time in Hollywood was a success across the board. The New York Times' Kyle Buchanan was more measured with his reaction:
Indiewire's Erick Kohn also felt into more mixed territory with Once Upon a Time in Hollywood, though he did appreciate the Easter eggs and lead performances:
FirstShowing's Alex Billington noted how as has been made clear in the marketing, Once Upon a Time in Hollywood delves deeply into the culture that Quentin Tarantino grew up with:
Torontoist contributor Jesse Hawken said that fans of some of Quentin Tarantino's most famous movies will appreciate what he delivers in Once Upon a Time in Hollywood:
Finally, Anne Thompson, also of Indiewire, complimented Once Upon a Time in Hollywood not just for its premise, but also for what the lead actors brought to the table:
So while it won't be everyone's cup of tea, as is frequently the case with Quentin Tarantino's filmography, it sounds like Once Upon a Time in Hollywood is another winner for the director. Considering that its only opening weekend competition in July is the animated Wish Dragon (another Sony release), that, along with these positive reviews, ideally bodes well for its box office performance, although there will still be The Lion King to contend with, as it opens the weekend before.
It's also worth mentioning that there was a bit of a ruckus surrounding Once Upon a Time in Hollywood's Cannes screwing. Deadline reports that hundreds of ticket holders were turned away from the premiere. These tickets cost as much as $1000+ each, and even though they were scanned, the holders were held at the edge of the red carpet until being told there was no more room left in the theater, despite the fact that some people had arrived early. This is evidently one of several disorganization issues that have popped up during the festival.
Set in 1969 Los Angeles, Once Upon a Time in Hollywood follows a television actor and his stuntman trying to navigate the changing Hollywood landscape, all as The Manson Family is up to its illicit activities. The sprawling ensemble cast also includes Kurt Russell, Dakota Fanning, Timothy Olyphant, Al Pacino, Luke Perry, Lena Dunham, Damian Lewis, Bruce Dern and many, many more. It is Quentin Tarantino's first movie not to be associated with Harvey Weinstein, with Sony Pictures winning the distribution rights.
You can judge Once Upon a Time in Hollywood for yourself when it's released in theaters on July 26. For now, you can look through our 2019 release schedule to learn what other movies are opening later this year. As for Quentin Tarantino, he hasn't officially announced what movies he'll work on next, although he did say that his Star Trek movie is still a "very big possibility."
Connoisseur of Marvel, DC, Star Wars, John Wick, MonsterVerse and Doctor Who lore. He's aware he looks like Harry Potter and Clark Kent.
Your Daily Blend of Entertainment News
Thank you for signing up to CinemaBlend. You will receive a verification email shortly.
There was a problem. Please refresh the page and try again.