The Lion King Director Jon Favreau Reveals The Only Real Shot In The Movie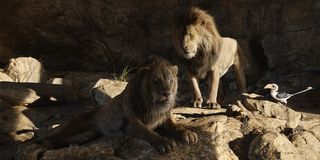 While Disney's latest adaptation of The Lion King is casually referred to as a "live-action" remake, it's really not. Cutting-edge CGI was use to make realistic-looking animals and environments, but it turns out that there is just one shot inserted into The Lion King that is truly live-action, which director Jon Favreau shared.
As Jon Favreau revealed, the only truly real shot in The Lion King is at the very beginning, when the movie's African setting is established. The landscape photo is a fun inclusion on Favreau's part, though obviously it'd be difficult, if not outright impossible, for the average moviegoer to notice it's live-action vs. the realistic CGI.
You'll recall that The Lion King isn't Jon Favreau's first foray with using CGI to deliver a movie that looks like it's live action. Before The Lion King, he directed 2016's The Jungle Book, but that movie at least had a real human actor showing up on screen and performing on green screen sets. That's not the case with The Lion King; none of the main cast even did any motion capture acting.
There's no denying that The Lion King is a visual treat, and what Jon Favreau and his team were able to pull off is quite the technical achievement. As Favreau noted in his Instagram post, there are 1490 rendered shots in the final cut.
However, The Lion King hasn't escaped being critiqued on appearance, as it's been noted that the animals are quite expressionless. That's one downside of going realistic vs. going the traditional animated route: the animals can't emote like a human, resulting in a product that lacks some of the heart of the original.
As far as the overall movie, goes, The Lion King has received mixed reviews, with the other main criticism being that it's almost a beat-for-beat remake of its 1994 predecessor. Commercially speaking though, it's doing incredibly well for itself. After just a week in theaters, it's made over $728 million worldwide, meaning it's only a matter of time before it crosses the $1 billion mark.
As for what's next for Jon Favreau, he's still hard at work on the Disney+ Star Wars series The Mandalorian, which has already been renewed for Season 2. In addition to being the showrunner, he also wrote the pilot episode.
Jon Favreau is also attached to direct The Jungle Book 2, although that still doesn't have a release date. Favreau recently told CinemaBlend that following The Lion King, he's not specifically aiming to do another major motion picture or smaller-budgeted movie next; he's just looking forward to continuing to "explore all the different platforms and formats" various stories have to offer.
Share your thoughts about the new version of The Lion King below, and if you haven't already, read CinemaBlend's review of the movie. As for the movies opening in theaters later this year, look through our 2019 release schedule for that information.
Your Daily Blend of Entertainment News
Connoisseur of Marvel, DC, Star Wars, John Wick, MonsterVerse and Doctor Who lore. He's aware he looks like Harry Potter and Clark Kent.
Your Daily Blend of Entertainment News
Thank you for signing up to CinemaBlend. You will receive a verification email shortly.
There was a problem. Please refresh the page and try again.