Sharon Tate's Sister Cried Watching Once Upon A Time In Hollywood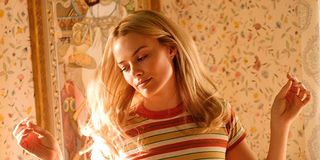 With Once Upon a Time in Hollywood, acclaimed director Quentin Tarantino takes us all back to a bygone era. Using clever filmmaking tricks, he brings 1969 Hollywood to vivid life, painting a picture that's as gorgeously rendered as it is revealing. Not only is the movie brilliantly executed and thematically mature, it also ranks among the filmmaker's best (right up there with Pulp Fiction, to which he actually compared this film).
For some, the movie's success owes itself to Tarantino's deft direction. For others, it's all about Leonardo DiCaprio and Brad Pitt. But for Sharon Tate's sister Debra, Margot Robbie's performance sold the entire picture. Her role may have seemed limited to some, but for Debra, it was absolutely perfect. For Debra, she was Sharon Tate.
According to Vanity Fair, Quentin Tarantino invited Debra Tate to watch Margot Robbie film one of her best scenes. According to Debra, Robbie's spot-on performance was a tearjerker. The scene follows Sharon as she attends a matinee showing of The Wrecking Crew alone and enjoys the film with unwitting strangers. It's a tender, vulnerable moment that showcases Robbie's talent and skill as an actress and takes the focus away from DiCaprio and Pitt for a few precious minutes.
After Debra Tate saw the entire movie at its premiere, she was able to go into a bit more depth about how Quentin Tarantino's film impacted her.
Debra Tate continued, wishing the film could've focused even more on her sister:
Sharon Tate's story is a true tragedy, and Tarantino handles her character and her life carefully and respectfully. Even if his film as a whole is unabashedly light in tone.
Once Upon a Time in Hollywood is currently killing it in theaters. Have you seen it?
Your Daily Blend of Entertainment News