Could Doctor Who's David Tennant Play The Tenth Doctor Again In A Movie?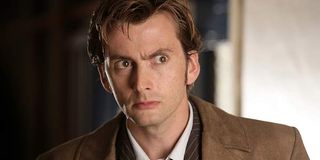 The reason Doctor Who has lasted for so long is because it thrives on change, namely by casting a new actor as the titular Doctor every couple years. One of the most popular Doctors of the modern era is David Tennant's Tenth Doctor, who wrapped up his tenure nearly a full decade ago and was last seen guest-starring in the 50th anniversary special "The Day of the Doctor" in 2013.
There's been no indication that David Tennant plans to revisit the Doctor Who TV series in the near future. However, according to John Barrowman, who played Captain Jack Harkness in the Tenth Doctor years, there has at least been talk about him, Tennant and Billie Piper, who played Rose Tyler, coming back together for a movie.
John Barrowman recalled a conversation he had with Russell T. Davies, the first showrunner for the Doctor Who revival, saying:
As fans of the Doctor Who mythology know, after his recurring stint in Season 1 of the modern Doctor Who, he went on to lead the spinoff Torchwood, though Captain Jack Harkness still popped up periodically during the Tenth Doctor's run. Torchwood last aired in 2011, and while corner of the Doctor Who universe, like Doctor Who proper, has expanded upon through audio dramas, there continues to be the occasional chatter about Torchwood coming back to a screen.
Although the idea of the Tenth Doctor, Rose Tyler and Jack Harkness cavorting around time and space together again sounds fun, it sounds like this Doctor Who movie is just a pipe dream for now, though one that John Barrowman is definitely game to participate in. He continued in his interview with Radio Times:
For what it's worth, David Tennant recently attended Galaxy Con Raleigh with Catherine Tate, who played Donna Noble in Doctor Who Season 4, and when asked about this hypothetical Doctor Who movie, he said he didn't know anything about it, as you'll see below:
Assuming this kind of Doctor Who movie is a legitimate possibility, there are still some obstacles to making it happen. For one thing, David Tennant, John Barrowman and Billie Piper are all busy people, so coordinating their schedules would be difficult. Plus, Russell T. Davies has previously said that he doesn't want to work on Doctor Who again, so unless he's had a change of heart, someone else would need to supervise the movie.
Plot-wise, the sky's the limit on what the Tenth Doctor, Rose and Jack could get up to in a Doctor Who movie, although it would need to be set before "The End of Time," the two-parter that ended with the Tenth Doctor regenerating into the Eleventh Doctor, played by Matt Smith. Let's also not forget that at the end of the Season 4 finale, "Doomsday," Rose stayed behind in a parallel universe with a fully human duplicate of the Tenth Doctor, but it'd be easy enough to conjure up a timey-wimey explanation for how she's back in the main reality again.
Whether or not this Doctor Who movie ever moves forward, it wouldn't be the first time that the infamous Time Lord has starred in a feature-length adventure. Even excluding the Dr. Who movies starring Peter Cushing from the 1960s (which are in no way connected to the main Doctor Who mythos), in 1996, seven years after the original run of Doctor Who concluded, a TV movie aired on Fox introducing Paul McGann's Eighth Doctor.
The past several years have also seen noteworthy Doctor Who episodes being aired on the big screen as Fathom Events. So if a Doctor Who movie getting a traditional theatrical release wasn't in the cards, perhaps it could primarily air on television, but then also be available as a Fathom Event for a couple days. Of course, if a Downton Abbey movie can get a wide theatrical release, one would imagine Doctor Who stands a solid chance of following suit.
In any case, for now, if you're looking for some Tenth Doctor action, aside from re-watching old Doctor Who episodes, it'd also be worth listening to the Big Finish audio dramas starring David Tennant's Doctor, which began in 2016. The second volume sees #10 and Rose Tyler paired again, while the first and third volumes are adventures with Donna Noble.
For now, the Doctor Who TV series is still chugging along, and it currently stars Jodie Whittaker as the Thirteenth Doctor. Her first season aired from October to December of last year, and she and her team returned on New Years Day to clash with a Dalek, the first classic Doctor Who foe to emerge during the Thirteenth Doctor's tenure (though it won't be the last). Whittaker's #13 and her companions, Yasmin, Ryan and Graham, are returning for another season next year.
As for David Tennant, his most recent credits include How to Train Your Dragon: The Hidden World, the Amazon series Good Omens, the Netflix series gen:LOCK and vocally reprising Kilgrave for the final season of Netflix's Jessica Jones. His upcoming projects include Americons (where he'll act alongside Catherine Tate again) and Deadwater Fell.
Rest assured, if a Doctor Who movie ends up officially going into development, whether as a theatrical release or something that airs on the small screen, we here at CinemaBlend will let you know about it. For now, fans can look forward to Doctor Who Season 12 airing on BBC America in early 2020.
If you're curious about what movies are already scheduled to come out, look through our 2019 release schedule.
Connoisseur of Marvel, DC, Star Wars, John Wick, MonsterVerse and Doctor Who lore. He's aware he looks like Harry Potter and Clark Kent.
Your Daily Blend of Entertainment News
Thank you for signing up to CinemaBlend. You will receive a verification email shortly.
There was a problem. Please refresh the page and try again.