Amazon's Good Omens Is A+ Magic For Fans Of Neil Gaiman And Terry Pratchett's Novel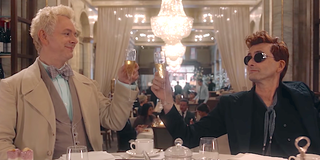 Since the first time I laid my hands on it, Neil Gaiman and Terry Pratchett's 1990 novel Good Omens has been one of my favorite pieces of (arguable) fiction. Its imaginative characters, sweeping drive, and robust humor stood tall against the best of both authors' works then, and it continues to do so today. Unsurprisingly, no one had to twist my arm to convince me to frolic through the entirety of Amazon's new Good Omens limited series multiple times. And guess what?
It. Is. Ma. Gi. Cal. No, it's not "magi, Cal." It's magical, with a capital Yes Please and Thank You.
I can't properly elucidate how Good Omens might work on anyone who is unfamiliar with the novel, though I can't imagine it's the most undemanding plot to follow. However, for anyone who's been waiting eons (literal or otherwise) for Good Omens to make it to live-action, the Amazon and BBC Studios co-production is a most triumphant achievement, and is a hell of a lot of fun to watch. Maybe even three hells of a lot of fun. Now let's dig into why it's the best.
Good Omens Was Adapted By Neil Gaiman Himself
The fantastical Terry Pratchett sadly passed away in 2015, and with his dying request to Neil Gaiman, he asked for Good Omens to get a proper small screen adaptation. Pratchett understood that there could be no one else beyond Gaiman who could dependably and obsessively whittle the apocalyptic book down into an episodic format.
After seeing Good Omens in its entirety, fans will likely agree. While bits of storytelling favoritism no doubt crept into the project, only Neil Gaiman was capable of capturing the true heart and spirit of the epic tale and he and Terry Pratchett conquered nearly 30 years ago. It feels unmistakably like a Gaiman project through and through, which I wish was the case with so many other TV shows these days.
Michael Sheen And David Tennant Are Beyond Perfect As Aziraphale And Crowley
When they're apart, Michael Sheen and David Tennant are extremely talented, successful, award-winning actors. But when they're together for Good Omens, there is no "Michael" or "David;" there is only the rule-supporting angel Aziraphale and the caution-evading demon Crowley, who truly feel as if they were ripped off the book pages and molded into living and breathing TV characters. High school science departments don't have this much chemistry.
I'd love to be able to go back in time to see the mental images I had of Aziraphale and Crowley, so that I could bypass whatever those horrible ideas were and just jump straight to Michael Sheen and David Tennant, who own every moment of the characters' unique friendship-kinship. They've stalked the planet for thousands of years, and yet never bothered to make any other friends beside one another, and the actors make it feel completely believable.
It's Clear How Much Time And Money Went Into Making Good Omens
Because Good Omens takes place across different eras of history and incorporates biblical characters from differing sides of the afterlife, the risk of the project looking like a hellacious failure was potentially as high as Heaven's gates. However, seemingly no cost was spared in bringing the end of days to life (and Death), and everything from the simplest cafe set design to the most complicated special effects looks downright glorious. You gotta love an apocalypse story that mostly takes place during sunny afternoons, too.
Beyond the snazzy costumes and the boffo set pieces, a godly spotlight needs to shine on the myriad other cast members portraying Good Omens's quirky inhabitants. Jon Hamm brings his endless pizzazz to the role of the archangel Gabriel, and the great Frances McDormand serves as the narration-friendly voice of God. A shortlist of other familiar faces includes Better Call Saul's Michael McKean, Blackadder vet Miranda Richardson, Eastenders' Josie Lawrence, The Killing's Mireille Enos, Bad Education's Jack Whitehall, The Walking Dead vet David Morrissey and many more. Keep an ear out for Brian Cox and Benedict Cumberbatch, too.
Good Omens Still Has Fun Surprises For Longtime Fans
The creative minds that develop many of the novel and comic book adaptations out there tend to change up the material so that storylines and characters are recognizable but still refreshing for those most familiar with the source material. Given the death of the novel's co-writer, Good Omens' team had a sub-mission to honor the original work with as much faithfulness as possible. Thankfully, though, Neil Gaiman still peppered the show with an assortment of surprises and unexpected moments.
For one, Jon Hamm's Gabriel became a more fully rounded character in the Amazon miniseries, reflecting how the character was meant to get expanded in Good Omens'long-rumored novel sequel. As well, an early episode does the remarkable job of showcasing Aziraphale and Crowley's relationship throughout the ages, which fully fleshes out certain elements only hinted at on the page. (The entire series could have subsisted of just those scenes, and I would have been sated.) As well, the live-action story also replaced quite a few of its real-world references to reflect the 29-year gap between the developments of the novel and the show.
For the completely uninitiated, Good Omens may very well come off looking like a wild-minded, high-falutin and overwrought tale of "good vs. evil." Its pacing and exposition employ no learning curves in telling a story that revels in wordplay, world-building, and religious subtext. It's as dense as TV comedy gets, but that that's hardly a bad thing.
For me, Good Omens is like a classic Simpsons or Arrested Development episode that justifies, rewards and possibly requires multiple viewings to make sure audiences have ingested everything that the creative team packed into it. (Such as an appearance from Neil Gaiman's own American Gods novel.) As a fan who holds the book in the upper echelon of fictional storytelling, I don't think a single of of my expectations was dashed, and my only true complaint is that Amazon's Good Omens doesn't last as long as Aziraphale and Crowley's friendship.
All six humor-filled episodes of Good Omens are currently available to stream in full on Amazon Video, so don't waste another sinful moment doing anything but taking it all in. Keep rewatching it over and over all summer long and maybe everyone involved will figure out a way to return to that universe in the future.
Your Daily Blend of Entertainment News
Assistant Managing Editor
Nick is a Cajun Country native, and is often asked why he doesn't sound like that's the case. His love for his wife and daughters is almost equaled by his love of gasp-for-breath laughter and gasp-for-breath horror. A lifetime spent in the vicinity of a television screen led to his current dream job, as well as his knowledge of too many TV themes and ad jingles.