Jason Statham And Idris Elba Break Down The Most Memorable Hobbs And Shaw Action Scene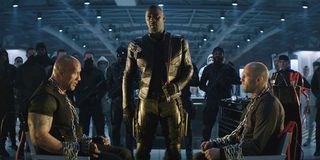 Even without seeing Fast & Furious Presents: Hobbs & Shaw, there's one scene that has been captivating audiences who see the advertisements for the film's release this weekend. Taking place in an abandoned power facility in the Ukraine, the sequence involves some big vehicle action, Idris Elba's Brixton Lore and his souped-up bike, and, of course, Jason Statham's Deckard Shaw taking the fight to Brixton's men in a vehicle dubbed "The Rock Crawler."
It's a huge set-piece that makes Hobbs & Shaw the action spectacle it is, and without spoilers, it's something that CinemaBlend got several of the folks who were at the London press junket to talk about. As you'll see below, a lot went into that gigantic undertaking and it was more practical than you think.
Believe it or not, the Ukraine chase sequence was filmed, quite conveniently, in an abandoned power plant located in Northern England. According to director David Leitch, there were several practical components that were present for the action.
In addition to standard car rigs that would simulate driving, there was a good amount of Jason Statham himself doing some free driving with co-star/onscreen sibling Vanessa Kirby in the car with him. The scale of that sort of participation really helped keep the stars in the moment, allowing them to enjoy filming the scene as much as they did watching it.
That's not all though, as when it came to the other big sequence in the Ukraine set-piece, the truck fight between Idris Elba's villain as well as Jason Statham's Shaw and Dwayne Johnson's Hobbs, there was a good amount of practicality that went into that scene's execution as well. With cameras set up to go around the action, a combination of a gimbal rigged platform and digital effects made the movie magic that pushed the fantasy of a large scale fist fight at high speeds into a filmed reality.
In the midst of a whole bunch of big scale action that looks too good to be true, but too real to dismiss, there are still some parts to the time Hobbs & Shaw spends in the Ukraine setting that are just down to good old fashioned practical ass-kicking.
Hattie Shaw's role in the action focuses a lot on that sort of old school know how, as not only did Vanessa Kirby ride along with Jason Statham in that Rock Crawler, but she also got to take down a handful of henchmen in a mini-lab set-up to render her part of in the film's evil plot null and void.
Not to mention, as you can see in some of the behind-the-scenes footage of how Hobbs & Shaw pulled off some of its most memorable stunts, it's Vanessa Kirby actually running on a harness along those long containers kept in the huge set for her piece of the excitement.
Performing her own stunts was important, as was playing the role of Hattie in first place, because Vanessa Kirby wanted to use her part in the film as someone who young women could look up to when it comes to action-adventure capers. Someone who could fight their own way out of a mess without depending on anyone else to save them.
Without the believability that director and former stuntman David Leitch strove for in the execution of this big set-piece, the Ukraine sequence could have been a disposable action scene in any summer blockbuster. As it stands in the finished film, it's an inspiration to anyone who wants to believe they can kick as like Hattie, Deckard, or any other character in the Hobbs & Shaw universe. Not to mention, it's one hell of an action beat in a film that isn't starved for larger than life ballyhoo.
Hobbs & Shaw buddies up for danger and excitement this weekend, with shows as early as this Thursday night. And if you want to see more of CinemaBlend's coverage on the film, keep it tuned here to see what else we've got in store.
CinemaBlend's James Bond (expert). Also versed in Large Scale Aggressors, time travel, and Guillermo del Toro. He fights for The User.
Your Daily Blend of Entertainment News
Thank you for signing up to CinemaBlend. You will receive a verification email shortly.
There was a problem. Please refresh the page and try again.