Hobbs And Shaw: Who Is The Fast And Furious Spinoff's Big Bad?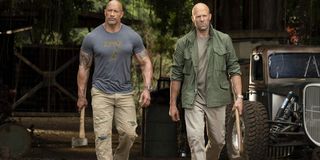 Warning: SPOILERS for Fast & Furious Presents: Hobbs & Shaw are in play. If you haven't seen the film yet and want to remain unspoiled, please come back and read this rundown once you've caught the film.
In a sort of break from the tradition of most would-be franchise starters, Hobbs & Shaw teases a big bad character that will be present later on in the franchise, but doesn't give us their identity outright. While there was talk of outing them in the post-credits sequences, director David Leitch confirmed when he spoke with CinemaBlend that this information was held back, so as to be able to tease that reveal out in future films.
That doesn't mean that a couple of theories can't be gamed out, especially with a handful of characters that could fit the bill as the director of corporate terrorist group Eteon. Some options are more shocking than others, but all are worth discussing in detail. Consider this your last call for spoilers, as we jump into who the big bad from Hobbs & Shaw could possibly be.
Agent Locke
Throughout the various phone calls and discussions we hear the mysterious Director engage in, both with Idris Elba's Brixton Lore and other Eteon cronies, there's one particular vocal pattern that seemed to recur. If you thought you heard Ryan Reynolds' voice in the mix of garbled speech samples, you're certainly not alone. Without question, Agent Locke would be an interesting choice, as he's the exposition guy that kicks off Hobbs & Shaw's recruitment of Dwayne Johnson's Hobbs.
With deep ties between the two characters, it'd be the ultimate betrayal, as Locke seems to be/want to be besties with Hobbs. Still, looking at the post-credits sequences, there's an opportunity for Locke to be a baddie. How else would he be on the scene of yet another bid to steal a viral weapon? Also, is he even telling the truth about what this new virus does? His scenes in the spinoff, besides feeling like awkward add-ons, were kind of fishy if you ask us.
John Cena's Unnamed Character
The Hobbs & Shaw universe and the Fast & Furious universes run parallel to each other, like strips of highway that can do their own thing until it's required they cross over. As such, the director of Eteon could be a brand new menace to the Fast & Furious world that just so happens to have an origin in the Hobbs & Shaw world; with John Cena's unnamed character being the link between worlds.
We don't know who Cena is playing in Fast 9 just yet, but if he was the brand new villain being propped up for a gigantic fight against Dwayne Johnson, it wouldn't be a bad idea. The man is practically built like an enhanced Eteon soldier, and who better to run the shop than someone who understands how the process works? Also, Cena v. Johnson would be a fist fight more epic than Diesel v. Johnson in Fast Five and Statham v. Johnson in The Fate of the Furious combined.
Cipher
No one's forgotten the fact that Charlize Theron's Cipher got away without a hitch towards the end of The Fate of the Furious. As she's also set to return into the world with an appearance in Fast 9, her exact function and whereabouts are unknown to Fast & Furious fans at large. Considering her background as an expert hacker, and her plans to start a nuclear war, those sorts of actions have Eteon written all over them.
Cipher was also once confused as being an organization, rather than a person, so imagine if she really did have a group behind her. The DSS could have just gotten the details wrong, with Cipher being the head of the rogue faction known as Eteon, tying Hobbs & Shaw into the unfurling criminal plot that started with Owen Shaw's actions in Fast & Furious 6. It practically writes a showstopping finale for Fast 10, which would cross over Hobbs & Shaw's crew to take on Eteon and Cipher in a winner takes all rematch.
Han Lue
Ever since his death in Fast & Furious: Tokyo Drift, which was later canonically revealed to take place after Fast & Furious 6, the fandom has wanted "justice for Han" with every passing film. But what if he was not only still living, but also ready to get justice for himself. We still don't know the full story as to why Deckard Shaw killed Han, besides the fact that it looked like Luke Evans' Owen Shaw was iced by Dom and his crew in the sixth film.
So what if Han was resurrected by some shady medical practitioners who wanted to strike a blow against the Fast & Furious crew? Wouldn't it be worth bringing back a beloved family member who knows their every move, and could manipulate the stage to ultimately crush them? Han could be just as enhanced as Brixton, turning him into a sort of "CyberHan," if you will, allowing him to be Eteon's shady Director.
These theories, at this moment in time, are as valid as they are crazy. It's even possible that Eteon's leader is someone we haven't met yet, although this individual did infer they have history with Luke Hobbs. We never know where the Fast & Furious series is going to go next at any given time, and while it might be a bit foolish to pretend to even plot where it's headed, this is just too big of a mystery to leave alone.
Hobbs & Shaw has opened the doors to a big and wild world of extreme espionage, with a villain hypothetically as over the top as its heroes. With Hobbs & Shaw in theaters now, and Fast 9 looming in the distance with a May 22, 2020 release date, there's plenty of time to spin the wheels and dissect just who might be Eteon's shady big bad.
If you're interested in playing along, throw your theories into the comments below, and take the poll we've provided as well. The more outside takes we have on this scenario, the closer we can get to unveiling the ultimate conclusion.
This poll is no longer available.
Senior Movies Contributor
CinemaBlend's James Bond (expert). Also versed in Large Scale Aggressors, time travel, and Guillermo del Toro. He fights for The User.
Your Daily Blend of Entertainment News
Thank you for signing up to CinemaBlend. You will receive a verification email shortly.
There was a problem. Please refresh the page and try again.