Star Trek Actor Says Studio Would Be 'Insane' Not To Let Quentin Tarantino Make His Movie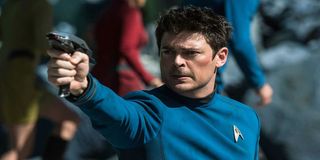 An auteur with a knack for creating so-thick-you-can-cut-it tension and excellent dialogue, Quentin Tarantino remains one of Hollywood's best directors. But his penchant for excessive violence and protracted (but engaging) character conversations wouldn't exactly translate well to a traditional blockbuster. But imagine if he'd been tapped to direct an R-rated Star Trek film. Wouldn't that be something? Well, if you're into that idea, you'll be thrilled to hear that discussions have happened and Tarantino seems to be onboard. Turns out one of the franchise's biggest stars is behind the idea, too.
During an interview with HuffPost, Star Trek actor Karl Urban -- who plays Leonard "Bones" McCoy in the new timeline J.J. Abrams introduced in 2009's Star Trek reboot -- shared his excitement about the project. And that excitement was repeatedly made...very clear.
Here's what he said:
He's probably correct. If nothing else, Tarantino would bring so much originality and invention to that universe that viewers may need extra time to process. They're used to Star Trek being Star Trek. Not a Tarantino Star Trek. Even William Shatner, the original Captain Kirk, has no problem with an R-rated Star Trek movie, and said he'd like to be part of Tarantino's film himself (with one concern). Karl Urban then confirmed that, if Tarantino sought him out, he'd leap onto the set, ready to go, no questions asked. Unbridled enthusiasm at its absolute finest.
The prospect of a Tarantino-directed Star Trek adventure is an exciting one. The guy is responsible for some of the best, most enduring (and endearing) films in recent memory. He would definitely bring new fervor, new flavor, and new fun to the franchise, but would audiences respond well? And when would it be released?
The previous three entries in the reboot franchise introduced audiences to a new timeline, replete with new baddies, new characters, and tons of sci-fi action. While the original series and its subsequent spin-offs weren't known for being action thrillers, the meshing of action, humor, and exciting new storytelling opportunities resonated with viewers. Star Trek Beyond is my personal favorite of the three but I can get behind an argument for the first being the best.
If you're a fan of Karl Urban's work, you can check him out in Amazon's new series, The Boys. As for Tarantino, you can catch his latest film, Once Upon A Time...in Hollywood, now playing in theaters. And, to almost no one's surprise, it's really good.
Your Daily Blend of Entertainment News
Thank you for signing up to CinemaBlend. You will receive a verification email shortly.
There was a problem. Please refresh the page and try again.