Supergirl's Tyler Hoechlin Responds To Rumors About Replacing Henry Cavill As Superman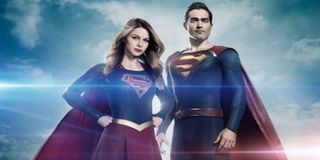 If the DCEU does end up needing a new Superman, it won't have to look far. Henry Cavill has portrayed the character since 2013's Man of Steel, but if last year's news is to be believed, DC and Warner Bros. are moving forward without Cavill. Jason Momoa maintains that Cavill is still firmly attached to the role, strengthening confusion about what's actually happening and making it difficult to form any kind of opinion on the situation. It changes so often that it's unwise to get attached to one possibility. But predictably, fans are already posting their picks for his replacement, and the overwhelming favorite already plays the character (just in a different medium).
Many fans think Supergirl actor Tyler Hoechlin should replace Cavill. The thing is, Hoechlin has portrayed Superman on television for a few years now, so chances of him crossing mediums is unlikely. But still, people are holding out hope.
While at FAN EXPO Boston, Tyler Hoechlin was told he often tops lists to be the next Superman after Henry Cavill. Here's how Hoechlin responded (via Comicbook.com):
There you have it. He didn't explicitly say that it wasn't going to happen, but he may as well have. A potential move to the DCEU hasn't even been discussed, but it's interesting to imagine where/how Tyler Hoechlin would fit amongst the franchise's other stars. Chemistry is important, but the guy seems like he would adapt well. He'd probably do a really good job but it may be best for him to stay on the television side of things. Moving him around would undoubtedly confuse casual viewers.
While it is unwise to get too hopeful or assume too much before official word hits the 'net (especially when talking DC), it also keeps fans sane. And despite what the cynics and the skeptics say, wishful thinking can absolutely pay off. Remember when IT: Chapter Two director Andy Muschietti confirmed that he was in talks to direct the long-gestating Flash film? No one saw that coming and fans were doubtful, but star Ezra Miller confirmed it so it all lines up.
Tyler Hoechlin is perhaps best known for his work on 7th Heaven and Teen Wolf, but his Superman portrayal has also garnered praise and caught fans' attention. He was cast in 2016 after Greg Berlanti brought him on and he quickly became a hit with critics and audiences alike. He is set to appear in December's Crisis on Infinite Earths crossover event, as well as in a number of upcoming films.
What do you think of Tyler Hoechlin's portrayal of Superman? Would he excel as a big screen Supes or should he stick to playing the CW interpretation of the character? Let us know in the comments below. We will keep you updated on anything/everything movies, so stay tuned.
Your Daily Blend of Entertainment News
Your Daily Blend of Entertainment News
Thank you for signing up to CinemaBlend. You will receive a verification email shortly.
There was a problem. Please refresh the page and try again.