Spider-Man: Far From Home Concept Art Reveals A Terrifying Mysterio Vision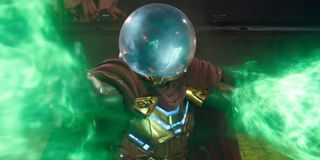 Although he was advertised and depicted at the start of Spider-Man: Far From Home as a superhero from a parallel universe, Jake Gyllenhaal's Quentin Beck, a.k.a. Mysterio, eventually showed his true colors and proved to be the same kind of manipulative, sinister ne'er-do-well that he is in the comics. Mysterio's illusion-casting abilities were best on display during Far From Home when he assaulted Peter Parker with a series of visions in Berlin, and below you'll find a particularly terrifying illusion that didn't make the cut.
A warning to the arachnophobes out there, this truly is the stuff of nightmares.
Marvel Visual Development artist Henrik Tamm shared this artwork he created of Peter Parker confronting a group of gigantic spiders during Mysterio's bombardment of illusions. And lest you think these spiders simply loomed large and were around to look intimidating, Tamm posted some other pieces of concept art on Instagram showing the Web-Slinger being forced to battle the arachnids and even becoming trapped by them, as seen below.
I know 'usage of spiders' isn't criteria the MPAA takes into consideration when rating a movie, but if this illusion had made it into the final version of Spider-Man: Far From Home, I wouldn't have blinked learning the movie had been rated R. Seeing a zombie Iron Man emerge from the grave is one thing, but having Peter fighting giant spiders would have been a way more frightening sight, and probably wouldn't have sat well with the younger folks in the audience.
So while artistically this would have been cool to see in Spider-Man: Far From Home, I can understand why it ultimately wasn't included. Or maybe scariness had nothing to do with it, and this spider sequence was simply a casualty of keeping a tighter running time. Either way, it was a cool, albeit unsettling idea to have Peter Parker confront the very creatures he's modeled his superhero career after.
Mysterio has been antagonizing Spider-Man in the comics for over five decades, but Spider-Man: Far From Home marked his theatrical debut (apparently there were plans to feature him in Sam Raimi's cancelled Spider-Man 4, though Bruce Campbell wouldn't have played him). Thanks to Jake Gyllenhaal's performance and the big twist surrounding the character, he certainly ranks as one of the more memorable Spider-Man film villains, especially for that mid-credits shocker, where before dying, Quentin Beck framed Spider-Man for murder and revealed to the world that he was Peter Parker.
Granted, if Jake Gyllenhaal's Mysterio is as skilled at trickery as his comic book counterpart is, then there's the chance he could still be alive and return in a future movie. But even if he is truly dead, he's thrown the life of Tom Holland's Peter Parker off course in a way that can't be undone without some kind of worldwide, magical memory wipe (wait, that sounds familiar).
That sets up big things to come for this Spider-Man film series, although one can imagine some changes will need to be changed given the recent Disney/Sony split that's resulted in Spidey being removed from the MCU. That setback aside, Sony is pushing ahead with another tale centered on Tom Holland's iteration of the character, and the studio is reportedly looking to have Jon Watts sit back in the director's chair.
Spider-Man: Far From Home is now available on Digital HD, and you can pick up a Blu-ray/DVD copy on October 1. Keep track of when the remainder of this year's movies are coming out in our 2019 release schedule.
Your Daily Blend of Entertainment News
Connoisseur of Marvel, DC, Star Wars, John Wick, MonsterVerse and Doctor Who lore. He's aware he looks like Harry Potter and Clark Kent.
Your Daily Blend of Entertainment News
Thank you for signing up to CinemaBlend. You will receive a verification email shortly.
There was a problem. Please refresh the page and try again.