Are Marvel And Sony Now Fighting Over Spider-Man Director Jon Watts?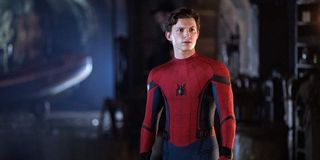 At the beginning of this week, the future seemed bright for Tom Holland's Spider-Man in the Marvel Cinematic Universe… well, maybe not for the character himself, who was dealt a surprise blow in the Spider-Man: Far From Home mid-credits scene, but at least for the fans who were looking forward to more of his adventures in this franchise. Then came the news that Disney/Marvel and Sony are no longer working together on future live action Spider-Man movies, thus concluding an approximately four and a half year-long cooperation period.
Now apparently there's a tug-of-war battle going on between Marvel and Sony over director Jon Watts, who helmed Spider-Man: Homecoming and Spider-Man: Far From Home. While Tom Holland is reportedly still attached to do at least two more Spider-Man movies, Watts was only signed on for the first two movies, and it's been unclear if he'd be back for a third.
According to Deadline, Jon Watts is currently being courted by Marvel, wanting to keep him in the MCU rather than stick around with Sony. Needless to say that given the success of his previous Spider-Man movies, Sony would rather him stick with the Web-Slinger, but Watts hasn't made a decision either way, though he has "enviable leverage" with whatever he decides to tackle next, even if it's something at a different studio.
More often than not you don't get to see a director stick around for the entirety of a superhero film series, but Spider-Man has had better luck in that regard. Sam Raimi helmed all of the original Spider-Man trilogy, and while he'd planned to make Spider-Man 4, eventually he withdrew from the fourthquel due to creative differences, resulting in its cancellation. Marc Webb directed both Amazing Spider-Man movies and was going to stick around for The Amazing Spider-Man 3, buy Sony's deal with Marvel killed that iteration of the franchise.
Having Jon Watts at least wrap up his Spider-Man film series, if not stick around for a fourth movie, would be preferable for Sony. Naturally though, if Jon Watts decided to take Disney's offer or look for work elsewhere, then obviously Sony would find someone else to take the live action Spider-Man reins. This character is too popular to put on the proverbial shelf for an extended period of time.
It's only been three days since the Marvel/Sony disagreement over Spider-Man first became public, and it doesn't look like it'll be leaving the news cycle anytime soon. According to the original report, Disney, which has all the Spider-Man merchandising rights and collected 5% of first dollar gross on the live action movies, wanted to arrange a 50/50 co-financing deal with Sony on future live action Spider-Man movies. Sony balked at this deal and wanted to keep things the same, resulting in the two sides going their separate ways.
Deadline's latest report offers an update on the money front, claiming that Disney initially offered a 25% co-financing stake, and when Sony didn't respond, that's when the Mouse House raised the offer to 50%. There's also been word that Dark Phoenix bombing at the box office also played a role in this Spider-Man fiasco, with Marvel Studios president Kevin Feige to focus on the new properties acquired from the Fox merger, specifically the X-Men.
While it's unclear if the X-Men of it all truly did factor into the Spider-Man decision, money is definitely looking to be the root cause, and it'll be money that leads Jon Watts to decide where he works next. Hell, assuming there's even a chance that Disney/Marvel and Sony can patch things up and meet at the negotiating table again, it'll be money that solves that problem too.
Keep checking back with CinemaBlend for updates about Spider-Man's film future as they come in. For now, keep track of what's coming out the rest of this year with our 2019 release schedule.
Your Daily Blend of Entertainment News
Connoisseur of Marvel, DC, Star Wars, John Wick, MonsterVerse and Doctor Who lore. He's aware he looks like Harry Potter and Clark Kent.