Spider-Man Far From Home End Credits: What In The MCU Just Happened?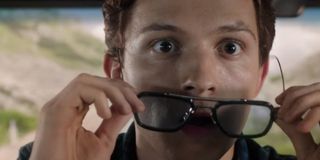 Warning: the ending and mid/end credit scenes for Spider-Man: Far From Home are going to be discussed in great detail. If you want to remain unspoiled, this is your warning to head to another story and come back once you've caught up.
There have been some amazing twists and turns in the Marvel Cinematic Universe, with some of the best causing seismic shifts in the world of the Marvel heroes. Believe it or not, Spider-Man: Far From Home just dropped two so huge that they not only change how the Spider-Man series will play out from this point, but there's some major implications for the MCU on the whole.
Peter Parker's journey of self-discovery and European splendor is meant to be the proper end to Phase 3 of the Marvel Studios films, and now we can totally see why. In the wake of the questions Avengers: Endgame left with its audience, there needed to be some answers in order to fully move on. With events such the ones we're about to describe taking place, there's even harder questions to be answered when Phase 4 kicks off.
If you haven't seen Spider-Man: Far From Home yet, and you've been waiting for one last warning before spoiler territory, this is it. From this point on, we're turning the key and unlocking what happened once the film ended.
The Mid-Credits Scene – Spider-Man's Date, With Destiny
After saving the day once again in Spider-Man: Far From Home, Tom Holland's Peter Parker gets to go back to being the friendly neighborhood Spider-Man. He and MJ (Zendaya) are finally a couple, and he even takes her for a spin through New York, which she absolutely hates. But the two land safely, and they plan to meet up again in the near future.
Literally at the worst possible time, NY1 breaks in with a special report pertaining to Jake Gyllenhaal's Quentin Beck and his villainous acts as Mysterio. It appears there's some video that was capture by Mr. Beck himself, with a very important message: Peter Parker is Spider-Man, and he's the one responsible for ordering the Elemental attacks!
Now we know that's not true, but as Quentin said before dying, "People need to believe, and nowadays, they'll believe anything." The Mysterio mythos, in a time where The Avengers are nowhere to be seen, is pretty powerful stuff. In this case, it's easier to believe a really good looking fake than a more modest genuine article.
That doesn't dismiss the fact that the video is a convincing fake, which was doctored by William (Peter Billingsley), an embittered former employee of Stark Industries who was in league with Beck. And one of the people who does believe in this news is the person that helped this video go viral: The DailyBugle.net's very own J. Jonah Jameson.
Reprised by J.K. Simmons himself, we finally get to see everyone's favorite unhinged media figure go full Alex Jones and brand Spider-Man as a menace, this time with "proof"! Just when the film seems to have given us all the twist to end all twists, Spider-Man: Far From Home goes and drops a post credits scene that further complicates the Marvel Cinematic Universe.
The Post Credits Scene – Hide And Go Skrull
Deception and identity are two big themes of Spider-Man: Far From Home, and they carry through all the way to the mid and post credits scenes. Doubly so when you take into account a scene that starts out as a drive between Nick Fury (Samuel L. Jackson) and Maria Hill (Colbie Smulders) but turns into a shocking surprise. As it turns out, Nick and Maria aren't who they've said they are, and it all ties into a theory we threw out there post-Endgame.
The two S.H.I.E.L.D. agents are actually Talos (Ben Mendelsohn) and Soren (Sharon Blynn), the married Skrull pair who were reunited towards the end of Captain Marvel. Respectively, they've been masquerading as Fury and Hill, presumably during the entire story of Spider-Man: Far From Home, and quite possibly for longer. Soren berates Talos, telling him that he has to call Nick Fury and debrief him on the events that have just occurred on earth. Which leads to the big reveal of where Nick's actually been this whole time.
We cut to Nick Fury on a beach, which turns out to be a simulator on a Skrull ship. As luck would have it, Nick's been on another mission this whole time, and wasn't even on Earth to see what was happening. Which does explain how he supposedly didn't see Quentin Beck's act as Mysterio coming from a mile away, as he usually does.
What This Could Mean For The MCU's Phase 4
There's two big implications that these extra scenes set up for the future of Marvel's MCU Phase 4. Should the audience have needed any further proof that Captain Marvel 2 is a top priority for the next round of superhero action, this is the reminder that the cosmic branch of the Marvel canon is now more open for business than ever.
But back on Earth, it's going to be pretty interesting to see how Peter Parker's life as Spider-Man gets even more complicated. Now that he's been outed as a result of Spider-Man: Far From Home's mid-credits sequence, there's going to be a potential for a story where Spidey finds himself a wanted man on both sides of the law.
Not only could the Sinister Six rise in the wake of this shocking revelation, but there's even a possibility that much like the story from the Playstation 4 game Spider-Man, Peter is going to possibly have to work with people he doesn't normally associate with. Cue that Black Cat stand-alone movie as it'd be a fantastic piece of world building for an eventual crossover between Peter and Felicia Hardy's worlds of influence.
Phase 3, as well as the Infinity Saga, are now done and dusted. The exact future for Marvel Studios' machine is unknown to the public at large, and it makes these clues oh so wonderful to pour over in the meantime. Who knows when we'll get the answers as to what the roadmap through Phase 4 will look like, but getting there is part of the fun, potential warts and all. Whatever future events stem from this chain reaction, there's two clearly defined quantities that will guide them: Nick Fury is off world, and Peter Parker is now in for a world of trouble.
Spider-Man: Far From Home is currently in theaters, but you've probably already enjoyed that particular adventure. Should you need a new film to enjoy, take a look at the 2019 release schedule and find your next thrill.
CinemaBlend's James Bond (expert). Also versed in Large Scale Aggressors, time travel, and Guillermo del Toro. He fights for The User.
Your Daily Blend of Entertainment News
Thank you for signing up to CinemaBlend. You will receive a verification email shortly.
There was a problem. Please refresh the page and try again.