The 10 Haunted Houses at Universal Studios Halloween Horror Nights, Ranked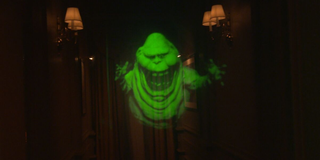 Fall is officially upon us and the ghost-wonderful time of the year is quickly approaching. Horror movie fans are filling up their Netflix queues while other thrill-seekers are removing the screen entirely to face their fears head on at Universal Studios Halloween Horror Nights. CinemaBlend was invited to tour each haunted house as part of Universal's R.I.P. tour at the 29th event for the theme park -- where fans of fear can put their courage to the test.
The event isn't just for theme park enthusiasts. Movie buffs will also greatly appreciate the amount of detail and practical effects that go into each and every house. So, if you're thinking about making the trip this fall season, here are all 10 haunted houses at Universal Studios Halloween Horror Nights, ranked.
10. Graveyard Games
Coming in at number 10 on this list is no slight or small feat when the deck is as well-stacked as Halloween Horror Nights tends to be. While most of the houses pit attendees directly against the monster-antagonists, Graveyard Games instead starts off in the middle of a confrontation between angry spirits hell-bent on getting even with a group of misfits who have just vandalized their final New Orleans resting place. You are stuck in the middle of the fight with only one goal, to get out alive, which feels like you're more of a passive observer rather than an active participant, landing this house in the number 10 spot.
9. Depths of Fear
As if the Alien franchise and the trench from Aquaman had a bloodthirsty baby, Depths of Fear walks attendees through a deep-sea mining company under attack from "Mouthbrooders" whose method of madness involves spitting acidic flesh-eating eggs unto their prey, turning them into crazed incubators. This house also hosts one of the most impressive light and sound displays of the bunch, but is a short house end-to-end, and that brevity has earned it the number 9 ranking.
8. Killer Klowns from Outer Space
A new addition to Halloween Horror Nights, Killer Klowns from Outer Space is the most humorous of the haunted houses with our favorite wacky, big-headed characters terrorizing attendees all over Crescent Cove. The house continues into a funhouse maze, past cotton candy cocoons, and has a (literally) huge surprise at the end. Parts of the house are comical until you are aggressively reminded that "Oh, yeah, these Klowns eat people." That being said, the over-the-top comical nature of the film translates to the house, so it's sitting at number 8.
7. Yeti: Terror of the Yukon
Tapping into our primal fear of unknown creatures lurking nearby in the wilderness, Yeti: Terror of the Yukon takes the scare-factor a step further by blasting cold air throughout the house to add to the bone chilling nature of the landscape. Attendees walk through an isolated and destroyed logging camp with scenes of horror topped only by the brutal Yetis that hide around each corner, as well as in plain site, adding to the suspense. This house also managed to illicit the absolute loudest scream of the night from our group of journalists (who shall remain unnamed to avoid embarrassment) via an impressive aerial sneak attack, which alone bumped it down to number 7.
6. Us
Jordan Peele has been taking the horror world by storm with his breakout directorial debut Get Out. But it was his latest release, Us, that found a way to keep the scares going through the end of the year. The house itself almost didn't happen in time for the 2019 season, but luckily for us, the team was able to pull it together just in time. Every classic scene fans could hope for is included in the house, and in chronological order more or less, which is a terrifying-yet-effective way to get a recap and has earned it the number 6 spot.
5. Universal Monsters
Not one to overlook its own properties, the Universal Monsters house includes sections dedicated to the classic monsters we've all come to know and fear, including Dracula, The Wolfman, Frankenstein's Monster, and even the Bride of Frankenstein, who has a jarring scene toward the end of the house that may or may not have caused me to drop my signature Syrup & Waffles frozen beverage. Fans of classic horror will approve, and that nod to the greats brings it into the top 5.
4. House of 1000 Corpses
This house is truly a nightmare, which is a compliment in this scenario. House of 1,000 Corpses starts in Captain Spaulding's Museum of Monsters & Madmen, into the Firefly Family home where numerous characters eventually resort to simply screaming bloody murder at thrill-seekers as a scare tactic, and it works. The house even ventures underground for a quick visit with Dr. Satan before all is said and done. Be warned, though: This is definitely the goriest house of the bunch which might be too much for the faint of heart, but is just enough to break into the top 4. Who knows, maybe we will get to see a Devil's Reject or Three From Hell house next year?
3. Nightingales: Bloodpit
A continuation of Universal's Nightingales: Blood Prey house from 2011, Bloodpit displays hints of 300 and the monsters from The Village with more violence than both combined. This house had me legitimately scared multiple times, but not from jump scares. The imagery and atmosphere is ridiculously unnerving and leads participants to a feeling of true despair, where the only option is to abandon all hope and push your way through to the dim light at the end of a tunnel. This house clearly accomplishes its goal, earning it the number 3 spot.
2. Stranger Things
Combining aspects of Seasons 2 and 3, Stranger Things boasts one of the largest monsters of all the houses, with a Mindflayer breaching Hopper's cabin, tons of Demogorgons around every corner, and battling Demodogs. The show has been making a huge impact on pop culture, with a haunted house at Halloween Horror nights last year and wild success with its latest season on Netflix. There are even rumors that we might get to see more Stranger Things in 2019 after Halloween is over. The size and detail put into each scene almost puts this house in a league of its own, but it ultimately falls at number 2.
1. Ghostbusters
Nostalgia definitely plays a role in the Ghostbusters house, but truth be told, the franchise blew up a little bit before my time, so that factor played a minimal part in it landing at the number one spot. The house is aesthetically stunning, with synchronized light and sound stunts, as well as holograms, multiple Slimer puppets, and scareactors playing out all your favorite characters and shenanigans. The house starts off where it all began, in the New York Public Library, takes a trip through numerous classic scenes, and has tons of cameos, including the Stay Puft Marshmallow Man. I even waited in line at 1:00am to hit this house one last time and it was the only house that had me wanting to immediately come back for more, earning it the number 1 spot on this list.
So, there you have it. Myriad houses and hundreds of screams later, I came out relatively unscathed, so I'm betting most anyone else can also handle it. Universal Studios Halloween Horror Nights is now open select nights between September 6th and November 2nd, but if you'd prefer to have a buffer between yourself and the monsters, there's still time to get in some scares on the big screen this year, and we're already gearing up for movies coming out in 2020.
Your Daily Blend of Entertainment News
Morbidly curious pizza enthusiast with a heart of gold. Has no time to hear why you think The Office is overrated and is pretty sure the meaning of the Universe can be found in the movie Cats. Co-host of American Hauntings Podcast. Inaugural class of Enstitute, an entrepreneurial alternative education program written about by Forbes, The New York Times, and PBS.
Your Daily Blend of Entertainment News
Thank you for signing up to CinemaBlend. You will receive a verification email shortly.
There was a problem. Please refresh the page and try again.