I'm Pretty Sure Kevin Feige Will Leave Marvel For Star Wars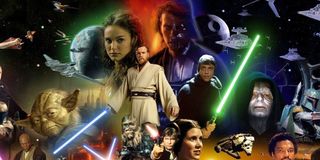 OK, blockbuster-franchise fans. Time to put on our tin-foil hats and have some fun with a little inside-baseball speculation that could have lasting effects on two major properties most of us adore: the Marvel Cinematic Universe, and the Star Wars saga. Coming on the heels of the surprising news that Marvel Studios President Kevin Feige will collaborate with Lucasfilm on an upcoming Star Wars project, I'm ready to share my belief that this is the end of Feige at Marvel Studios, and the beginning of his real dream job at Lucasfilm.
For some people (who have been paying close attention), that could be a, "No duh." But casual fans who closely associate Feige with Marvel Studios could be stunned by this theory.
Kevin Feige Has Always Loved Star Wars
Hear me out. Kevin Feige loves Star Wars. LOVES it. During a 2018 appearance on The Star Wars Show, Feige confessed to adoring the Star Wars franchise back before it was cool, and linking his fandom in Star Wars as his gateway to Marvel, stating:
Kevin Feige is a die-hard Star Wars fanatic. He has been his entire life. His passion has always been in the Star Wars universe, and even in that above interview, he traces his involvement in Marvel and its characters directly through the love that he felt for Star Wars first. Hell, Feige helped make sure that there was a subtle Star Wars gag in every Phase Two Marvel movie, including a hand chop as a nod to Luke Skywalker.
Collaborating on Star Wars likely is Kevin Feige's dream gig. And right now, Star Wars needs guidance. Following the release of J.J. Abrams' Star Wars: The Rise of Skywalker, Lucasfilm hasn't charted a proper course (in public, at least) for an upcoming slate of films. Projects have been announced and dropped, from a James Mangold bounty hunter movie to a trilogy of films directed by Rian Johnson.
Lucasfilm needs exactly what Kevin Feige brought to Marvel Studios: Stability, leadership and a clear path forward. The announcement that Feige will team with Lucasfilm chief Kathleen Kennedy on an upcoming Star Wars movie doesn't sound like a quaint one-off gig. It sounds like the first step toward what will eventually become Feige's official transition from Marvel Studios to Lucasfilm.
Kevin Feige May Have Been Planning His Marvel Departure
To be honest, I had this thought before. During the press activities for Spider-Man: Far From Home, I was lucky enough to get a 1:1 interview with Feige. Only, it wasn't a true one-on-one, as Feige had creative executive Eric Hauserman Carroll sitting in on all of his interviews that day. Feige answered every question, but Carroll seemed to be being groomed by Feige for a possible baton pass. I mentioned this to a few colleagues, and my immediate thought – knowing what I know about the confusion at Lucasfilm and Feige's passion for Star Wars – was that the Marvel president was laying the groundwork for a seamless transition to the other members of his team.
And why not? Kevin Feige no longer owes Marvel Studios anything. From day one, he has delivered them everything they could have hoped for, and more. By helping to oversee the epic Infinity Saga, Feige pulled off the impossible – a string of 23 connected superhero blockbusters that culminated in Avengers: Endgame, the current owner of the title "Highest Grossing Movie in History." Under Feige's watch, Marvel Studios constructed an unprecedented cinematic universe that has drawn together numerous characters (even crossing studio lines of ownership to borrow others) for a legendary, decade-long event.
There's plenty more to come from the MCU, but I could easily see Kevin Feige stepping back, looking over all that he accomplished in the MCU, and deciding that the time has come to hand the keys to another driver. Especially when there's a similar, broken "sports car" of a franchise in the form of his beloved Star Wars series waiting for his attention.
Should Kevin Feige Stay Or Go?
Look, maybe I'm wrong. Maybe Kevin Feige happens to have one great Star Wars idea, and he pitched it to Kathy Kennedy during a Disney lunch, and she loved it. So they'll collaborate on this one movie, and Feige will stay at Marvel Studios for the next 10 years of film production. Maybe the introduction of Disney+ has opened more than enough doors of creative freedom for Feige, and he can scratch every itch by exploring What If? stories, introducing new characters such as Moon Knight, She-Hulk and Ms. Marvel to the MCU, and plotting out an array of sequels and standalone adventures for Marvel fans.
Or maybe the loss of Spider-Man in a battle of character-rights soured Kevin Feige a tad. And maybe the mediocre reviews for Solo: A Star Wars Story or Star Wars: The Last Jedi stirred Feige's competitive juices, and he wants to show the industry (and prove to himself) that he's not content to cruise on autopilot in the MCU, that he's up for the challenge of restoring the luster of the Star Wars universe.
Right now, I think that Star Wars needs Kevin Feige. But also, after all that he has accomplished as the head of Marvel Studios, I also think that Kevin Feige needs Star Wars. It's a change of scenery. A new set of challenges. And it's a gig that only comes around once in a lifetime, to be able to tell stories in a galaxy far, far away. My guess is that Feige eventually jumps ship from Marvel to Lucasfilm, and that it happens sooner rather than later. Agree? Vote in our poll down below.
This poll is no longer available.
Your Daily Blend of Entertainment News
Sean O'Connell is a journalist and CinemaBlend's Managing Editor. He's frequently found on Twitter at @Sean_OConnell. ReelBlend cohost. A movie junkie who's Infatuated with comic-book films. Helped get the Snyder Cut released, then wrote a book about it.
Your Daily Blend of Entertainment News
Thank you for signing up to CinemaBlend. You will receive a verification email shortly.
There was a problem. Please refresh the page and try again.