The Lighthouse's Robert Pattinson Gets Candid On 'Ferocious' Masturbation Scene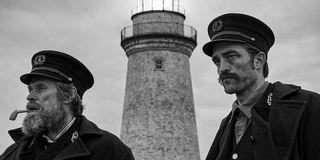 Before Robert Pattinson dons the cape and cowl for Matt Reeves' The Batman, he's starring in a small, art-house film called The Lighthouse from the writer and director of The Witch Robert Eggers. The film stars Pattinson alongside Willem Dafoe as two men tending a lighthouse off the coast of Maine in the late 19th century. For his first day of filming, Robert Pattinson shot what he describes as a 'ferocious' masturbation scene. That's right Twilight fans, listen up. Robert Pattinson got candid about the scene in an interview saying:
And you thought you had no interest in a black and white film shot in a square silent film aspect ratio. Depending on the schedule, some movies might ease the cast and crew into things and others throw everyone into the deep end right away. On Bohemian Rhapsody, they filmed the Live Aid concert first and on The Lighthouse they also went big for the first shot, but in a slightly different way.
For his very first shot on the set of The Lighthouse as junior lighthouse keeper Ephraim Winslow, Robert Pattinson filmed a masturbation scene. Not just any masturbation scene either, this was a ferocious one; the kind you won't see in modern, color lighthouse horror movies. The actor likes to do something massive for the very first shot on the set of a film, meaning that he likes to go really big with his performance right out of the gate.
Well, he did just that for the first take of the scene. Robert Pattinson, in full double entendre speak, tells the New York Times, that he "went really massive" on the first shot of the ferocious masturbation scene. Whether that double entendre was intentional or he was oblivious to it we don't know, but what we do know is that the actor went all out for the first shot of his masturbation scene.
It sounds like it came as a surprise to Robert Eggers though. According to Robert Pattinson, he did things completely differently in this scene than he did in rehearsal and it caught the director off guard. Presumably the masturbation scene was not of the ferocious kind in rehearsal. Of course I imagine you can only be so prepared to watch someone else fake masturbate. Robert Eggers recalled the filming of the scene, saying:
Robert Pattinson wasn't shy and he really went for it right away with the masturbation scene. That's commitment folks. Robert Eggers even found the actor's performance inspiring as he tells The Daily Beast. Not one to stop a man who's got his groove going, the director let Robert Pattinson run with it and keep going in the direction that felt best to him. I can only assume this scene made it onto Robert Pattinson's demo reel for The Batman.
Robert Pattinson was no rookie coming in to The Lighthouse either, perhaps giving him the confidence to really go for it in The Lighthouse. You see, Robert Pattinson has masturbated before…onscreen that is, multiple times it turns out. It's actually a recurring theme the actor noticed, as he tells Variety:
Ladies and gentlemen, your new Batman. Robert Pattinson has become such an old hat at masturbating onscreen in movies that he actually didn't realize how often he was doing it until The Lighthouse. It's hilariously become a theme in his films and if those films weren't all smaller art-house movies, where the actor has proven his legit acting chops in the years since the Twilight franchise, he might be known for that more than for being a sparkly vampire.
It wasn't until he was doing it in The Lighthouse that he realized the pattern. It was apparently the clay mermaid his character masturbates to that did it. Robert Pattinson says that if that turns you on, you're at a strange place in your life.
Hey now, let's not kink shame RPatz. Your character Ephraim is a lonely lighthouse keeper in the 1890s and his options are extremely limited. There's no porn or magazines or the like, he's got to make do and use his imagination. I mean come on, you've never seen Splash!?
You can see future Batman Robert Pattinson showing why one is the loneliest number in The Lighthouse, now in theaters. Check out our 2019 Release Schedule to see other movies are coming out this year and for more of whatever this was, stay tuned to CinemaBlend.
Nick grew up in Maryland has degrees in Film Studies and Communications. His life goal is to walk the earth, meet people and get into adventures. He's also still looking for The Adventures of Pete and Pete season 3 on DVD if anyone has a lead.
Your Daily Blend of Entertainment News
Thank you for signing up to CinemaBlend. You will receive a verification email shortly.
There was a problem. Please refresh the page and try again.