Dwayne Johnson Will Put His Acting Skills To The Test With Movie On UFC Champ Mark Kerr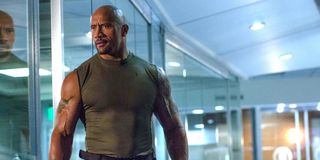 Dwayne Johnson is nothing if not up for a challenge. The WWE fighter turned actor has made some surprising moves in his career -- and he's about to make one more. He'll be taking on his first dramatic acting role when he portrays UFC fighter Mark Kerr in an upcoming biopic.
The news came as a surprise to fans when Dwayne Johnson announced it himself at a UFC event in Madison Square Garden. The actor told the crowd why he'd signed on for the ambitious project:
It's easy to see why Dwayne Johnson would be drawn to playing a fellow former fighter. But this won't be the first time Mark Kerr's story was told. In 2002, the documentary The Smashing Machine delved into the two-time UFC heavyweight's life and career, including his battle with opioid addiction. Dwayne Johnson has Mark Kerr's blessing to bring his life to the big screen in a new way, and he told fans:
Dwayne Johnson has certainly proven his might at the box office. But up until this point, he's mostly stuck to action films, comedic roles, and family-friendly fare. His roles in both the Jumanji and The Fast and the Furious franchises couldn't be more different than taking the mantle of a real life role. This really is his first completely serious acting part -- but it's one that he feels he's more than ready for. He told Variety:
Fans eager to see Dwayne Johnson put his acting skills to the test will likely have to wait a while. Details about the film's production are still unclear. Dwayne Johnson will be juggling several projects, including his new DCEU role as Black Adam, which is set to begin filming in 2020.
Your Daily Blend of Entertainment News
Thank you for signing up to CinemaBlend. You will receive a verification email shortly.
There was a problem. Please refresh the page and try again.