James Bond's No Time To Die Needs A Theme Song, And One British Singer Wants That 'Dream' Job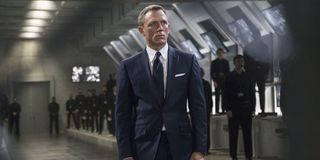 It's hard to say for sure what part of the James Bond franchise is the most iconic. The tux, the Bond girls, the villains, and the martinis have all become a part of countless memorable cinematic moments for the legendary spy. But so do the theme songs written for each Bond film -- and one British singer thinks that taking on that task for No Time to Die "would be a dream come true."
Tom Walker may not be a household name in the United States, but the U.K. singer-songwriter is gaining recognition across the pond, where he has a hit single and a gold record to his name. And he recently revealed that he'd do just about anything to nab the honor of performing the Bond 25 theme. He told Express.co.uk:
His commitment to performing the song is admittedly admirable, and also understandable. Whoever takes on the No Time to Die theme song will join the ranks of some legendary singers and most likely see a boost to their career. Adele and Sam Smith both won Oscars for their original songs (for the aforementioned "Skyfall," and Spectre's "Writing's on the Wall," respectively). The question is, of course, how exactly one gets the gig. Tom Walker says he has no idea:
All told, there have been more than 20 Bond themes. Some have been truly iconic ("Nobody Does it Better," "Goldfinger," and of course, the original by John Barry). Others, we would rather forget (we're looking at you, Madonna). There's been a somewhat lackluster response to the glimpses we've had of Bond 25 so far, it wouldn't hurt if this next song was especially strong.
Plans for No Time to Die's theme song are still tightly under wraps for now, along with many of the film's biggest secrets. There are rumors that director Cary Joji Fukunaga has shot three versions of the ending to keep it under wraps. And given Daniel Craig's up-and-down relationship with the Bond franchise, the biggest question is whether this is his last turn as 007. At the very least, we'll find out who will be singing the next signature Bond tune by the time the film hits theaters in April 2020.
Your Daily Blend of Entertainment News
Thank you for signing up to CinemaBlend. You will receive a verification email shortly.
There was a problem. Please refresh the page and try again.