Bond Girls: The 12 Most Iconic Women From James Bond Movies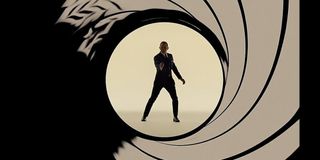 For over 50 years, the Bond franchise has provided audiences worldwide with a steady assortment of super-gadgets, electrifying action sequences, and daring missions across many gorgeous locales. In addition to all these incredible spectacles, there have also been a wide array of stunning Bond-adjacent women that join 007 on his worldwide adventures. Often enough, Oftentimes, the films' most memorable aspects are the various "Bond girls" that share the bill with their leading man but generally provide all-too-brief appearances in the series.
While not every Bond actress has been given their proper due on the big screen – and there's a fair share of inherent sexism that the franchise is only now starting to reckon with – there are a wide array of lovely and talented women who shined in their respective roles and became fan favorites with their charm, wit and sex appeal. Without any further ado, let's take a look at the best Bond girls in the series.
Andrea Anders (The Man With The Golden Gun)
Throughout the extensive history of the ongoing Bond cinematic franchise, there is only one actress who has played two different women in the series: Maud Adams. The Swedish actress worked with Roger Moore twice in the extensive series, and they first shared the screen together in Moore's introduction to the franchise, The Man With the Golden Gun, where she played Andrea Anders. Capturing the mystique, radiance and charm that are often instrumental to any great Bond girl's success, Adams got it perfectly.
Octopussy (Octopussy)
Maud Adams returned to the franchise for perhaps the most ridiculed name in Bond history (baring one other prominent example), Octopussy, in the 1983 movie of the same name; it's the titular role! This may not be the most respected or adored Bond girl in cinematic history, but Adams once again played the role splendidly. Not too many actresses could sell a role with a name like Octopussy, but it's a great credit to Adams that she actually brings a whole new edge and personality to her second Bond girl role.
Tracy Bond (On Her Majesty's Secret Service)
The quality of On Her Majesty's Secret Service is often contested when it comes to its legacy, as it's considered either one of the finest or weakest installments the franchise; I'm closer to the latter, personally. Still, there's no denying the fine screen presence of Dianna Rigg's Tracy Bond, the on-screen love interest for the one-and-done portrayer George Lazenby, and one could argue that Rigg outpaced her male co-star. She brought the right spunk to stand out as one of the great Bond girls to date, and it makes sense that Tracy was the only Bond girl that 007 decided settled down with and marry —if sadly only for a few short hours.
Honey Ryder (Dr. No)
To celebrate where it all began, the Bond franchise first started with Dr. No back in 1963, with Ursula Andress starring as the very first Bond girl, Honey Ryder. It makes sense that she started the tradition of great actress taking these key roles, since she has possibly the most well-known entrance in Bond history. Walking out from the water as if she were a sea goddess, Ursula is pure radiance, and it's no wonder why this Bond girl role is so sensational. It's a shame that her character is practically one-note in terms of being a damsel-in-distress, but the Swiss actress still makes it shine, and it's clear that many of the following Bond girls would hope to follow in her lead.
Tatiana Romanova (From Russia With Love)
It's hard to serve as both a proper match and adversary to 007 himself, but Russian Soviet officer Tatiana Romanova is here for it. Played by Italian actress (and former Miss Universe contestant) Daniela Bianchi, Tatiana often stands toe-to-toe with Bond, both playing to his strengths and adhering to his weaknesses. It's a fantastic performance; it's made all-the-better when she holds her own against the villainous Rosa Klebb, helping to give the Bond girls some much-needed agency.
Pussy Galore (Goldfinger)
With what might possibly be the most (in)famous name in James Bond movie history, English actress Honor Blackman took on the role of Goldfinger's Pussy Galore and became one of the most distinctive and ultimately celebrated Bond girls in the franchise. (Possibly an uphill battle with a name like Pussy Galore.) The character is cool, calm and collected, carrying an edge and charm that is always captivating. Even the suave secret agent is beside himself after meeting the lovely woman. Pussy Galore might not have the best name for a Bond girl, but it's certainly among the most memorable. And thankfully, Blackman's performance in Goldfinger matches it.
Anya Amasova (The Spy Who Loved Me)
Once again, James Bond meets his match with Anya Amasova, the Bond girl who features prominently in the movie The Spy Who Loved Me. Played by American actress Barbara Bach, Amasova is KGB agent, so she can certainly handle herself, and she isn't afraid to go to bat against Jaws. That's how you know she's a keeper. Amasova was wonderful as Barbara, and it was nice to see another Bond girl who could match 007's sharp skills.
May Day (A View To A Kill)
While A View to a Kill isn't everyone's favorite Bond movie (even though I still hold a dear place for it), it does feature the deeply charismatic Grace Jones is the role of May Day. The musician/actress is oozing with cool radiance, and that was no exception when it came to her appearance in this particular Bond film. For instance, she jumps off the Eiffel Tower after climbing it, and that's not the only badass thing she does in this movie. When it comes to captivating ladies who prove to be major butt kickers in the process, Grace Jones is certainly one of the finest examples from this hit series.
Xenia Onatopp (GoldenEye)
There's no denying that Xenia Onatopp is one of the toughest Bond girls out there. The action-friendly character was played by Dutch actress Famke Janssen (best known for playing Jean Grey in the original X-Men trilogy) in GoldenEye, one of 007's many returns to form throughout the years. Xenia is a woman who can crush a man by squeezing them with her thighs. She's the real deal, and she's no doubt one of the best Bond girls to date, and could probably beat you at GoldenEye multiplayer on N64.
Vesper Lynd (Casino Royale)
Similarly, during another one of Bond's many returns to form, Vesper Lynd proved herself to be one of the more dynamic and complex Bond girls, and was a more well-rounded character than we're used to seeing from some of the more simplistic entries (especially in the late '90s and early 2000s). Played by the always great Eva Green, Vesper Lynd is sensational, and she's quite easily among the most tragic characters in the Bond series, too. The life of a super spy is never as easy as it looks, and it's often said that the ones who get closest to Bond often have to risk everything. Good thing Vesper's reputation can't be lost.
Moneypenny (Skyfall)
There are only a few Bond girls played by future Oscar winners, and Naomie Harris is proudly among them. The future Moonlight actress starred in Skyfall, which some fans consider one of Bond's finest hours. While Moneypenny isn't a Bond girl in the traditional sense, she certainly makes a great impression during her time in Sam Mendes' film. As she shoots at the hero and provides several other memorable moments throughout the action-packed James Bond movie, it's clear that Naomie Harris was a star on the rise, and it was only a matter of time before she would find herself in a role that would cement her fame.
Jill Masterson (Goldfinger)
While Jill Masterson, played by Shirley Eaton, ultimately isn't one of the greatest characters in the Bond series, she does have one of the most memorable sequences of all. Specifically, in Goldfinger, she is the woman who is turned gold while lying in bed and waiting for her lover 007 to return. So while we can all agree that looks aren't everything, Jill provided a striking image that has become one of the more iconic in cinematic history, so we would be remiss if we didn't include her in this list.
These are only a mere few of the great Bond girls seen throughout cinematic history, and as the franchise continues, there will likely be more to in the future, including one or two in the next film, No Time to Die. Or maybe this is set to be end of the Bond girl era, as Bond is potentially set to become a woman herself in the future. Time will tell what the future holds for the franchise. We are sure you have your favorites too. Let us know your picks in the comments below.
Your Daily Blend of Entertainment News
Will is an entertainment writer based in Pittsburgh, PA. His writing can also be found in The Playlist, Cut Print Film, We Got This Covered, The Young Folks, Slate and other outlets. He also co-hosts the weekly film/TV podcast Cinemaholics with Jon Negroni and he likes to think he's a professional Garfield enthusiast.