James Bond: No Time To Die - What We Know So Far About Bond 25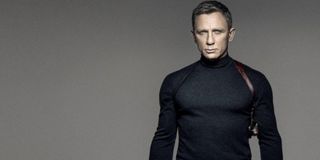 By the time No Time To Die, the film previously known to the world solely as Bond 25, hits the world, it will almost have been 5 years since James Bond's last adventure hit theaters. With a lot riding on what could be Daniel Craig's final adventure as the famed superspy, there's a lot of information that's still hidden for a film that's going to be released in the near future.
While some details are concealed under No Time To Die's veil of secrecy, we also do know a bit about this mysterious film that hasn't dropped a trailer just yet. And, looking at all of that information at once shows us where our gaps in knowledge may be leading in the long run. As we put together the pieces that are out there, here's what we know so far about No Time To Die.
When Is No Time To Die Being Released?
Atypical to the traditional model of releasing a James Bond movie in November, No Time To Die will be released in theaters on April 10, 2020. Originally, the film was slated for release on November 8, 2019, but a production delay then pushed No Time To Die to a tentative February 14, 2020 release date. One more delay was implemented, putting the film in its current release slot, though it still wouldn't be surprising if someone decided to push the film to a November release, in the name of tradition and post-production.
What Will No Time To Die Be Rated?
There's no way to tell how No Time To Die will be rated at this moment, but it's a pretty easy guess to make. With the Bond series being historically a PG-13 rated affair, it looks like the 25th film in the series will carry the rating that's been the franchise's bread and butter since 1989's License To Kill.
What Will Be The Story Of No Time To Die?
Per the official announcement of production starting on No Time To Die, the story of the film was laid out in the following synopsis:
While we don't know it for sure, Bond's retirement at the end of Spectre, with Dr. Madeleine Swann by his side, may yield some more personal stakes that haven't been revealed just yet. Let's just say the series has been playing around with the On Her Majesty's Secret Service influences to a point where James may see his most devastating loss since Vesper Lynd's death.
Will Blofeld Return In No Time To Die?
One of the biggest mysteries about No Time To Die has been whether or not Christoph Waltz's arch-nemesis to James Bond, Ernst Stavro Blofeld, will be returning for this new James Bond adventure. There's been no official confirmation as to whether Blofeld will factor into this new film or not, but not only have rumors persisted that Waltz was spotted on set filming some content, even director Cary Joji Fukunaga has stated that there was potentially room for his comeback. That said, we really don't know at this point, but will probably find out some time before No Time To Die is released.
The Director (Cary Joji Fukunaga)
Originally, Yesterday mastermind and British film icon Danny Boyle was to direct No Time To Die. But, creative differences led to his departure, and eventually director Cary Joji Fukunaga took over the directing duties. Previously known for directing films like Sin Nombre and Beasts of No Nation, as well as the TV series Maniac, Fukunaga has a taste for seriously offbeat stories that allow the viewer to unfold the mysteries at the center along with the characters on screen. Pair that with Cary Joji Fukunaga's eye for action, as seen in the first season of HBO's True Detective, and you've got a pretty impressive mix of talents that could serve this story exceedingly well.
James Bond (Daniel Craig)
The legendary superspy created by Ian Fleming through his initial series of books, James Bond has been the subject of 25 films, with six actors playing the role throughout. The most recent actor in the role is Daniel Craig, who since 2006's Casino Royale has been the cinematic face of 007 in the past four films. No Time To Die is allegedly his final outing in the role, though there's yet to be total confirmation that this assumption is correct.
Dr. Madeleine Swann (Léa Seydoux)
First seen in 2015's Spectre, Dr. Madeleine Swann was the daughter of Quantum/Spectre agent Mr. White, and the companion that accompanied Craig's Bond throughout that previous adventure. At the end of the film, after Bond saved Dr. Swann from the clutches of the villainous Blofeld, the two rode off into the metaphorical sunset with Bond retiring from active service. Her return in No Time To Die raises some questions, especially since franchise history has proven fatal to the women 007 tries to keep in his life after blissful retirement.
M (Ralph Fiennes)
Formerly the chairman of the Intelligence and Security Committee of Parliament, Ralph Fiennes' Gareth Mallory was promoted to the post of M at MI6 after the untimely death of Dame Judi Dench's version of the character in Skyfall. Returning for a second outing as the head of the British clandestine services, No Time To Die sees the infrastructure of James Bond's support network remaining pretty intact.
Eve Moneypenny (Naomie Harris)
Also returning to the MI6 cast of characters is Eve, better known as Moneypenny in Spectre, played by Naomie Harris. Traditionally a foil who adds a bit of office-bound flirtation to James Bond's life, her evolution through the last two films has seen her go from a mere secretary to a vital piece in Bond's intelligence gathering efforts. Just don't expect the two of them to ever get too close at the office.
Q (Ben Whishaw)
If M gives Bond guidance, and Moneypenny helps gather intel, then Ben Whishaw's Q is the person to go to for the right tools of the trade. The gadget master of MI6, Whishaw will be reprising the role he originated as part of the rebooted James Bond franchise in No Time To Die. Much like Naomie Harris' Moneypenny, Q has been a part of the Bond dream team since 2012's Skyfall, providing a younger depiction of the, formerly, much older character.
Bill Tanner (Rory Kinnear)
As one of the people who has always stood at the side of MI6's head honcho, Bill Tanner has been the chief of staff for M in several films reaching back to 1974's The Man With The Golden Gun. Rory Kinnear's reprisal of this role in No Time To Die not only sees him continue to maintain his position between two different people heading up MI6, but also makes him the longest recurring actor in the role as he's played Tanner through all but one of Daniel Craig's films in the series.
Felix Leiter (Jeffrey Wright)
Another classic fixture of the 007 mythos, CIA agent Felix Leiter has been counted on as one of James' most trusted allies when the chips are truly and firmly down. Played by Westworld's Jeffrey Wright, the character did have a moment where he returned for the franchise's more modern reboot in 2006's Casino Royale, as well as 2008's Quantum of Solace. No Time To Die sees James Bond's "brother from Langley" returning to bring the legendary character back to life, and Bond back to Her Majesty's Secret Service, after being absent in the last two 007 adventures.
Nomi/007 (Lashana Lynch)
With James Bond retiring from his 007 callsign in Spectre's finale, someone had to take the legendary label forward into the future. Enter Nomi, a new intelligence agent played by Captain Marvel's Lashana Lynch. The latest recipient of the 007 number, she will become one of MI6's elite operatives that ensure world security, and while she'll certainly have fun interacting with Bond when No Time To Die calls for the two to team up, she'll be more immune to his charms than most.
Paloma (Ana de Armas)
It's uncertain if Ana de Armas' Paloma will be the kidnapped scientist that Daniel Craig's James Bond will have to rescue in No Time To Die, or if she'll play another character in the film's ultimate plot. However, it wouldn't be that much of a surprise if the Knives Out and Blade Runner 2049 actor would play a secondary villain that could try to kick Bond's ass across Europe as he investigates the central villainy at hand.
Waldo (David Dencik)
We're similarly unsure if the character simply known as Waldo will be a force for good or evil in No Time To Die. However, what we do know is that the role will be played by Tinker Tailor Soldier Spy and Chernobyl actor David Dencik. Knowing the actor's range through such works, no matter which side of the coin he falls onto, it's going to be fantastic to see Dencik interacting with the rest of the No Time To Die cast in either context.
The Villain (Rami Malek)
Last, but not least, Academy Award winner Rami Malek has been cast as No Time To Die's enigmatic villain. While we don't have any deeper details as to what he'll be doing as this film's antagonist, his casting was one of the most hotly anticipated announcements, as the powers that be really wanted Malek as James Bond's latest nemesis. With certain conditions surrounding the role met, Rami Malek was brought on board rather quickly, allowing him to antagonize Daniel Craig for what could be his final 007 adventure.
Will No Time To Die Be Daniel Craig's Final James Bond Movie?
It's widely been speculated, and pretty much accepted, that Daniel Craig's time as James Bond would come to an end after he has completed No Time To Die. Not only is this film supposed to wrap up the story started in Skyfall, but, allegedly, getting Craig back for the 25th Bond film was a challenge in and of itself, so it feels like it could be the end.
That being said, there have been recent rumors and interpretations of remarks from Craig, and other key players in the 007 franchise, that suggest there could be at least one more film in the actor's future. While this is mere speculation, the fact that No Time To Die has three different endings rumored to have been filmed for its finale, lead to the possibility that Daniel Craig might still be deciding what his fate with the franchise will be, meaning that there's enough leeway for him to take his time to decide.
We'll have to wait until next April to see what No Time To Die has in store for its audience. In the meantime, you can bookmark this handy guide, and check back often to see what new developments have occurred. And, if you're interested in seeing what the competition looks like for the film, head over to our 2020 release schedule and see what other films are looking to make April 2020 a blockbuster affair.