Playing With Fire's John Cena Tells Us The Most Important Ingredients For A Family Comedy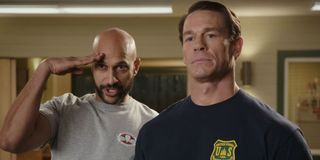 No matter what type of movie you're making, it's always important to keep your audience in mind. But when it comes to making a family comedy like Playing With Fire, it's harder to nail that sort of objective when you're playing in that particular genre. And yet, actor John Cena's latest film manages to successfully accomplish this objective, and the man himself admitted as much in a recent interview.
I had an opportunity to speak with John Cena and Keegan-Michael Key, as part of CinemaBlend's attendance at the junket for Playing With Fire, and the WWE wrestler-turned-actor recited the following mantra that every creator in the family comedy space should know by heart:
In a movie that shows the comedy team of John Cena, Keegan-Michael Key, John Leguizamo and Tyler Mane squaring off against a trio of kids set to wreck shop on their straight-laced way of life, Playing With Fire is operating on a firmly tested playbook. On the surface, the film looks like a PG-rated product that tries to appeal to the children in the audience, while giving the more mature moviegoer a couple of gags here and there to keep them invested.
But what makes Playing With Fire different from the typical example of the sort of movie you'd see parodied in any snarky comedy about acting is that while director Andy Fickman and his cast know the type of movie they're taking part in, they aren't ashamed of it.
Even just by watching the trailer to the film, which is introduced by John Cena, perfectly replicate the very nature of his character, Superintendent Jake Carson, Playing With Fire makes a promise of what type of movie to expect, and that film doesn't waver from that pledge for one second.
Self-aware of its silly and heartwarming nature, the movie starts off on the right foot when it comes to making parents and children comfortable with watching Playing With Fire, be it in the theater or at home. Which leads to another very important lesson when it comes to family comedies, as taught by John Cena's co-star, Keegan-Michael Key.
During this very same interview, Key added the following commentary about how Playing With Fire gets this sort of movie right, when so many others don't:
Both Cena and Key are practical veterans of the family blockbuster genre, as the Playing With Fire stars have done a good amount of work in the field of giving kids and adults a good time at the box office. With John Cena's career including such highlights as voice work in films like Ferdinand, as well as live-action appearances in the latest Transformers film Bumblebee, the man's racked up quite a bit of experience with playing around in the world of family friendly action.
No slouch in his own right, Keegan-Michael Key has scored tons of his own voice credits in the name of family entertainment. 2019 in particular saw him not only take part in Disney's live-action remake of The Lion King, but it also reunited him with comedy partner Jordan Peele to play the absolutely hysterical Duckie and Bunny in Toy Story 4's expanding stable of characters.
It's their combined expertise that made this interview for Playing With Fire's theatrical release extremely informative and interesting, as you'll see in this video from our conversation:
With a skill set that allows them to function as two of the tentpoles that help set the mood on the set of Playing With Fire, John Cena and Keegan-Michael Key certainly know what it takes to keep a family comedy going. Though it also helps that these two would-be clowns know how to keep it together when the cameras are rolling. At least, one of them did anyway.
Throughout the day's interviews, which also included a chat with director Andy Fickman and star Brianna Hildebrand, I wanted to know who broke the most on the set of this would-be laugh riot. With any movie that has as many outtakes as shown during the credits of Playing With Fire, it's a fair question to know who laughed hardest when it came to their time on set.
As you would expect, while John Cena was outed by everyone as the comedy softie of the group, Keegan-Michael Key and John Leguizamo were known as the stone cold humor assassins that kept themselves in the right frame of mind throughout the film's production. Much like the mix between tones present in the finished product of Playing With Fire, the mix of Cena and his fellow funsters made all the difference as well.
Family comedies like Playing With Fire are hard to come by, but when they land the right way, it's because those involved know what they're doing. John Cena and Keegan-Michael Key's respective approaches to the heart and humor present in this project show that they are two of the best examples of performers who know how to play to adults and children in equally entertaining fashion.
You'll be able to see the results for yourself this Friday, as that's when Playing With Fire opens in theaters. However, if you're already set to enjoy that particular film, we can help you find the next adventure! Head on over to our 2019 release schedule to see what else is in store for you and your family's entertainment.
Senior Movies Contributor
CinemaBlend's James Bond (expert). Also versed in Large Scale Aggressors, time travel, and Guillermo del Toro. He fights for The User.
Your Daily Blend of Entertainment News
Thank you for signing up to CinemaBlend. You will receive a verification email shortly.
There was a problem. Please refresh the page and try again.