Chris Evans And The Internet Aren't Happy About James Dean Being Brought Back Via CGI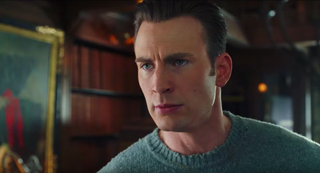 Digital technology has allowed for some pretty amazing cinematic feats. But it's also fueled a debate as to how far is too far for filmmakers to go. Recent news that Finding Jack will use computer-generated imagery (CGI) to bring James Dean back to the big screen was met with backlash on the internet. And even Chris Evans weighed in — and made it clear he wasn't happy with the casting choice.
The Hollywood Reporter first broke the news that Anton Ernst and Tati Golykh will digitally recreate James Dean's likeness for their Vietnam War film. On November 6, Chris Evans retweeted the magazine's story, and added his own critical commentary:
And the Avengers actor wasn't the only Hollywood star to take issue with the Finding Jack news. Lord of the Rings' Elijah Wood - no stranger to digital magic-making in his own films - also tweeted out his disapproval:
Alas, it very much is a thing. That didn't stop other members of the film community for pointing out that the directors' decision is short sighted. Michelle Buchman reminded her fellow cinephiles that it probably wouldn't be that hard to find a living actor for Finding Jack:
Apparently, Finding Jack's filmmakers don't agree. They will use "full body" CGI by drawing on photos and footage of the iconic Rebel Without a Cause star, who died in 1955. Following the backlash, Anton Ernst reached out to THR to defend their decision. He insisted that they are not using James Dean as a marketing gimmick, and they did not come to the decision lightly, explaining:
Anton Ernst also said that his production company, Magic City Films, received permission to use James' Dean's likeness posthumously from "supportive" family members: the cousins that run his estate. He told THR:
Finding Jack, based on Gareth Crocker's novel, is Magic City Films' first production, and thus far, the filmmakers have shown no sign of bowing to the backlash. Anton Ernst said:
The problem is that as far as fans like Chris Evans are concerned, they already have.
Your Daily Blend of Entertainment News