Watch Mark Hamill's Hilarious Reaction To His Original Star Wars Audition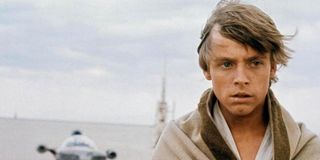 With the upcoming release of Star Wars: The Rise of Skywalker, it's only natural for fans to feel nostalgic. And apparently, Mark Hamill is right there with us. He recently watched his screen test audition for Star Wars: A New Hope. And his reaction to seeing his younger self was pretty hilarious. But he also took a fond trip down memory lane.
As a fundraising effort for Omaze, Mark Hamill watched footage of his younger self work through a scene with Harrison Ford. And he didn't hold back on praising him:
When it came to his own performance, Mark Hamill wasn't too proud to clown himself. He made fun of his hair and cringed over his line delivery. At one point, he seemed truly baffled at his performance, asking "Did I call him Hans? Why did I call him Hans instead of Han?" That moment reminded him that the Star Wars: A New Hope cast and crew were confused about how to pronounce Han and Chewbacca's names. And he revealed that George Lucas didn't do much to clear things up:
While the clip features plenty of good-natured ribbing, Mark Hamill also offered up some sincere tidbits about his fellow Star Wars crew. Though Carrie Fisher isn't present in the screen test footage, one moment reminded him that she affectionately called one of his facial expressions his "freshly punched look." He offered some lovely insights about the late actress, too, saying that he thought she was the final piece of the Star Wars puzzle, and explaining how she surprised him:
So, even though Mark Hamill found his own performance embarrassing, the video left the Star Wars legend with mostly happy memories — including when he realized that he would be playing the hero, and not the sidekick. And of his time on the Star Wars: A New Hope set, he has incredibly fond memories. He finished the video by telling fans, "There wasn't a day that we didn't laugh a lot." It's good to know fans aren't the only ones with great Star Wars memories.
Your Daily Blend of Entertainment News
Thank you for signing up to CinemaBlend. You will receive a verification email shortly.
There was a problem. Please refresh the page and try again.