12 Days of Christmas: Miracle On 34th Street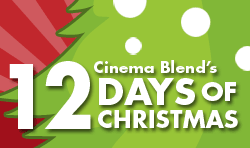 It's time to celebrate the Christmas/ Chanukah/ Kwanza/ Festivus Holiday season, so here at Cinema Blend we're enjoying Twelve Days of Christmas. Yes, we know traditionally the "12 days" start with Christmas, but we plan on being celebrated out by that time, so we're pushing the twelve days leading up to the holiday.
Here at Cinema Blend, we're celebrating by revisiting some of our favorite holiday movies. These aren't the 12 best movies out there by any means, just twelve of our favorites. Some of them you might enjoy like we do. Others you might want to check out for the first time.
On the tenth day of Christmas, my true love gave to me…
A trial for Santa Claus
My favorite Christmas story to read every year is the editorial, "Yes, Virginia, there really is a Santa Claus." It's a nice reminder of the power of the jolly old elf, what it was like to believe, and how much we need someone like Santa to keep the spirit of Christmas alive.
That same message appears in movie format in the classic Miracle on 34th Street, the 1947 classic movie about a kind old man who claims to be Santa and is subsequently put on a trial that questions his sanity. It truly reveals the cynical world we adults live in, where we can't believe a kind man could really be Santa. Thankfully, there really is a Santa Claus, as the editor tells Virginia in the story, and as the court finally determines in Miracle.
The movie was remade in 1994, but, despite Sir Richard Attenborough's best efforts, the remake lacks a lot of the charm of the original. Personally, I think it's because the story was so well told in 1947 that the remake was just redundant. If the first movie makes us believe in Santa again, why do we need a second picture to try and do the same?
That classic holiday moment… mail call
Read all of Cinema Blend's 12 Days of Christmas features in other sections by clicking here.
Your Daily Blend of Entertainment News