Alita: Battle Angel 2 And 5 Other Movie Franchise Disney Should Focus On Instead Of Star Wars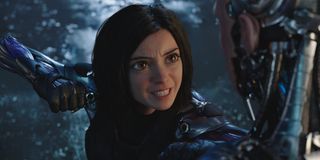 CinemaBlend participates in affiliate programs with various companies. We may earn commission when you click on or make purchases via links.
Just when you thought we were at a point where the Star Wars galaxy would just keep printing money, the announcement came down the pipeline that the franchise would be going on a bit of a cinematic hiatus. While that doesn't mean Disney won't be making hay with shows like The Mandalorian on Disney+, it does leave an opening in the studio's theatrical schedule. Which means there's some room on the books to go back to some other franchises the studio now holds in its hands, franchises like Deadpool and Alita: Battle Angel, for example.
As nature abhors a vacuum, studio rosters hate open release spaces. So with the potentially vacated space on the Disney/Fox studio calendar, I'd like to take this opportunity to throw out some suggestions as to what can fill the Star Wars shaped hole in the wonderful world of Disney. Let's start with the one that probably got you to click on this headline.
Alita: Battle Angel
The prospects for Alita: Battle Angel 2 have been shaky since day one. While the Robert Rodriguez anime adaptation did well enough to earn some decent bank, some say it wasn't enough to justify a sequel return to the Iron City. However, just as there are fans who really want to see the Snyder Cut of Justice League emerge, there's a similarly motivated fanbase that holds out hope for Alita's return.
Another vocal fanbase that the Internet has seen flourish in the months after Alita: Battle Angel's release under 20th Century Fox, Disney could very easily take a calculated risk and feed the public's want for a theatrical or even Disney+ sequel. While it's not a surefire prospect for success, surely the company could see this not only as an investment in the Fox library of content they now own, but also a potential test of whether the franchise could have a future at Disney?
Deadpool
Yes, that Fox/Marvel unicorn known as Wade Wilson is someone who could benefit from the absence of Star Wars films on the upcoming Disney theatrical roster. With a Deadpool 3 movie being talked about quite often, there's obviously still an interest in keeping the foul mouthed mutant putting forth a maximum effort at the box office. And since those in charge have sworn they'd keep Deadpool at an R-rated level, it'd be nice to see the studio start those engines up again.
With the Fox brand still in play, and the Marvel Cinematic Universe looking to never cross that MPAA PG-13 marker, a Deadpool movie would be a great way to flex the muscles of that particular brand. It wouldn't have to interfere with the MCU's progress, but at the same time, a back door could be left open for Ryan Reynolds' character to make his way into the shining light of that multi-billion dollar universe, you know, at some point. It's a prospect that Reynolds would undoubtedly get behind, and a statement that his fictional counterpart would probably chuckle at to no end.
Tron
If it wasn't for some last-minute course changing, we might have seen Tron 3 movie come into existence. Yet, after the less-than-stellar reception of Disney's Tomorrowland, the project was scrapped, and what would have been a movie called Tron Ascension was no more. As the studio has always stated the project was "on ice" due to financial commitments to powerhouses like Pirates of the Caribbean, it feels like the right time to de-thaw the digital world.
While there was talk of a Jared Leto-starring vehicle in the Tron universe at one point, it'd probably be best to stick with what director Joseph Kosinski had in mind for his next entry in the legendary canon, which would have been an invasion movie inside the machine and brought in other unique ideas. In either case, seeing the world of programs and users collide once again would be a pretty spectacular offing; even more so when you realize what Tron Ascension could bring to the table. Now that Disney+ has both films available in its library (which you can watch with a free 7-day trial (opens in new tab)), there's even more of a reason to bring Tron 3 into the fold, either on the big screen or via the streaming service.
X-Men
One of the key reasons fans were ecstatic for the merger between Disney and Fox to go through was the fact that it meant the X-Men could eventually come out to play in the Marvel Cinematic Universe. Immediately, thoughts of Avengers vs. X-Men adaptations flashed into fan's eager minds, and who could blame them? While there's no specific timetable on when the X-Men could be brought into the fold, it could be argued that Professor Xavier and his gifted school's youngsters should develop their new canon (probably parallel) to the MCU proper.
Since the X-Men occupy the same space that Deadpool happens to play in, keeping those two franchises separate, but totally in play, is the best idea to build a foundation to the eventual cross over between a future Avengers lineup and all mutant kind. Not to mention, there would also be plenty of time to figure out just how Elizabeth Olsen's Scarlet Witch ended up on the polar opposite end of the dimensional rift from her fellow X-Men.
Fantastic Four
Meanwhile, the other prodigal child of the Marvel lineup, the Fantastic Four franchise, would very easily make itself a perfect candidate to be worked up directly in the Marvel Cinematic Universe. Its status as the other comic title fans have wanted to see vindicated by the Disney/Fox merger undoubtedly makes it another prime candidate for workshopping in the near future. Unlike X-Men, these superheroes could be plugged directly into the source without having to worry about any adjacent spinoffs being able to play freely.
As such, the new Fantastic Four origin story could eventually build up to the point where Reed Richards starts tooling around with multidimensional science, and eventually opens a rift so great, it allows them to bridge the X-Men and Deadpool with The Avengers. It's a prime opportunity to build up to the next mammoth crossover event in the Marvel Cinematic Universe, and with both sides of the dimensional gate primed and ready, the seeds could start being laid down in Doctor Strange in the Multiverse of Madness.
The Haunted Mansion
We're going to close things out on an oddball, as The Haunted Mansion has already seen itself made into a film, courtesy of an Eddie Murphy-led vehicle in 2003. While that particular film wasn't received with a burden of positive praise, there was eventually talk surrounding a potential reboot, with writer/director Guillermo del Toro promising a scarier take on the classic Disney attraction.
The studio has kept the idea of film franchises based off of theme park rides alive in the post-Pirates of the Caribbean age with films like Disney's upcoming adventure-comedy Jungle Cruise, so that's not going away anytime soon. Reviving this particular idea that fell by the wayside could be a further investment in an original Disney I.P., as well as a great way to bring the talents of Guillermo del Toro into a Disney context.
While there are a ton of movies that could be revived in the temporary absence of cinematic Star Wars entries, these are the projects that feel like the best prospects for a bright future. You can be sure we'll see some sort of new and exciting action in that galaxy far, far away on the big screen again at another point in time, but if Disney wants to fill that gap with something that has a track record, and is almost assured to excited audiences young and old, they should look no further than these fine candidates.
CinemaBlend's James Bond (expert). Also versed in Large Scale Aggressors, time travel, and Guillermo del Toro. He fights for The User.
Your Daily Blend of Entertainment News
Thank you for signing up to CinemaBlend. You will receive a verification email shortly.
There was a problem. Please refresh the page and try again.