Joker Is Officially Crossing The $1 Billion Mark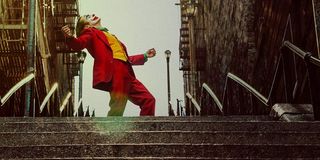 Just because you predict a movie will be successful doesn't mean you're right about just how the levels of its success. Case in point, Warner Bros' latest DC Comics movie, Joker, has been steadily climbing commercial heights that few expected it to reach, and now it's official: the Joaquin Phoenix-led Clown Prince of Crime origin story will cross the $1 billion mark this weekend, if it hasn't already.
Where Joker ranks in total box office haul is unclear, as Box Office Mojo states it's at $994.4 million worldwide, while The Hollywood Reporter has it right at the edge with $999.1 million worldwide. Either way, it's only a matter of time before Joker hits that $1 billion milestone; who knows, maybe as you're reading this, it will have already done so.
If we look at Box Office Mojo's numbers, Joker has grossed $316.3 million domestically and $678.1 million internationally. As far as profits go, THR mentioned in its writeup that Joker will generate approximately $600 million for Warner Bros and its partners on the movie, Village Roadshow and Bron, each of which have a 25% stake in Joker.
It's obviously a big deal whenever any movie crosses the $1 billion mark, but where Joker is concerned, to say it exceeded expectation is an understatement. Given the green light as a smaller-scale comic book adaptation compared to the usual DC and Marvel fare that's shown to the masses, it's now the fourth highest-grossing DC Comics movie of all time, trailing behind Aquaman at #1, The Dark Knight Rises at #2 and The Dark Knight at #3. It is the sixth Warner Bros movie to cross $1 billion, as Harry Potter and the Deathly Hallows Part 2 and The Hobbit: An Unexpected Journey also share that achievement.
But arguably Joker's biggest triumph by hitting $1 billion is that it's the first R-rated movie to do so, the cherry on the sundae that was it becoming the highest-grossing R-rated movie of all time weeks earlier (not adjusted for inflation). Before now, Deadpool held the top spot with $783 million worldwide, although if one takes into account Deadpool 2's theatrical cut and the PG-13 cut shown at the end of 2018, then technically it has its predecessor beat by $2 million.
It's been a little over a month since Joker was released in theaters, meaning its theatrical run will start winding down in the weeks ahead. But it's already cemented its status in the film history books not just by all the buzz and controversy generated about the story prerelease and as it was airing on the silver screen, but that it will go down as the 13th comic book movie to make $1 billion or more.
As far as critical reception goes, Joker ranks at 69% among critics and 89% among audiences on Rotten Tomatoes, and it earned a B+ on Cinemascope. But its impact on the film world and general pop culture cannot be understated, which includes the steps that Joaquin Phoenix's Arthur Fleck dances down becoming a tourist destination.
Be sure to read CinemaBlend's review of Joker and stay tuned for any updates concerning its awards season prospects and whether or not a sequel will be made. For now, plan your trips to the near future accordingly with our 2019 release schedule and 2020 release schedule.
Connoisseur of Marvel, DC, Star Wars, John Wick, MonsterVerse and Doctor Who lore. He's aware he looks like Harry Potter and Clark Kent.
Your Daily Blend of Entertainment News
Thank you for signing up to CinemaBlend. You will receive a verification email shortly.
There was a problem. Please refresh the page and try again.