Disney+ Head Honcho Reveals Content 'Aimed At Grown-ups' Is Coming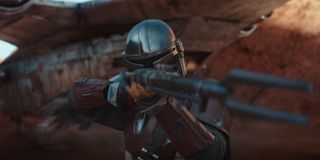 Since the launch of Disney+ a little over a week ago, subscribers have been able to explore the wealth of content on the nascent streaming platform. From the new watercooler shows to the legacy content and from the classics to the bizarre, there is plenty to watch on Disney+. However, one area that you may have found Disney+ lacking is in content for older viewers. Fear not though, because content 'aimed at grown-ups' is coming, as Disney+'s head honcho Kevin Mayer revealed:
He really should have finished that sentence with 'I have spoken.' As the chairman of direct-to-consumer and international at Disney, Kevin Mayer oversees Disney+, so he knows better than anyone what's in the pipeline for the streaming service. As he told Recode at Code Media 2019, in addition to all the kid-centric and family friendly content currently on the platform, Disney+ will indeed be adding stuff that is aimed more specifically at grown-ups.
So for those who have inexplicably become bored binging Disney's classic kids shows and family friendly movies on Disney+, there is grown-up content on the way. Now it should be noted that this content aimed at grown-ups is not going to be what we traditionally consider 'adult content.' That's because, as we know, there will not be any R-rated content on Disney+.
Just like controversial films like Song of the South, Disney+ will not feature R-rated movies. That means no Deadpool, no Kingsman and no Alien, all three of which now fall under the Disney umbrella following its purchase of 21st Century Fox. The same goes for R-rated stuff like Pretty Woman and Enemy of the State, released under Disney's Touchstone label.
But a movie or TV show doesn't have to have the hallmarks of R-rated content like nudity, sex, drugs, extreme violence and the like to be aimed at grown-ups (that's what the now Disney-owned Hulu is for). There are plenty of stories of a PG-13 nature that will appeal more to adults than children and it sounds like that's what's headed to Disney+.
And based on Kevin Mayer's comments, this content aimed at grown-ups will be new, original programming too. Although he doesn't give any hints as to what this content might be, it's coming. It's not a matter of if, just a matter of when.
Disney+ is brand new and as you would expect it is still very much a work in progress, both in terms of the technology and its library of content. Disney is obviously working on tons of original content for the platform and it sounds like some of it will skew towards an older audience, but as Kevin Mayer said, that takes time. Not only does that grown-up content take time to create, but Disney is also being very strategic with its release schedule.
Disney is going for a quality over quantity approach with its streaming platform and that necessitates doing things a bit differently than Netflix, which has plenty of quality, but its overall volume is significantly greater. Based on his comments, Disney wants new Disney+ content, of whatever variety, to come at a steady clip.
By taking its time, Disney can ensure that the grown-up programming headed to Disney+ can be of the highest quality that Kevin Mayer spoke about. And by not rushing things and dumping everything all at once, just like opting not to use the binge release model, Disney keeps subscribers interested over time and keeps those subscription fees coming in.
So Disney will be releasing more grown-up content on Disney+ to broaden its offering and increase its value proposition as time goes on, but it's still early days and that stuff isn't here quite yet.
Stay tuned to CinemaBlend for all the latest Disney+ coverage and check out our 2019 Release Schedule to see what grown-up movies are headed to the big screen the rest of this year.
Nick grew up in Maryland has degrees in Film Studies and Communications. His life goal is to walk the earth, meet people and get into adventures. He's also still looking for The Adventures of Pete and Pete season 3 on DVD if anyone has a lead.
Your Daily Blend of Entertainment News
Thank you for signing up to CinemaBlend. You will receive a verification email shortly.
There was a problem. Please refresh the page and try again.