James McAvoy Says He's Lost Roles For Being 'Too Short'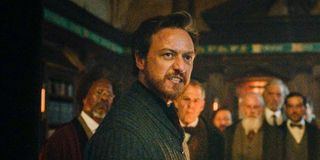 Actors are no strangers to competition. And while Hollywood is known for some questionable casting practices, there's always the hope that talent will ultimately be one of the main deciding factors in who gets a role. But if you ask James McAvoy, that has not always been the case for him -- and he's lost out on roles because he was too short.
In an interview with the Telegraph, the actor delved into the trajectory of his career, and some of the struggles he's faced. And James McAvoy revealed that his 5' 7" height has caused him a few problems both on and off set over the years:
While he didn't reveal what co-star he was referring to, James McAvoy said that an actress once implied that she thought he was too short to be cast opposite her. It understandably made their time on set challenging:
There's no denying that James McAvoy is on the shorter side in comparison to some of his Hollywood counterparts -- though he's definitely not the shortest actor to make it on the big screen. But despite some studios' reticence to cast him for that reason, he's managed to cultivate a successful career playing a wide range of roles. The actor has been working steadily since 2003. He's proven he can help lead a successful franchise with his role as Professor X in several X-Men films, showed off his comedic chops in Filth, and wowed critics and fans with his daring multifaceted performance as The Beast in Split and Glass. And he's also shown he's an effective romantic lead in films like Atonement, for which he received a Golden Globe nomination.
And even though James McAvoy has lost out on some roles for a pretty silly reason, he's still keeping busy. This year he starred as the heroic Bill Denbrough in It Chapter Two. And he's currently appearing as Lord Asriel in HBO's acclaimed miniseries His Dark Materials. He hinted that he wasn't the first choice to play his latest character, either -- though it's not clear whether that was height-related or not.
Your Daily Blend of Entertainment News
Thank you for signing up to CinemaBlend. You will receive a verification email shortly.
There was a problem. Please refresh the page and try again.