Avatar 2 Sneak Peek: Sequels Celebrate End Of 2019 Filming With Huge Set Photo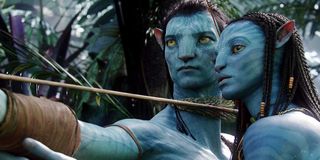 It's been a busy year for the Avatar 2 cast and crew. They've been hard at work filming the first sequel to the 2009 blockbuster. But they still took time out to show their thanks to fans this holiday weekend -- and to provide an exciting glimpse of the film's enormous set.
Avatar 2 and Avatar 3 filmed at the same time, with the live-action segments completed after the motion-capture work. On November 29, the official Avatar Twitter account announced that filming for the Avatar sequels had come to a close for the year. But it was anything but a melancholy message. They announced, "That's a wrap, Na'vi Nation! It's our last day of live-action filming in 2019, and we're celebrating with a sneak peek. Check out this photo of the aft well deck section of the Sea Dragon, a massive mothership that carries an array of other sea-going craft in the sequels."
Included in the tweet was an aerial shot of the Avatar sequels set. It's hard to make out the finer details in the midst of the various set pieces and equipment. But the photo does clearly show a large pool with the new vessel. It's a rare look behind-the-scenes of the much-anticipated sequel. And it definitely shows us a bit of what they've already hinted at -- that the film will deal heavily with Pandora's oceans.
Fans were quick to respond to the tweet, and seemed eager for more. And the Avatar Twitter team stuck around to answer some questions. They apologetically informed a fan that there won't be an Avatar 2 trailer any time soon. But they did remind fans that there will be plenty to keep fans busy in 2020 -- like a mobile game.
So far, there's been somewhat of a shroud of mystery around Avatar 2. We've learned that some of the first film's most popular characters will return, and that we'll also see plenty of new faces. There's a lot we still don't know, though -- like, for instance, the title, and how James Cameron will expand the world out for the three films that are set to follow.
For fans of the burgeoning Avatar franchise, this sneak peek was a long time coming. The first two sequels were originally announced in 2010 -- and at one point Avatar 2 seemed slated for a 2020 release. But over the past almost decade, more films have been announced -- and the Disney/Fox merger also led to a delay. And James Cameron has also been waiting for technology he feels is good enough to properly capture all the underwater action of Avatar 2. In other words, it's been a long journey to get to the point where we even see behind-the-scenes pictures. And hopefully we'll get a few more sneak peeks before Avatar 2 (probably) hits theaters in December of 2021.
Your Daily Blend of Entertainment News