See Grease's Olivia Newton-John And John Travolta Reunite In Their Original Costumes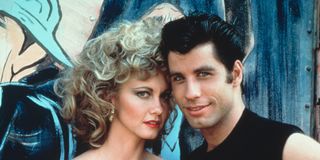 It's been more than 40 years since Grease first hit theaters and transformed its stars into cultural icons. But just like the end of summer wasn't enough to stop Danny loving Sandy, the decades haven't dampened fans' enthusiasm for the musical. And at a recent event, John Travolta and Olivia Newton-John both donned their characters' original costumes, to fans' delight, at a special screening of the film.
In October, the actors announced they'd be hosting the Meet n' Grease sing-along for fans in three separate cities in Florida. The three-night event included a Q&A session hosted by Olivia Newton-John and John Travolta. But fans who signed up for the December 13 event probably didn't expect to see the movie's stars dressed up once again as Sandy and Danny.
During the event, Olivia Newton-John, now 71 years old, appeared in two of Sandy's iconic outfits -- the yellow cardigan and sweater, and the leather jacket and hot pants combo she wears in Grease's finale. John Travolta, now 65 years old, slipped back into Danny's iconic black jeans and leather jacket. The pair look pretty snazzy, and they seemed to be just as excited as their fans to be back in costume.
Olivia Newton-John shared a behind-the-scenes photo with her Grease co-star and shared that it was the first time either actor had worn their costumes since the 1978 movie wrapped. The actress recently auctioned her leather jacket to raise funds for the Olivia Newton-John Cancer Wellness and Research Center. But the anonymous donor who purchased it for $243,000, then returned it to the actress, stating that he believed it should be with its rightful owner. That makes her ability to wear the jacket for her Grease reunion feel all the more meaningful.
John Travolta also took to Instagram to share his excitement about Meet n' Grease. He, too, shared the behind-the-scenes image of himself and Olivia Newton-John, telling his followers that as far as he is concerned, Grease "is still the word." And he shared as well as several short video clips of the event, as well as another photo of the pair recreating their final iconic pose in the original 1948 Ford De Luxe from the film. Be sure to click through to see all of his video clips below:
Grease is one of the most beloved movie musicals of all time. Even though its story and characters are most certainly of another era, it continues to inspire fans all around the world, and has more than proven its enduring cultural legacy. Earlier this year, HBO Max announced it will create a spinoff for the film called Grease: Rydell High. There's no word yet as to whether Olivia Newton-John or John Travolta will make an appearance in the new series. But just in case, maybe they shouldn't hang up those costumes quite yet.
Your Daily Blend of Entertainment News