Steven Spielberg Is Trending On Twitter, Causing Fans To Freak Out Thinking He Died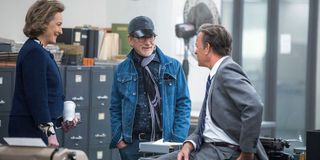 It's a big month for movies like Jumanji: The Next Level, Star Wars: The Rise of Skywalker, and more, but there's one movie man trending on Twitter this week who has had nothing to do with the blockbusters of the season. That man is none other than director Steven Spielberg.
Why Is #StevenSpielberg Trending On Twitter?
Thankfully, the answer simply has to do with the fact that the #StevenSpielberg tag started going around on December 18, which also just so happens to be the Jurassic Park, Saving Private Ryan, and more recently Ready Player One director's birthday.
In case you wondered, Steven Spielberg was born on December 18, 1946, which means the Cincinnati native turned 73 today. This is great news, but instead it set off a chain of reactions akin to a death hoax.
How Did A Steven Spielberg Hashtag Become A Bit Of A Death Hoax?
Unlike plenty of famous death hoaxes out there, no one outright came out to say the famous director was dead, but typically when things trend on Twitter there's a reason. For example, there's a reason #RiseofSkywalker and #AQuietPlace2 are trending today. The former has to do with people actually finally seeing the movie and posting their reactions. The latter has to do with the first look at the sequel to A Quiet Place dropping. This led to people jumping to conclusions about the above hashtag.
When a famous name trends, it often has to do with their death. Often, not always. But it's enough that quite a few people had a fluttery moment before actually looking into the hashtag.
For example, some people's first impulse was to assume the director had died, which did not go over well with their heads or hearts.
Similarly, this "princess" said the jolt of seeing Spielberg trending woke her up "faster than coffee" would have.
Others tried to clarify the news as soon as they found out #StevenSpielberg was only trending thanks to his birthday. Dogooders like these wanted to make sure most people woke up and saw these posts first, so they didn't have that wake up "faster than coffee" reaction.
In case you are wondering what it feels like to think Steven Spielberg is a goner and to then be reassured he's not, a Denzel Washington meme is really all you need.
The point is, not everyone, but a lot of people on das Internet really thought Steven Spielberg had left us and too soon on December 18. I can't really blame these people. It's not like I know every celebrity's birthday offhand. Others, however, hoped for the best and ultimately spent the day reflecting on the director's prolific career as well as sending him birthday wishes.
Although I wouldn't call Steven Spielberg old, it's true he's not a spring chicken anymore and some of his colleagues and others in the industry have been taken from us at a far earlier age. Needless to say, I'm very happy to hear the famous director is still around to make more movies. After all, he has the remake of West Side Story, a movie called The Kidnapping of Edgardo Mortara and another Indiana Jones project currently on the docket. Yes, he's expected to be back for Indiana Jones 5.
I hope he, like fellow director Clint Eastwood, continues putting out exciting work for years to come. In the meantime, we here at CinemaBlend wish him the happiest of birthdays, and also hope no one else on the Internet spits up their coffee when they see his name trending.
Your Daily Blend of Entertainment News
Reality TV fan with a pinch of Disney fairy dust thrown in. Theme park junkie. If you've created a rom-com I've probably watched it.
Your Daily Blend of Entertainment News
Thank you for signing up to CinemaBlend. You will receive a verification email shortly.
There was a problem. Please refresh the page and try again.