Indiana Jones 5: Release Date, Cast And Other Things We Know So Far
Indiana Jones 5 is whipped into shape.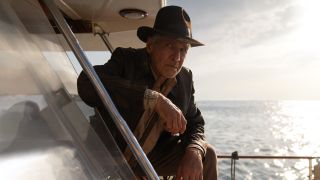 (Image credit: Lucasfilm)
It was only a matter of time before Indiana Jones whipped himself into shape to swing back onto the big screen for another major movie spectacle. It has been more than a decade since the release of Indiana Jones and the Kingdom of the Crystal Skull, which some might agree is not one of the best Indiana Jones movies (an opinion that star Harrison Ford recently reflected on) but, hopefully, when Indiana Jones 5 – which is officially titled Indiana Jones and the Dial of Destiny – hits theaters, it will serve as a more fitting finale for one of the most beloved characters in cinematic history. For now, however, let's take a look at what we know about Indiana Jones' long-promised sequel.
What Is The Indiana Jones 5 Release Date?
As of now, Indiana Jones and the Dial of Destiny is set to be released on June 30, 2023, and – despite a few on-set instances that we will get to eventually – this release date could finally be the one that sticks. Indiana Jones 5 was first announced around 2016, but it has been delayed several times with the release date getting pushed back numerous times in the process.
The First Indiana Jones 5 Trailer Teases Old And New Characters And A De-Aged Harrison Ford
One of the first questions that fans tend to ask upon the announcement that a film has wrapped production is when they can expect the first trailer to be released. That was, predictably, the case for Indiana Jones and the Dial of Destiny – the title of which was confirmed upon the debut of its first teaser that you can watch here below:
Indiana Jones 5 Director James Mangold Shares The Key Challenge Dial Of Destiny Shares With Kingdom Of The Crystal Skull
James Mangold on the challenges that came with bringing Indy into a new era.
What can we say about this trailer? From Sallah's words of optimism, the beautifully de-aged Harrison Ford in some apparent flashback sequences, and the introduction of Phoebe Waller-Bridge as Indy's goddaughter, this looks like it really could be the Indiana Jones sequel we have been waiting for.
Harrison Ford Is Reprising The Title Role In The Indiana Jones 5 Cast
Over the years, many people have imagined who could be a worthy successor to the role of Indiana Jones in a sequel, but Harrison Ford once promised in an interview that "when [he goes], [the character] goes." The Oscar nominee continues to show his devotion to his most famous role – and favors to do so without acknowledging his age – by reprising him in Indiana Jones and the Dial of Destiny. The sequel is actually the latest of many films on which Ford has suffered an on-set injury (he hurt his shoulder rehearsing an action scene), but, thankfully, he eventually recovered so production could continue.
Also part of the Indiana Jones 5 cast are a couple of fellow Star Wars movie veterans including Mads Mikkelsen and Emmy-winner Phoebe Waller-Bridge of Amazon Prime's Fleabag fame. James Mangold's Logan villain Boyd Holbrook, Marvel movies alumnus Toby Jones, Thomas Kretschmann, Shaunette Renée Wilson, Olivier Richters, and Antonio Banderas also have roles. However, the most exciting addition to the cast would have to be John Rhys-Davies reprising the role of Sallah for the third time.
The Sequel Takes Place During The Late 1960s Space Race
It is especially fun to watch the Indiana Jones movies as pieces of revisionist history, pitting our lead hero up against the real-world evil that is the pre-World War II Nazi Regime. This time, Indy faces his greatest enemy once again, but in a whole new, important very important era.
According to co-screenwriter Jez Butterworth's words in an exclusive report by Empire, Indiana Jones and the Dial of Destiny is set in 1969 as America is engaged a lunar race against Russia. However, what Indy comes to discover is that the Moon landing program is being run by a group of former Nazis -- the word "former" being used lightly here -- prompting him to embark on another adventure.
James Mangold Wrote And Directed Indiana Jones 5
Academy Award nominee James Mangold has done everything from time-traveling romantic comedies (Kate & Leopold), to biopics (Walk the Line and Ford vs. Ferrari), and even superhero movies withThe Wolverine, Logan, and the upcoming Swamp Thing movie, possibly. It has also given (most) fans reason to believe that the filmmaker was the right choice to helm Indiana Jones and the Dial of Destiny as both writer and director, especially when you consider the classic western tone he brought to the 2017 comic book flick that also could be what this adventure franchise needs.
However, it is still a bit of a strange thing to say that Indiana Jones 5 is the first movie in the franchise to not be directed by Steven Spielberg. The Academy Award winner is still serving as a producer on the sequel, but reportedly made the decision to pass the torch to another filmmaker to bring a new vision to the series in February 2020. While the news has made some fans bitter, the announcement of Mangold as Spielberg's successor the following May was pretty sweet.
Indiana Jones 5 Wrapped Production In The U.K. In February 2022
After a few different factors contributed to the production getting pushed back more than a year – including the Covid-19 pandemic and Ford's aforementioned on-set injury – principal photography for Indiana Jones and the Dial of Destiny began in London, England, as of mid-June in 2021. Confirmation that production had wrapped in February 2022 came from a Tweet by Frank Marshall, who has served as a producer on each installment of the franchise.
John Williams Is Composing The Music For Indiana Jones 5
It was revealed by Steven Spielberg and confirmed later in 2021 that John Williams agreed to compose Indiana Jones and the Dial of Destiny – which Variety reports which might be Williams' last film before retiring. This is heartwarming to know because, one of the most famous and memorable aspects of the franchise is the iconic score. Can you imagine an Indiana Jones movie without that famous tune playing? Of course not!
Therefore, it's practically a no-brainer that Williams would be asked to return for another Indiana Jones movie. The composer premiered a new piece of music written specifically for the sequel – which will serve as the theme for Phoebe Waller-Bridge's character, Helena – live at the Hollywood Bowl in 2022.
What Is Indiana Jones 5 Rated?
It came as no surprise that Indiana Jones and the Dial of Destiny would receive an official MPA rating of PG-13, according to ComicBook.com. While Raiders of the Lost Ark and Indiana Jones and the Temple of Doom were PG, the franchise has always had a dark edge, particularly with some nasty foes' grisly deaths.
In fact, it was mainly because of Temple of Doom that Steven Spielberg himself championed for a new rating that would serve as a bridge between PG and R in 1984. Since then, both Indiana Jones and the Last Crusade and Indiana Jones and the Kingdom of the Crystal Skull have carried PG-13 ratings. It is also unlikely that James Mangold should tone down the series back to PG, especially by modern standards. Therefore, it seemed more than likely that it would promptly receive another PG-13 rating for the franchise.
George Lucas Is Not Involved With Indiana Jones 5
While Steven Spielberg claimed in 2016 that his friend and longtime collaborator, George Lucas, would still be involved with Indiana Jones and the Dial of Destiny as an executive producer (adding that a sequel to the franchise he helped create without him would be "insane"), former Indiana Jones 5 screenwriter David Koepp told Collider the opposite just months later. With no further updates to this development since, it appears this will, indeed, be the first film in the franchise to not have Lucas involved.
However, we still have Spielberg, Kathleen Kennedy, and Frank Marshall (who have also been involved with these movies since the beginning) signed on as producers. Meanwhile, Lucas continues to live the much quieter life he has led, watching his famous properties continue to thrive while he retains little creative influence since he signed off Lucasfilm to Disney.
Regardless of who is involved from behind the camera, it is still such a treat to know that Harrison Ford has put the hat back on again for Indiana Jones and the Dial of Destiny.
Your Daily Blend of Entertainment News
Will is an entertainment writer based in Pittsburgh, PA. His writing can also be found in The Playlist, Cut Print Film, We Got This Covered, The Young Folks, Slate and other outlets. He also co-hosts the weekly film/TV podcast Cinemaholics with Jon Negroni and he likes to think he's a professional Garfield enthusiast.