The Full History Behind Stormtroopers And Jetpacks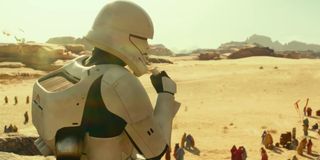 (Image credit: Disney/Lucasfilm)
SPOILER ALERT: This article contains spoilers from Star Wars: The Rise of Skywalker.
Finn (John Boyega) said it best in Star Wars: The Rise of Skywalker when, upon being chased by a group of stormtroopers using jetpacks, he irately asked, "They can fly now?" In those four words, he more than likely spoke the collective minds of Star Wars fans surprised to see those Imperial soldiers equipped with flight technology, which must have been an update to their suits after former stormtrooper Finn renounced the First Order… or was it?
Jetpacks are not a new concept in the Star Wars universe, which we will get into soon, but, admittedly, it takes a bit of a deep dive outside of the Skywalker Saga's theatrical canon to find stormtroopers with the ability to fly. Yet, such a history of it does indeed predate Star Wars: The Rise of Skywalker.
Still confused? Then you still have much to learn about stormtroopers and jetpacks in the Star Wars universe, so let's explore it.
The Use Of Jetpacks In The Star Wars Universe
Jetpacks are the ultimate personal aerial transportation device, allowing the user to fly at high altitudes with nothing but the clothes on their back. Never has it looked cooler than when used in the Star Wars movies.
The jetpack was first introduced to the Star Wars universe in 1980 when Boba Fett (Jeremy Bulloch) graced the screen in Star Wars: Episode V - The Empire Strikes Back. Not only was the galactic bounty hunter's personal aerial device instrumental to the character's enduring legacy as one of the franchise's most beloved badasses, it gave fans a new trend in the merchandising to gush about (just don't expect to find an action figure with a rocket launcher too easily).
Since Boba Fett's introduction, jetpacks traditionally made appearances in Star Wars movies almost exclusively as part of Mandalorian warrior armor, such as Jango Fett's (Temuera Morrison) outfit in Star Wars: Episode II - Attack of the Clones. It also made an appearance in 2017's Star Wars: The Last Jedi as used by Maz Kanata (Lupita Nyong'o) in the form of a hologram. The technology's cinematic history was also retconned with Boba Fett's insertion into the 1997 special edition of Star Wars: Episode IV - A New Hope for a brief cameo.
The jetpack sustained relevance in other works that expanded on the cinematic saga, such as video games, literature, comic book series, and television shows - most recently, the Disney+ exclusive live action series, The Mandalorian - but it was not until Star Wars: The Rise of Skywalker that we saw the technology used by a stormtrooper. That is because the Galactic Empire, in its prime, reserved that right to a different kind of stormtrooper, just not one that ever made it to the big screen.
Stormtroopers With Jetpacks Went By A Different Name
Experts in the expanded universe of the Star Wars saga as depicted in all facets of media may recognize the stormtrooper variant known as the jumptrooper. Also referred to as skytroopers or air assault troopers, these soldiers specialized in hit-and-run aerial attacks, airborne combat over treacherous enemy terrain, and "keeping order" in low-gravity environments, such as the Cloud City, hence the addition of jetpacks to their armor.
While never making an appearance, nor even being mentioned, in the movies or TV shows, jumptroopers have been seen flying around the galaxy with their jetpacks in various works of Star Wars fiction since being first introduced in the 1993 video game adaptation of Star Wars: Episode V - The Empire Strikes Back for Super Nintendo. In fact, video games have been the predominant medium to witness jumptroopers in action, save a few works of literature and Disney's theme park attraction, Star Tours: The Adventure Continues.
Despite being under Imperial authority, jumptroopers are direct descendents, in terms of designation, to the Clone jet troopers, which were aerial combat specialists for the Grand Army of the Republic. Much like their Imperial successors, these jetpack-equipped soldiers' legacy does not exist on the big screen.
While they are known to have fought in the first Battle of Geonosis, do not expect to spot a Clone jet trooper upon revisiting the third act of Star Wars: Episode II - Attack of the Clones. You can see them, and even play as one, in the interactive depiction of said battle in the first Star Wars: Battlefront video game, where the warriors made their first ever appearance, jetpacks and all, before reappearing in additional games as well as works of literature.
There was actually a time when Star Wars fans were convinced that Imperial soldiers who fly would finally be given the theatrical treatment following the 2016 release of a jetpack-equipped stormtrooper action figure in promotion of Rogue One: A Star Wars Story. However, that is all this toy turned out to be: a promotion, as no jetpacks could be seen in the final film.
That is about as far as the history relating Imperial soldiers to the use of jetpacks goes in the Star Wars universe before stormtroopers were witnessed using them on the big screen in Star Wars: The Rise of Skywalker. However, this also raises an additional question of why this was so surprising in the film.
A Revisionist History Of Stormtroopers With Jetpacks In Star Wars: The Rise Of Skywalker?
The sequence in Star Wars: The Rise of Skywalker depicting Rey (Daisy Ridley), Finn (John Boyega), Poe Dameron (Oscar Isaac), C-3PO (Anthony Daniels), Chewbacca (Joonas Suotamo), and BB-8 hunted by stormtroopers who use jetpacks to fly was actually teased less than a month prior to the film's release via Star Wars' official Twitter account:
While some expressed interest in the clip for its high energy action, it also met with some less than generous reactions from a few Star Wars fans. One Twitter user replied to the tweet by pointing out a nonsensical flaw:
Finn may not have been an active warrior in his stormtrooper fleet for very long, given that his first combat mission as depicted in Star Wars: The Force Awakens was also his last before renouncing the First Order. However, considering he had been trained to be a stormtrooper since birth, you would think he probably saw a colleague use a jetpack at some point.
Based on the information provided above, it is clear that jetpacks have been used in combat by Imperial soldiers before. Therefore, by treating the ability to fly as an unprecedented update to stormtrooper armor and expressing that through the bewildered reaction of a former stormtrooper, it seems that J.J. Abrams and Chris Terrio forgot to turn over a few stones in the Star Wars canon whilst writing Star Wars: The Rise of Skywalker.
On the other hand, perhaps we do owe the filmmakers behind Star Wars: The Rise of Skywalker a debt of gratitude for inducting the long overlooked concept of stormtroopers with jetpacks into the franchises' cinematic legacy for the first time. Besides, maybe the First Order had not thought to revive the use of airborne technology for their soldiers until then, explaining Finn's surprised expression.
Now, jetpack-equipped stormtroopers finally have the chance to experience a newfound recognition among Star Wars fans, inspiring advanced modifications in cosplay to bear witness at your next local convention and new additions to toy collections that children will be delighted to simulate flight with. It has been a long time coming, and it is not without its questionable execution, but it just might have been worth the wait.
Your Daily Blend of Entertainment News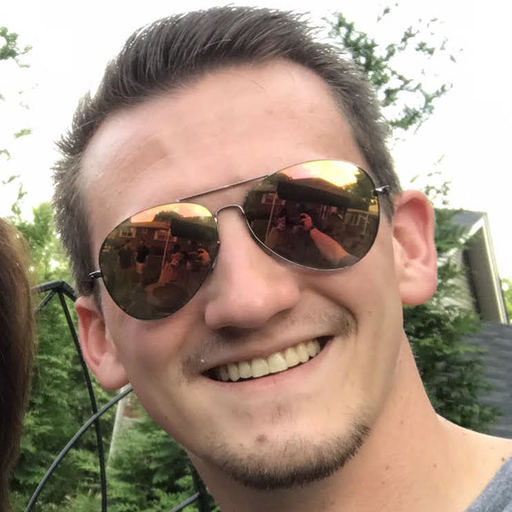 Jason has been writing since he was able to pick up a washable marker, with which he wrote his debut illustrated children's story, later transitioning to a short-lived comic book series and (very) amateur filmmaking before finally settling on pursuing a career in writing about movies in lieu of making them. Look for his name in almost any article about Batman.