Could Boba Fett Return On The Mandalorian? EP Dave Filoni Weighs In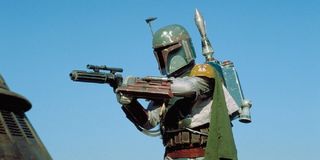 CinemaBlend participates in affiliate programs with various companies. We may earn a commission when you click on or make purchases via links.
As the story of The Mandalorian unfolds, Star Wars fans are always on the lookout for other familiar characters beyond li'l Yoda. Since the title character in the new Disney+ series is a bounty hunter, could Boba Fett, the most famous of Star Wars' bounty hunters, return for The Mandalorian? Executive producer and franchise vet Dave Filoni teases the chances of that happening.
Boba Fett was last seen in Star Wars: Return of the Jedi when he took an unceremonious fall into the deadly Sarlacc pit, never to be seen again. Now, the Sarlacc pit is known as a death trap, but fans haven't ever been convinced that Boba Fett is actually dead. When most recently asked whether the fan favorite might have survived in a way that allows for his return, The Mandalorian executive producer and episode director Dave Filoni didn't refute the idea outright, magically enough.
The topic was brought up after ET told Dave Filoni that Star Wars fans were wondering whether they'd seen Boba Fett standing in the background of a Mandalorian scene. It wasn't him, of course, but just the notion of it was enough to spark renewed fan interest.
Frankly, anything is possible in the world of Star Wars, just as Dave Filoni put it. If Emperor Palpatine can return to Star Wars: The Rise of Skywalker after presumably dying in the Death Star II explosion in Return of the Jedi, then Boba Fett can make a similarly shocking return.
Still, Dave Filoni makes it clear that the focus right now is on The Mandalorian's journey and storyline, without a Fett to be seen just yet. However, "Baby Yoda," who remained a huge secret until the end of The Mandalorian's first episode, is currently outshining everything and everyone on the show. (The character is getting a ton of new toys and apparel just in time for Christmas, too!) Yes, even Pedro Pascal's titular character is being overshadowed by the adorable decades-old baby, but the actor says he's "cool" with it. Good to know there are no hard feelings.
While The Mandalorian Season 1 is only eight episodes, it's already been renewed for a second season. That means that even if creator Jon Favreau didn't miraculously make Boba Fett appear in the first season, there's still hope for a cameo at some point down the line. Dave Filoni's words will probably fuel fans' hope, but it's probably best to currently assume that there are no immediate plans to bring back Boba Fett. And honestly, even if there were, Dave Filoni and Co. are good enough at keeping secrets that we wouldn't know if they were lying.
The Mandalorian airs new episodes every Friday on Disney+. Anyone who doesn't yet have a subscription the content-filled services can sign up right here. For more on what's available and coming soon to Disney+, be sure to check out our complete guide.
Your Daily Blend of Entertainment News
Thank you for signing up to CinemaBlend. You will receive a verification email shortly.
There was a problem. Please refresh the page and try again.