Yes, The New Mutants Is Still Happening And A 'Phenomenal' Trailer Is Coming In January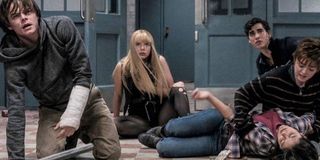 For quite some time, The New Mutants seems like it has been stuck in cinematic limbo. While it's not the only movie to get delayed in the wake of the merger between Disney and Fox, the lack of updates surrounding its release have caused quite a bit of speculation. So fans of the Marvel Comics series should be excited to learn that something is actually happening with the movie -- and we can expect to see a new trailer in January.
After months of radio silence surrounding the project, New Mutants illustrator Bill Sienkiewicz gave an update during his appearance on the Fatman Beyond podcast:
And while that's not an official confirmation, Josh Boone recently responded to a fan on Instagram asking about a new trailer for The New Mutants by telling them, "Soooooon. January."
News about the New Mutants adaptation has certainly been a long time coming. The film has been in development since 2014, and production began way back in the summer of 2017. The first trailer for The New Mutants hit in the fall of 2017 and it was well received. But studio executives weren't impressed, and allegedly had some back and forth with Josh Boone as to what the overall tone of the film should be. The original April 2018 release was delayed to accommodate reshoots (and Marvel's Deadpool 2 release). A second delay, reportedly for more reshoots, pushed the film's release date back into August 2019. Clearly, that didn't happen.
The New Mutants is currently set for an April 3, 2020 release. But it's still not a sure bet that will happen, either. Fans definitely noticed that The New Mutants was completely absent from this year's D23, which didn't seem to bode well for its immediate future.
So, to put it mildly, any news is good news right now. And a new trailer could definitely be a signal that the film is actually going to get a theatrical release. With an exciting cast and an intriguing premise, The New Mutants definitely sounds like it has a lot of potential to be a unique entry in the X-Men franchise -- if it ever sees the light of day.
Your Daily Blend of Entertainment News