10 Little Moments Big Star Wars Fans Will Appreciate In Rise Of Skywalker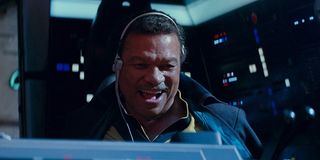 Because it served as the last chapter of the Skywalker Saga, Star Wars: The Rise of Skywalker not only needed to wrap up the main narrative arc of the Sequel Trilogy, it also needed to address and acknowledge events, people and more from the Prequel and Original Trilogies as well. Whether or not it managed to do all this effectively is up for debate, but one thing is inarguable: there were a lot of little moments sprinkled in the movie that longtime Star Wars fans will appreciate.
From quick lines of dialogue and moments that echoed scenes from earlier Star Wars movies, to reuniting with fan-favorite characters and revisiting familiar locations, we've gathered 10 moments in Star Wars: The Rise of Skywalker that will put a smile on most, if not all the faces of folks who've enjoyed this franchise set in a galaxy far, far away.
Darth Vader's Voice
This had been spoiled ahead of Star Wars: The Rise of Skywalker's release, but it's still worth pointing out. When Kylo Ren arrives at Palpatine's temple on Exegol, Darth Sidious tells the First Order's Supreme Leader that he's been every voice he's ever heard inside his head, but different voices say the latter half of the sentence. First we hear Andy Serkis' Snoke again (it turns out the former Supreme Leader was created by Palpatine), and then the final words are said by Darth Vader, reprised by James Earl Jones. We heard Jones briefly reprised the breathing impaired Sith Lord in Rogue One just three years ago, but it's nice he was able to contribute to the final installment of the Skywalker Saga too.
Palpatine's Revenge Of The Sith Callback
"The dark side of the Force is a pathway to many abilities some consider to be unnatural." Then-Chancellor Palpatine said this to Anakin Skywalker while telling him the "Tragedy of Darth Plagueis the Wise" in Revenge of the Sith, and he said those same words to Kylo Ren when asked how he was still alive. Look, we still don't know the fully story of how Palpatine survived being tossed into the second Death Star's reactor, but judging by his use of that line, we can assume that his survival had something to do with the power to cheat death that he learned from Plagueis, though he still required complicated machinery to stay alive.
Han Solo Reappearing
Since he wasn't a Jedi or Force-sensitive (that we know of), most, if not all fans never expected to see Han Solo as a Force ghost. However, we were treated to one last appearance from the late smuggler in Star Wars: The Rise of Skywalker thanks to his son. After being stabbed by Rey and then healed by her, Kylo Ren felt more conflicted than ever while on top of the second Death Star's wreckage on Kef Bir. But then he was visited by a vision of Han, who urges his son to come back to the light. The scene then echoed their final encounter in The Force Awakens, but this time, Kylo finally rejected the dark, throwing his lightsaber away and becoming Ben Solo again. When he turned around, the vision of his father was gone.
Luke And Leia's Flashback
Like her brother Luke, Leia Organa was quite strong in the Force, and as was suspected, The Rise of Skywalker revealed that in the years after Return of the Jedi, she trained in the ways of the Force under Luke to become a Jedi. Thus, this flashback allowed us to see de-aged versions of the characters, appearing as they did at the end of the Original Trilogy. However, it turns out this the training snippet was saw came from Luke and Leia's last session, as the latter sensed that if she kept going down this path, it would lead to her son's death. So she set down her lightsaber and focused on politics instead, explaining why she didn't wear Jedi robes during the Sequel Trilogy or identify herself as a Jedi.
Raising The X-Wing
Yoda was one of the greatest elements of The Empire Strikes Back, and one of the ways he shined was when he raised Luke Skywalker's X-Wing out of the Dagobah swamp after Luke felt the ship was too big to move with the Force and thought the Jedi Master wanted "the impossible." Over 30 years later, Luke did the same for Rey. After Force Ghost Luke convinced Rey not to give up and to travel to Exegol to face Palpatine, she wondered how she'd get there since she destroyed the ship she traveled to Ahch-To in, Kylo Ren's TIE Fighter. Luke had an easy solution: use the ship he'd traveled to the same planet in years earlier, which we briefly saw submerged in The Last Jedi. One raised X-Wing later, and Rey was on her way.
Wedge Antilles Returning
He may not have been one of the Original Trilogy's main characters, but Wedge Antilles was around for all three movies, having participated in the Battle of Yavin, the Battle of Hoth and the assault on the second Death Star in the Battle of Endor. After it was revealed that Wedge was a character in the novel Resistance Reborn, which takes place immediately after The Last Jedi, this prompted speculation about if he'd appear in The Rise of Skywalker. Sure enough, Denis Lawson did cameo as Wedge, as he was seen operating one of the Millennium Falcon's turrets during the climactic conflict.
Jedi Voices From The Great Beyond
At the beginning of The Rise of Skywalker, Rey was trying to communicate with the spirits of dead Jedi, but failed to do so. Cut to her clash with Palpatine, just when all seems lost, she hears the voices of those very Jedi she tried to reach earlier, with all of them lending their strength to her so she could defeat the Sith Lord once and for all. The best part of this sequence is that it's not just Jedi from past movies who are heard, but also a few individuals from the animated shows. You can look through our Rise of Skywalker cameos feature for the full list of voices, but suffice it to say that this was one of the movie's biggest pieces of fan service.
Seeing Some Familiar Planets
With Palpatine finally being killed (it has to stick this time, right?) and the Final Order's armada being destroyed, the galaxy far, far away was once again at peace. So just like in the special edition of Return of the Jedi, The Rise of Skywalker peeked at a few familiar planets that are now free. In order of appearance, we saw Bespin (Lando Calrissian's former home), Endor (where we saw an older Wicket, the main Ewok from Return of the Jedi, alongside his son, Pommet) and Jakku (where Rey spent the first chunk of her life). There was one other familiar world, but we'll get to that one in a bit.
Chewbacca Finally Gets A Medal
There's no question that Chewbacca is one of the Star Wars franchise's greatest heroes, but many fans have taken umbrage with the fact that unlike Luke Skywalker and Han Solo, the Wookiee never received a medal for his contribution to the Battle of Yavin, despite the fact that he was next to Han the whole time! Well, over 30 years later, that was finally rectified, as at the end of The Rise of Skywalker, Maz Kanata gave Chewie Han's old medal, which Leia had kept safely, but with her gone, it rightfully was passed on to him. It's about time!
The Lars Homestead
The Original Star Wars Trilogy began above and on Tatooine, so it was rather fitting that the Skywalker Saga ended there. After the celebrations were over, Rey traveled to the long-abandoned Lars homestead to bury Luke and Leia's lightsabers on the property, after which she ignited her own lightsaber (the first time we've seen a yellow blade in a Star Wars movie). When a passing local notes how no one's been on the Lars property for years and asks who Rey is, with Luke and Leia's Force Ghosts smiling on, Rey answers "Rey Skywalker" and looks on at Tatooine's twin suns. It was certainly poetic, though I'm hoping Rey doesn't permanently settle there since her family is elsewhere and that'd be the equivalent of living on Jakku again.
Let us know what other moments you enjoyed from Star Wars: The Rise of Skywalker in the comments below. Be sure to start planning what theatrical offerings you'll see next year with our 2020 release schedule.
Your Daily Blend of Entertainment News
Connoisseur of Marvel, DC, Star Wars, John Wick, MonsterVerse and Doctor Who lore. He's aware he looks like Harry Potter and Clark Kent.