First A Quiet Place Part II Trailer Is Here And It Takes Us Back To The Beginning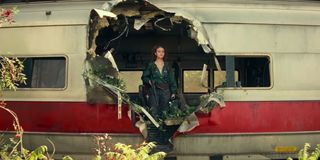 Less than two years after A Quiet Place unexpectedly broke out in a big way, the franchise is back with a trailer for the second installment, fittingly titled A Quiet Place Part II. Star Emily Blunt is back in the lead role, and John Krasinski is back in the director's chair, as well. Not surprisingly, the result looks every bit as unnerving as Part I and appears to have the same breakout potential. Check out the first trailer below…
Interestingly, the first thing we see at the start of the A Quiet Place II trailer is a look at the past. Emily Blunt is in a vehicle with her children and chaos is ensuing. There are people running and cars banging into one another. She and the kids have no idea what's going on until they see one of the extraterrestrial creatures we've come to know from A Quiet Place. The fact there are so many people around should have indicated this is the past given what we know from A Quiet Place; however, it's also mentioned they see husband Lee during this exchange.
Yes, the same husband played by director John Krasinski who sacrificed himself in the first movie. So, for sure we are getting at least one flashback scene this time around, which could be cool, given it could (but may not be) a way to tie the actor back into the new movie. Meanwhile, however, this whole movie won't be set in the past.
We know this because the trailer flashes forward quite promptly, picking up somewhere after the events in A Quiet Place during which Regan, Emily Blunt's character in the franchise, had a baby. There will be a journey in the new movie and given the knowledge the Abbott family picked up in the last film, perhaps they will be able to figure out how to take on the creatures who are killing humanity once and for all?
We've known a sequel to the hit 2018 film would be coming for a while (although it's worth pointing out a sequel wasn't initially in the cards). We learned John Krasinski was "quietly" working on the film back in September of 2018 and he's shared plenty of updates as the film really started coming together. This includes sweet posts from the set of A Quiet Place Part II and more.
More recently, Paramount Pictures dropped some first look footage at the new film ahead of today's big official trailer release. As far as the movie goes, we'll have to wait and see exactly what the plot is about, but director John Krasinski has previously said the film will be less of a sequel and more like "the second book in a series." So read into that how you will.
Ultimately, we'll find out soon enough. A Quiet Place Part II will officially hit theaters on March 20, 2020. To find out more about the upcoming film, take a look at what all we know.
Amazing Race & Top Chef superfan with a pinch of Disney fairy dust thrown in. Theme park junkie. If you've created a rom-com I've probably watched it.
Your Daily Blend of Entertainment News
Thank you for signing up to CinemaBlend. You will receive a verification email shortly.
There was a problem. Please refresh the page and try again.