John Krasinski's A Quiet Place 2: Premiere Date, Cast And Everything Else We Know So Far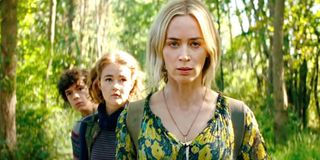 CinemaBlend participates in affiliate programs with various companies. We may earn a commission when you click on or make purchases via links.
For years, John Krasinski was known primarily as "Jim Halpert from the Office cast." Now, after co-writing, directing, and starring in A Quiet Place, along with his real-life spouse Emily Blunt as his onscreen wife, the multi-talented star and self-proclaimed scaredy-cat is on his way to being one of the top horror directors of his generation. With A Quiet Place 2, which is now officially called A Quiet Place Part II, his ironic reputation will finally continue.
I say "finally" because the follow-up to the terrifying hit, about a family living in silence to survive a world overrun with malevolent, extra-terrestrials that hunt by sound, was originally meant to come out in 2020, but delayed at the last minute due to the COVID-19 pandemic. The first A Quiet Place was a one-of-a-kind moviegoing experience intended to be shared with others at the movie theater and the sequel promises to be no exception, making this wait all the more worth it.
Thankfully, A Quiet Place II does have a confirmed release date on the 2021 movies schedule, which is the first of the following things we now know about one of the most anticipated upcoming horror movies of the year. I should mention, however, before we continue that SPOILERS for the first film are ahead.
A Quiet Place Part II's Release Date Is Set For May 2021
A Quiet Place was an instant cultural phenomenon when it came out on April 6, 2018, acquiring instant widespread acclaim, grossing more than $340 million worldwide, and, naturally, prompting immediate plans for a sequel. John Krasinski would confirm in a tweet from February 2019 that the follow-up, then still referred to as A Quiet Place 2 was to be released on May 15, 2020.
However, it was in March 2020 when John Krasinski posted another tweet announcing that, in the wake of Covid-19, that A Quiet Place Part II would be delayed "til we CAN all see it together!" Now, after several subsequent schedule changes, that time is set to be released on Friday, May 28, 2021 - more than a year after its initial release date.
John Krasinski Directed A Quiet Place Part II
John Krasinski's tweet announcing the initial release date for A Quiet Place 2, as it was still called at the time, also confirmed that he would be directing the sequel, which he also wrote. This is especially exciting news given that it was almost not the case.
The filmmaker, who had directed two other films and a few episodes of The Office before making A Quiet Place, was originally intending to pass the follow-up off to someone else. However, after coming up with new ideas of his own and receiving inspiration from Emily Blunt and producer Drew Form, John Krasinski ended up writing the whole sequel himself before signing on to direct, too. A Quiet Place Part II will not only feature Krasinski from behind the camera, but in front of it as well.
Emily Blunt, John Krasinksi, And More Are Returning In The A Quiet Place 2 Cast
While John Krasinski's character, Lee Abbott, met a bitter end during the A Quiet Place ending by acting as monster bait to save his son, Marcus (Noah Jupe), and daughter, Regan (Millicent Simmonds), the actor will make an appearance in the follow-up. The A Quiet Place Part II trailer shows a glimpse of the world literally right before the invasion. Krasinski's Lee leaves Regan in his truck to ask his friend, a police officer, about an unseen disturbance right before a familiar-looking creature launches itself into frame.
In addition to John Krasinski's flashback cameo, Emily Blunt is reprising her Screen Actors Guild Award-winning role as Evelyn in the A Quiet Place Part II cast, now forced to guide Regan, Marcus, and her newborn son alone in this dangerous world. Actually, this time, the Abbotts will not be alone after all.
Cillian Murphy And More Are Among The A Quiet Place 2 Cast
Not counting Baby Abbott, the full A Quiet Place cast consisted of, literally, just 7 people, including Leon Russom as the strange man Lee and Marcus encounter in the woods and Rhoda Pell's uncredited appearance as his dead wife. The A Quiet Place Part II cast has doubled that amount with, arguably, the most notable addition being Irish actor Cillian Murphy as another survivor named Emmett.
Appearing as Emmett's wife is model Lauren-Ashley Cristiano and Blue Bloods cast guest actor Zach Golinger as his son - both of whom are making their feature-film debuts in A Quiet Place Part II. The sequel also stars Oscar-nominee and MCU actor Djimon Honsou in a role that was reportedly meant for Atlanta and Godzilla vs. Kong star Brian Tyree Henry and is currently undisclosed.
A Quiet Place 2 Will Reveal More About The Monsters
Personally, I enjoy when some details are handled with tasteful subtlety in a film, which some of the best horror movies achieve masterfully. I would consider the mysteries surrounding the A Quiet Place monsters as a prime recent example of this. However, for those who wanted to know more about where these creatures come from, A Quiet Place Part II will delve deeper into the monsters' origins, reportedly.
It could be argued that we already know enough about how the invasion begins in A Quiet Place, but, on the other hand, the story of the Abbotts is clearly not done and how their vicious enemies came to Earth and, perhaps even why, is part of it. Of course, more than anything, the A Quiet Place movies franchise is about family and seeing more of how Evelyn and her children attempt to navigate this world in A Quiet Place Part II has me, and others, ecstatic. In fact, it appears that the story will go on further than the second chapter.
A Quiet Place 3 Is Already In Development
While A Quiet Place Part II was still early on in throws of its Covid-19-related delay, talk of a third installment was already brewing and John Krasinski was willingly swerving into that skid. The director actually admitted that ideas for A Quiet Place 3 had surfaced while he was writing the second film and those ideas will reportedly become a reality soon. However, it will not be Krasinski guiding the adventure this time.
In November 2020, The Hollywood Reporter revealed that Take Shelter and Midnight Special director Jeff Nichols would be taking the reins as both writer and director on a new film that was then referred to as a spin-off. This could mean that A Quiet Place Part III, as it is now being called, will follow a story separate from the Abbotts' experience while taking place in the same world, but details have been scarce since.
Typically, I tend to be very apprehensive when it comes to sequel hype, but A Quiet Place has a big, fascinating world to explore and I am very curious about what more there is to learn from John Krasinski's upcoming follow-up and whatever else this franchise may bring. Until then, it will be very challenging to keep quiet.
Your Daily Blend of Entertainment News
Jason has been writing since he was able to pick up a washable marker, with which he wrote his debut illustrated children's story, later transitioning to a short-lived comic book series and (very) amateur filmmaking before finally settling on pursuing a career in writing about movies in lieu of making them. Look for his name in just about any article related to Batman.