Star Wars: The Rise Of Skywalker Had Hilarious Code Names For Its Secret Characters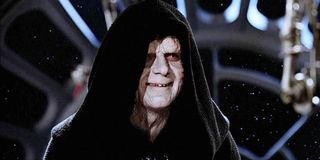 Warning: SPOILERS for Star Wars: The Rise of Skywalker are ahead!
When you're making a blockbuster movie, secrecy is paramount, and that goes double for anything within the Star Wars franchise. So whenever director J.J. Abrams and writer Chris Terrio found themselves discussing Star Wars: The Rise of Skywalker in public, they had to be extremely careful, and among the ways they accomplished this was by referring to the movie's secret characters with hilarious code names. As Terrio recalled:
That's good thinking on their part. After all, if you happened to find yourself near J.J. Abrams and Chris Terrio and somehow realized they were talking about an upcoming Star Wars movie, there's no way you could ever logically deduce that Palpatine, former dictator of a galaxy far, far away and main antagonist of the entire Skywalker Saga, was Trooper 13. Surely such an important character would warrant a more important-sounding nickname, and that's precisely why Trooper 13 was such a great pseudonym.
Han Solo being referred to as The Janitor works even better, because as Chris Terrio laid out, Kylo Ren seeing the manifestation of his late father finally pushed him to clean up his act to reclaim being Ben Solo. Of course, unlike Palpation, whose involvement in Star Wars: The Rise of Skywalker was revealed in the teaser trailer, Han's presence was kept under wraps until the movie's release, so there was an extra layer of secrecy. I'm also curious what nicknames Abrams and Terrio came up with other characters who were kept secrets until the very end, like Wedge Antilles and Wicket the Ewok.
During his interview with GQ, Chris Terrio also noted how in addition to these nicknames, he and J.J. Abrams would also simply refer to characters by the first letter of their names. Terrio also talked about how one time when he and Abrams were discussing some ideas for Star Wars: The Rise of Skywalker at a bar in Oxford, someone had managed to hear them because snippets of their conversation were shared online the next day.
The Star Wars franchise does a better job than most when it comes to keeping spoilers bottled up, although as with any franchise, inevitably there are some things that have managed to leak out ahead of time. Nevertheless, these nicknames acted as further protection to ensure that no one in public learned something they weren't supposed to, and having the nicknames be humorous just adds to the fun.
While Star Wars: The Rise of Skywalker has proven to be the most polarizing movie in the Sequel Trilogy, if not the entire franchise, it's still chugging along nicely on the commercial front, currently sitting at around $952 million worldwide. More Star Wars films are on the way, with the next one arriving in 2022, but there's still no word on what any of them will be about. In the meantime, The Mandalorian wrapped up its first season on Disney+ last month, and Season 2 will premiere later this year.
Star Wars: The Rise of Skywalker is still playing in theaters, and be sure to read CinemaBlend's review of the movie. Don't forget to also look through our 2020 release schedule to figure out what you'll be seeing this year.
Connoisseur of Marvel, DC, Star Wars, John Wick, MonsterVerse and Doctor Who lore. He's aware he looks like Harry Potter and Clark Kent.
Your Daily Blend of Entertainment News
Thank you for signing up to CinemaBlend. You will receive a verification email shortly.
There was a problem. Please refresh the page and try again.