Star Wars: What's Coming Up On The Big Screen Post-Rise Of Skywalker?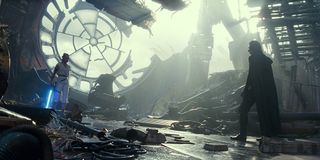 In a little over a month, the Skywalker Saga, and a 40+ year journey that began in 1977 with Star Wars: Episode IV – A New Hope, will officially come to an end with J.J. Abrams' Star Wars: The Rise of Skywalker. After that… well, we don't really know what will happen after that. For the first time in a long time, we don't know what the next theatrical feature film set in a galaxy far, far away will be.
It's a strange place to be in, because when Disney purchased Lucasfilm in 2012, it seemed that the franchise would be ever-present in our lives, eventually getting to a place like corporate sibling Marvel Studios, where there were multiple Star Wars movies released every year. But after one film divided the fanbase and another disappointed at the box office, the franchise is in a very different place.
Still, up until recently, we thought we knew what was next on the docket. Back in May, Disney CEO Bob Iger confirmed that the previously announced project from Game of Thrones creators David Benioff and D.B. Weiss would be the next theatrical Star Wars release after The Rise of Skywalker, set to arrive in December of 2022. That isn't happening anymore though. The duo and Lucasfilm (as has long since become commonplace) have parted ways, leaving Star Wars' theatrical future a mystery.
This franchise isn't going anywhere and the next few years will give us plenty of Star Wars content on the small screen via Disney+, but this property is inherently theatrical and we want to know what's coming up on the big screen post-Rise of Skywalker. Impossible to see the future is, but we're going to search our feelings and make a few logical guesses based on the stuff in development or previously announced, with a few wild cards thrown in for fun.
The Origins of The Jedi
Weirdly, we didn't find out what Game of Thrones showrunners David Benioff and D.B. Weiss were working on until after they were no longer working on it. The duo, who seemingly left Star Wars due to a combination of toxic fandom, their Netflix deal and creative differences, were going to explore how the Jedi came to exist. It's a fascinating idea and a time period we've never seen explored in a Star Wars movie and just because Benioff and Weiss are gone doesn't mean this movie can't happen.
We don't know if Lucasfilm is still interested in telling this story, or if it was only interested because D&D were. What we do know is that this was theoretically going to be the next Star Wars movie and the start of a trilogy. And hey, maybe it still could be. The concept is a valid one, and for many, even more exciting now that the maligned showrunners are gone. If that 2022 release date holds, there are still three years to make a movie about the origins of the Jedi.
This project was already being developed, so it's entirely possible that this is still a realistic possibility for the next theatrical Star Wars movie. Benioff and Weiss are gone, but there's no need to throw the baby out with the bathwater. Lucasfilm just needs to find some exciting talent to take over.
Kevin Feige's Star Wars Movie
If there was a Mount Rushmore of movie producers, Kevin Feige would be on it. The Marvel Studios president has overseen the creation of the Marvel Cinematic Universe, an entirely new model of franchise filmmaking and the most successful franchise of all time. Now, he's taking his talents to a galaxy far, far away. As we found out in September, Kevin Feige, an avid Star Wars fan, is going to be developing a new Star Wars movie.
Contrary to belief that he would be replacing Kathleen Kennedy at Lucasfilm, Kevin Feige, in addition to being the President of Marvel Studios, is now also the Chief Creative Officer overseeing all of Marvel's creative efforts. As far as we know that hasn't changed things for his Star Wars movie. We don't know what Kevin Feige's Star Wars movie will be, what characters it will feature or when it will take place, but we do know that he reportedly has a major actor in mind for a specific role in the film.
Although we just found out about this relatively recently, since it's been announced and not just rumored, it seems entirely likely that Kevin Feige's Star Wars movie could be the next theatrical release for the franchise. This possibility is an especially exciting one given his track record of being able to find talented filmmakers and work with them to deliver results that succeed critically and commercially.
Rian Johnson's Star Wars Trilogy
Along with the Benioff and Weiss trilogy and Kevin Feige's movie, the only other future Star Wars movies that have actually been announced is a trilogy from the writer and director of Star Wars: The Last Jedi, Rian Johnson. First announced before Episode VIII had even come out, Rian Johnson's trilogy is largely a mystery. We've heard that it will move past the legacy characters, which seems like a smart and necessary move, and that it will explore a different corner of the galaxy.
So Rian Johnson's trilogy could theoretically just slot in to where the D&D films were going land. However, while this trilogy has been announced and Rian Johnson continues to affirm his plans to work on it, it has been in doubt for some time. The backlash to his The Last Jedi was so pronounced that many have wondered if Lucasfilm would really bring the filmmaker back given the vocal objections of a swath of the fanbase, assuming he'd even want to return.
It seems entirely possible that Lucasfilm, Rian Johnson or both know that his trilogy isn't going to happen and are just waiting for the right time to announce it. That said, Rian Johnson is seemingly one of the only directors that Lucasfilm worked well with, and The Last Jedi is one of the only films that had a smooth production. So Lucasfilm may feel confident bringing him back given that they have a good relationship. Opinions could also shift some on the director after Knives Out and he'd be freer this time around dealing with all new characters.
Knights Of The Old Republic
Earlier this year, it was reported that Altered Carbon creator and Alita: Battle Angel screenwriter Laeta Kalogridis was writing a script for a Knights of the Old Republic movie that could be the first entry in a potential trilogy. As far as we know, this is separate from Rian Johnson's trilogy and Benioff and Weiss's films (Knights of the Old Republic is not the origin of the Jedi). It's not impossible that the movie Kevin Feige is developing is based on Laeta's script, but it's unclear if that's the case.
So for now, let's assume that Knights of the Old Republic is separate from the other movies that were or are in the works. We haven't heard much on this since it was first reported, but given that it is in development, it has to be a contender for the next big screen Star Wars movie. That would be pretty exciting because there is probably no Star Wars movie more clamored for by the fanbase in the Disney era than Knights of the Old Republic.
Knights of the Old Republic is a videogame from 2003 that, to many, represents one of the best Star Wars stories ever written. I have my doubts that Lucasfilm would adapt the story (for some reason Lucasfilm seems averse to adaptation), but a Knights of the Old Republic movie would be a great way to get the fanbase excited again and given the time period it would be a nice contrast with The Rise of Skywalker. So Knights of the Old Republic is definitely a contender for the next big screen Star Wars movie.
Solo 2
Along with the divisive The Last Jedi, it's impossible to say that Solo: A Star Wars Story doesn't have a lot to do with the current state of Star Wars. After a troubled and consequently very expensive production, the second anthology film and first standalone character movie bombed at the box office, making less than half of what Rogue One did. This debacle seemingly changed the release strategy for Star Wars movies and may have eliminated any hope we have of seeing more standalone or anthology films on the big screen.
However, Solo's ills were not entirely its fault, especially given the release date, marketing, etc. Ron Howard's film is still fun and it probably deserves better than it got. There seems to be some real enthusiasm and demand to see another Solo movie among some of the fanbase. So while unlikely, it's not impossible Lucasfilm could give this one a mulligan and do Solo 2.
Alden Ehrenreich was signed on for three films and there was definitely a plan to tell more of this story before the first movie flopped. Having Solo 2 be the next theatrical Star Wars movie, even if it's in 2022, would allow Lucasfilm even more time to plot out its next steps. An anthology film like this would also be a great way to give audiences something of a breather before jumping back in to another trilogy or series of films.
Something Else
It's possible that none of these things will be the next theatrical film set in a galaxy far, far away. That's the mystery; we simply don't know what Lucasfilm's plans are. Even if one of the above entries isn't next, there are some other wild card possibilities that could slide in to one of the release dates Lucasfilm has carved out. These almost certainly won't happen, but hey, anything is possible.
We now know for sure, as has always been suspected, that the Obi-Wan Kenobi Disney+ series was once intended to be a movie. But what if it became a movie again? Each format has its own advantages, but one has to wonder if Obi-Wan becoming a TV show was a reaction to Solo. If so, it was an unnecessary one; Ewan McGregor's Obi-Wan Kenobi is something fans have been asking for and they'd see it regardless of the format. Obi-Wan has already been in the works, so why not just make it theatrical again? Heck, make it a trilogy of films.
Even less likely is finally doing the Boba Fett movie that Josh Trank was working on before he got fired. It seems pretty unnecessary now with The Mandalorian, but maybe that show will just get people excited for some big screen bounty hunter action.
What's next for Star Wars on the big screen after Star Wars: Episode IX? Why not Star Wars: Episode X? The Rise of Skywalker is the end of the Skywalker Saga and has been pitched as such, but things change and no franchise is ever really gone. This won't happen of course, Episode X may come one day, but it won't be anytime soon. Still, I had to throw it out there.
There are plenty of exciting possibilities for the next theatrical Star Wars movie, and it could be one of the above or none of them. We don't know what Star Wars' future on the big screen will be, just that it has one. For now we have The Rise of Skywalker to look forward to and then a break theatrically for a couple of years, which seems like a smart decision. There will be plenty of Star Wars TV to keep us occupied though, starting with The Mandalorian.
Star Wars: The Rise of Skywalker opens in theaters on December 20. Check out our 2019 Release Schedule to keep track of all of the movies coming out this fall and let us know in the poll below what you want the next theatrical Star Wars movie to be.
This poll is no longer available.
Nick grew up in Maryland has degrees in Film Studies and Communications. His life goal is to walk the earth, meet people and get into adventures. He's also still looking for The Adventures of Pete and Pete season 3 on DVD if anyone has a lead.
Your Daily Blend of Entertainment News
Thank you for signing up to CinemaBlend. You will receive a verification email shortly.
There was a problem. Please refresh the page and try again.