Scarlett Johansson And 7 Other Oscar Nominees Who Were Up For Two Acting Categories In The Same Year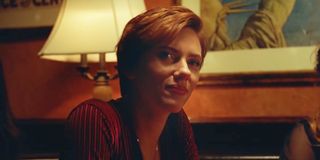 Much of the widespread acclaim Scarlett Johansson has received in the past year has come from both her lead performance in Marriage Story and her supporting role in Jojo Rabbit. The Academy seems to agree with the acclaim, nominating the actress for both roles in the Best Actress and Best Supporting Actress categories for the 2020 Oscars.
While this may seem like an unusual circumstance for awards shows, Scarlett Johansson is not the first actress to receive dual nominations simultaneously. In fact, several performers have had the honor of being nominated for an Oscars in a leading role and a supporting role in the same year without breaking any of the rules the Academy of Motion Picture Arts and Sciences has been known to be quite stern about.
With that in mind, what other actors and actresses have impressed the Academy enough to earn nominations in both acting categories in the same year? Has any actor ever taken home two Oscars in one night? We shall provide the answers here.
Scarlett Johansson
2020 - Best Actress: Marriage Story, Best Supporting Actress: Jojo Rabbit
Starting with the woman of the hour, Scarlett Johansson had quite a year in 2019 from the emotional, pre-solo-movie send-off of her MCU character, Black Widow, in Avengers: Endgame to her engagement to Saturday Night Live star and "Weekend Update" anchor, Colin Jost. Receiving nods in both the Best Actress and Best Supporting Actress category (her first ever Oscar nominations) for the 2020 Academy Awards puts a nice cap on things, so far.
Scarlett Johansson shares top billing with her onscreen husband Adam Driver in the Netflix original movie Marriage Story, director Noah Baumbach's darkly comedic tale of a marriage falling apart, and in Taika Waititi's Holocaust-era satire Jojo Rabbit, she plays Rosie, a woman hiding a Jewish girl in her home, despite her young son's devotion to the German Army. Both are roles of a challenging nature that exist in even more challenging worlds and either of which could finally see the illustrious actress taking home the gold for the first time in her decades-long career.
Cate Blanchett
2008 - Best Actress: Elizabeth: The Golden Age, Best Supporting Actress: I'm Not There
Cate Blanchett has the bragging rights of winning Oscars for Best Actress for 2014's Blue Jasmine and for her supporting role as Katharine Hepburn in Martin Scorsese's The Aviator in 2006. She also can claim to have been nominated in both of those categories at the same time.
The Australian actress has earned an Oscar nomination for playing Queen Elizabeth I twice, first for leading the 1998 biopic Elizabeth and the second for its sequel, Elizabeth: The Golden Age, in 2008, the same year in which she was nominated for Best Supporting Actress for playing Jude, a controversial male musician and one of the many characters inspired by different points in Bob Dylan's life in Toddy Haynes' experimental biopic I'm Not There. Cate Blanchett walked away without an award for either category that year, but at least can say she is one of only two women to be nominated by the Academy for playing a man, alongside Linda Hunt.
Jamie Foxx
2005 - Best Actor: Ray, Best Supporting Actor: Collateral
Jamie Foxx is the kind of multi-talented entertainer whose luck at awards shows is no surprise to anyone. Therefore, learning the Academy honored him with Oscar nominations for both Best Actor and Best Supporting Actor in 2005 is, in retrospect, nothing too mind-blowing either.
Jamie Foxx's Oscar-nominated supporting role in Michael Mann's thriller Collateral, as a cab driver taken hostage by Tom Cruise's cold contract killer Vincent, was seen as a major turning point in the former stand-up comedian's acting career, but it was his transcendent performance as blind music legend Ray Charles in the biopic Ray that earned him the top prize in the Best Actor category that year. Fun fact: Foxx was also nominated in 2005 for those same roles at the Golden Globes, as well as a third nomination for the made-for-TV biopic of a Crips member-turned-Nobel Peace Prize-nominee, Redemption: The Stan Tookie Williams Story.
Holly Hunter
1994 - Best Actress: The Piano, Best Supporting Actress: The Firm
Georgia-native and The Incredibles star Holly Hunter has been an Oscar darling since her first nomination for 1988's Broadcast News. However, she became Oscar royalty in 1994 when two different films earned her Best Actress and Best Supporting Actress nominations.
While she took home the Best Actress Oscar for her role as a mute New Zealand mother in an abusive arranged marriage in The Piano, Holly Hunter did not win for her supporting role alongside Tom Cruise in the John Grisham-novel inspired legal drama, The Firm. She must have been happy, at least, to have lost to her onscreen daughter from The Piano, a then 11-year-old Anna Paquin.
Julianne Moore
2003 - Best Actress: Far From Heaven, Best Supporting Actress: The Hours
Before winning her first Oscar in 2015 as a woman diagnosed with Alzheimer's disease in Still Alice, Julianne Moore had been nominated by Academy four times prior. Two of these nominations both occurred in 2003 for each respective actress category.
Coincidentally, both films that Julianne Moore had been nominated for that year involve LGBTQ+ themes. Her lead role in Todd Haynes' Far From Heaven is that of a 1950s housewife who starts an affair with a black man (Dennis Haysbert) after discovering her husband's (Dennis Quaid) closeted homosexuality. And in The Hours, she stars opposite Nicole Kidman and Meryl Streep as another 1950s housewife and one of three women of differing generations whose lives are all dramatically affected in some way by Virginia Woolf's novel, Mrs. Dalloway, which is famous for its allusions to lesbianism.
Al Pacino
1993 - Best Actor: Scent of a Woman, Best Supporting Actor: Glengarry Glen Ross
His career was already the stuff of legend early on with two nominations for playing Michael Corleone in Francis Ford Coppola's Best Picture-winning The Godfather films, as well as nominations for playing real people in crime dramas Serpico and Dog Day Afternoon. However, Al Pacino would not win his only Academy Award for Best Actor until 1993, the same year he was also nominated for Best Supporting Actor for another, which must be why he has been playing close variations of those same characters ever since.
Al Pacino was nominated for playing one of an ensemble cast of desperate businessmen feeling the pressures of the real estate industry in David Mamet's Glengarry Glen Ross, but took home the Oscar that year for his role as a blind retired army colonel aided by a young Chris O'Donnell in Scent of a Woman. Pacino would not receive another nomination until this year for his supporting role as Jimmy Hoffa in Martin Scorsese's The Irishman.
Emma Thompson
1994 - Best Actress: The Remains of the Day, Best Supporting Actress: In the Name of the Father
In 1996, Dame Emma Thompson received two Oscar nominations for the film Sense and Sensibility: one for Best Actress and the other for adapted screenplay, the latter of which she ended up winning. Two years earlier, she earned a nomination in each of the acting categories for two separate films.
Emma Thompson was nominated for Best Actress for playing a housekeeper in love with the head butler (Anthony Hopkins) of a Nazi sympathizer in the World War II-era Britain-set The Remains of the Day and for Best Supporting Actress as the attorney for a man falsely accused or being IRA bomber (Daniel Day-Lewis) in In the Name of the Father. She ended up going home empty-handed for either category in 1994, but, of course, it was not the beginning or the end of her Oscar glory.
Sigourney Weaver
1989 - Best Actress: Gorillas in the Mist, Best Supporting Actress: Working Girl
Sigourney Weaver's relationship with the Academy began in 1987 when she earned a Best Actress Oscar nomination for reprising her role as Ellen Ripley in James Cameron's action-packed sci-fi sequel, Aliens. She lost to Marlee Matlin for Children of a Lesser God, but got even more attention two years later with double acting nominations.
In 1989, Sigourney Weaver was nominated for playing murdered primatologist Dian Fossey in the biopic Gorillas in the Mist: The Story of Dian Fossey as well as playing Melanie Griffith's overbearing boss in Working Girl. While she did not receive the Oscar for either role, she won for both at the Golden Globes that year and even tied for Best Actress with Shirley MacLaine and Jodie Foster.
Scarlett Johansson could become the latest person (alongside Fay Bainter, Teresa Wright, Barry Fitzgerald, and Jessica Lange and others previously mentioned) to take home an Oscar after receiving nominations for both categories in the same year or, better yet, be the first to win both Best Actress and Best Supporting Actress in one night. What are her chances of pulling off such an unprecedented achievement? Check back for more updates on the Oscar race before the ceremony airs on February 9, 2020, here at CinemaBlend.
Your Daily Blend of Entertainment News
Jason has been writing since he was able to pick up a washable marker, with which he wrote his debut illustrated children's story, later transitioning to a short-lived comic book series and (very) amateur filmmaking before finally settling on pursuing a career in writing about movies in lieu of making them. Look for his name in just about any article related to Batman.
Your Daily Blend of Entertainment News
Thank you for signing up to CinemaBlend. You will receive a verification email shortly.
There was a problem. Please refresh the page and try again.