Doug Liman Teases A Super Complicated Story For The Edge Of Tomorrow Sequel Live Die Repeat And Repeat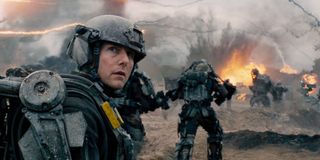 When Doug Liman was asked late last year about the status of Live Die Repeat and Repeat, the sequel to his widely loved and underseen 2014 film Edge of Tomorrow, the director seemed unsure that it would actually happen given all the variables involved. Despite that uncertainty, it seems that Doug Liman hasn't stopped working on the sci-fi sequel. Now Doug Liman is teasing the super complicated nature of the story for Live Die Repeat and Repeat. Take a look:
As you can see, there is clearly a lot of brainstorming going on by Doug Liman and company on Live Die Repeat and Repeat. They are basically running out of space and have used up at least three whole whiteboards to map out the story of the film and that's just what we can see. There are walls in this room that we can't even see in this picture that might also feature whiteboards covered in red and black ink, a sprawling and convoluted roadmap of where this sequel will take us.
'How many whiteboards is too many?' the director asks in his Instagram post. I believe the answer is that there is no answer. There is no upper bound limit on the number of whiteboards Doug Liman can have to map out the story for the Edge of Tomorrow sequel, so if it's one whiteboard or 100, it doesn't matter, just so long as this movie actually happens and we get to see whatever is on those whiteboards play out onscreen.
Of course, what is on those whiteboards is the most inscrutable and intriguing part of this picture. It's clearly time to do some googling and watch some YouTube videos to see if there's anyway to deblur those whiteboards and see what secrets they hold about Live Die Repeat and Repeat. Doug Liman obviously wanted fans to see that he's working on the film and how big it is, without actually offering up any real details.
Much of the writing on the whiteboards is blurred out, with the words that we can make out referencing story elements that we already know. We see the names 'Cage' and 'Rita' referring to Tom Cruise's Cage and Emily Blunt's character Rita who we presume will both be returning for the sequel. You can also make out the word 'Verdun', which is the site of the battle where Rita had the ability to reset time.
Could we be going back in time to see that? Doug Liman has previously indicated that the film would pick up where the original Edge of Tomorrow left off, serving as both a sequel and a prequel, so it's a good bet we're going to see Rita wreck shop at Verdun.
We don't know what the exact story is for Live Die Repeat and Repeat, but whatever it is, judging by the overflowing whiteboards, it is poised to be super complicated and perhaps 'revolutionary'. Time travel stories are often complicated so it makes sense that this sequel would be. The whiteboards actually remind me of the often-used 'Pepe Silvia' meme from It's Always Sunny in Philadelphia, which you can see below.
Yeah, that's pretty much how I feel trying to decode the mysteries here. Now it's just a waiting game. As far as we know the script is all done and was re-written earlier last year by Matthew Robinson, who you can see in the Instagram image. It seems that the real impediment to Live Die Repeat and Repeat is freeing up the schedules of the film's two very busy leads.
Even if we have to wait a bit, it's good to see that Live Die Repeat and Repeat is still very much in development and when it arrives we are likely in store for a complicated and mind-bending sci-fi story.
We'll keep you updated on Live Die Repeat and Repeat as news develops. In the meantime, check out our 2020 Release Schedule to see what movies you can look forward to this year.
Your Daily Blend of Entertainment News
Nick grew up in Maryland has degrees in Film Studies and Communications. His life goal is to walk the earth, meet people and get into adventures. He's also still looking for The Adventures of Pete and Pete season 3 on DVD if anyone has a lead.