Did Ezra Miller's Movie Flash Just Get His Nickname In The Weirdest Way Possible?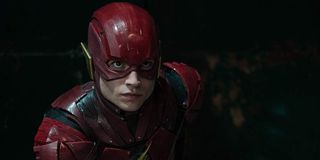 Warning: SPOILERS for the "Crisis on Infinite Earths" CW crossover event are ahead!
Starting last month and concluding last night, The CW's "Crisis on Infinite Earths," stretching across Batwoman, Supergirl, The Flash, Arrow and Legends of Tomorrow, saw the entire Arrow-verse, just like the DC Comics universe was by the original "Crisis" in the 1980s, being permanently changed. Worlds lived, worlds died, and nothing will ever be the same. During the course of this crossover, we were treated to numerous cameos and special appearances, but arguably the most shocking of them all came during the Arrow portion, as out of nowhere, Ezra Miller's Flash showed up and briefly spoke with Grant Gustin's version of the Scarlet Speedster.
In the grand scheme of things, the appearance of Ezra Miller's Flash was hardly integral to the "Crisis on Infinite Earths" storyline, but considering how for years it seemed like the DC Extended Universe would never connect to the DC TV universe on The CW, it was a welcome treat for fans like myself. And if you pay close attention, it appears that this brief interaction between the two Flashes is what leads the Miller incarnation of Barry Allen decides to start using that superhero moniker.
What We've Seen Of Ezra Miller's Flash So Far
Before delving into Ezra Miller's Flash showing up on "Crisis on Infinite Earths," let's go over his movie appearances. This Barry Allen first appeared in Batman v Superman: Dawn of Justice in two ways. First, after experiencing his Knightmare, Ben Affleck's Batman was greeted by a future version of Flash, who seemingly hailed from that same apocalyptic timeline, told Bruce that Lois Lane was "the key" and instructed him to find "us," i.e. his future Justice League teammates. Later in the movie, security camera footage of present day Barry Allen using his super speed to foil a convenience story robbery was shown as part of Lex Luthor's metahuman files.
Several months after Batman v Superman's release, this in-costume Flash cameoed in Suicide Squad to apprehend Captain Boomerang, but it was almost a year and half later that he finally made his first full appearance in Justice League. Although Barry Allen was comfortable enough using his powers to foil small time crime and ambush average criminals, he was nervous about entering real combat against Steppenwolf and his Parademon army. Batman advised that Flash just focus on saving one person and go from there, and that did the trick. By the end of the movie, in addition to having gained a job at the Central City Police Department, he seemed more comfortable in his role as a swift protector of humanity.
That's the last we've seen of Ezra Miller's Flash so far, though he's expected to return in the near future, which we'll get into more later. However, with Justice League taking place in early 2017, and assuming that "Crisis on Infinite Earths'" latter half occurs in early 2020, that means that Movie Flash has been rushing around keeping people safe for three years, and that's on top of the time he'd accumulated pre-Justice League.
How Ezra Miller's Flash Got His Superhero Identity
Movie Flash and TV Flash came face to face during "Crisis on Infinite Earths" Part 4 when the latter was racing through the Speed Force and ended up in a recreation of his S.T.A.R. Labs. It's unclear why Movie Flash ended up there too and we may never learn the reasoning, but nonetheless, these Flashes came face-to-face and had a fun back-and-forth before Ezra Miller's Barry Allen disappeared.
But before comparing costumes and Movie Flash learning that the multiverse exists, TV Flash identified himself as "also The Flash," and his cinematic counterpart didn't recognize the name. However, after a few seconds of thought, Ezra Miller's Barry Allen repeated "Flash" in a way that suggested he liked the sound of it. Thinking back, his Barry is never referred to as Flash once in Justice League, and even though he created a costume that resembled what his TV counterpart and so many other Flashes in the multiverse wear, he never bothered to come up with a superhero identity for himself. That's no longer an issue!
What Does This Mean For The Flash Movie?
Although the DCEU has embarked on a new path that's focused less on interconnectivity and more of the unique vision of filmmakers, there are still some remnants of the original DCEU intact. Gal Gadot's Wonder Woman and Jason Momoa continue to lead their own film series, and despite numerous delays, the Ezra Miller-led Flash movie is still in development. "Crisis on Infinite Earths" producer Marc Guggenheim told Variety that Warner Bros president Peter Roth called him as the crossover was being completed to ask if Miller could be included, so if a head honcho like that was willing to make the effort, one would surmise Movie Flash's future is still deemed important.
As things stand now, The Flash movie will be directed by IT's Andy Muschietti, and he recently said that the movie will be a "different version of Flashpoint than you're expecting," referencing that 2011 comic book storyline where Barry Allen was front and center. Will the events of "Crisis on Infinite Earths" play at all into The Flash movie? It's extremely unlikely, although the prospect of seeing Grant Gustin's Flash cameo is certainly enticing. That said, now that Movie Flash has met his TV counterpart and we can assume that the DCEU is among the various realities that exist in the new multiverse, he can go forward with a superhero name that the public can refer to him by.
Of course, no one in the DCEU knows he's identifying himself as Flash now, so at some point the masked Barry Allen will need to slow down and name drop in front of some people, and they can pass it on to the media. That's something that can easily happen offscreen so that by the time the events of The Flash unfold, the public has known him by that name for a while. And hey, if there comes a time when Movie Flash and TV Flash can have a proper team-up, judging by the reactions to the cameo last night, a lot of fans would be game for that.
The Flash is now scheduled to hit theaters on July 1, 2022, so keep checking back with CinemaBlend for updates on its development. In the meantime, you can keep up with the exploits of the TV Flash Tuesdays at 8 p.m. EST/PST on The CW, and if you're curious about what other DC movies are coming down the pipeline, check out our comprehensive guide.
Connoisseur of Marvel, DC, Star Wars, John Wick, MonsterVerse and Doctor Who lore. He's aware he looks like Harry Potter and Clark Kent.
Your Daily Blend of Entertainment News
Thank you for signing up to CinemaBlend. You will receive a verification email shortly.
There was a problem. Please refresh the page and try again.