The Arrow-verse's Huge Crisis On Infinite Earth's Casualty Is 'Really Dead This Time,' According To Showrunner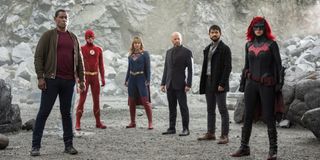 Warning! Major spoilers ahead for the Arrow-verse crossover, "Crisis on Infinite Earths."
The final two episodes of the Arrow-verse's epic crossover, "Crisis on Infinite Earths," offered up a different version of the multiverse, one that included a newly minted Earth-Prime — which combined The Flash and Arrow with the earths of Supergirl and Black Lightning. Stephen Amell's Oliver Queen was instrumental in defeating the Anti-Monitor and sacrificed himself again to do so. But, if you're still wondering whether or not he's truly gone, Arrow showrunner Beth Schwartz confirmed that Oliver is "really dead this time." Here's what she had to say about his death and journey:
Beth Schwartz makes some great points. All eight seasons of Arrow have been leading up to Oliver's ultimate demise and, after a long hero's journey, he was at peace leaving the world behind knowing heroes like Grant Gustin's The Flash and Melissa Benoist's Supergirl would still be around to keep everyone safe.
Besides, the emerald archer died not once but twice over the course of "Crisis on Infinite Earths," which delivered a huge DCEU connection, and it would have made little sense to keep bringing him back. However, even though Oliver Queen is dead for good this time, there are still two episodes of Arrow left before the show wraps its storyline.
In an interview with THR, showrunner Beth Schwartz was asked whether "Crisis" was the last viewers saw of Stephen Amell on Arrow and she didn't beat around the bush.
Interesting. I'm looking forward to seeing how Arrow manages to pull that off and what Oliver's role will be before the curtain closes for good on his story. Prior to the series finale, however, the ninth episode in Arrow's eighth and final season will serve as a backdoor pilot to the planned spinoff Green Arrow and the Canaries. The episode will follow Oliver Queen and Felicity Smoak's daughter Mia and both versions of the Black Canary, Dinah Drake and Laurel Lance, in a post-"Crisis" future.
Arrow returns with a new episode on Tuesday, January 21 at 8 p.m. ET on The CW. The series finale is set to air on January 28 at 9 p.m. ET and will be preceded by an hour-long special. For more on what to watch, be sure to check out our complete 2020 midseason schedule for premiere dates and times.
Your Daily Blend of Entertainment News