Star Wars: Rise Of The Resistance - 3 Cool Discoveries We Made Touring Galaxy's Edge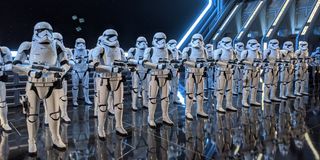 While the release of Star Wars: The Rise of Skywalker last month might have brought the Sequel Trilogy and the Skywalker Saga to an end, the legacy of the franchise still very much continues. This is true for many reasons, as there are still multiple movies and shows that are in the works for the coming years, but one of the most significant is the existence of Galaxy's Edge at Disneyland. Since opening last year, the theme park has offered fans around the world a totally immersive experience unlike anything found anywhere else (other than Disney World, of course) – and now things have gotten even better at the California location thanks to the opening of a brand new ride.
This week marks the official opening of Star Wars: Rise Of The Resistance in Disneyland, a brand new ride available to anyone in the park, and in advance of this big debut, I had the wonderful pleasure of traveling to Galaxy's Edge this week for an early look. In addition to getting to ride the ride three times during my excursion, I also had the chance to walk around and experience the place, and during my stay, these are the three coolest discoveries that I made:
Rise Of The Resistance Is A Great Ride, And Worth Multiple Go-Rounds
In the months since Galaxy's Edge first opened, Smuggler's Run has been the only Star Wars-themed ride available in the segment of the park (with Star Tours still over in Tomorrowland), but Rise Of The Resistance officially doubles that total. Because of this, it's likely that the new attraction is going to have some seriously long lines for quite a while – but the best news that I can deliver to you at this point is that it's very much worth the wait.
While it's not a scream-at-the-top-of-your-lungs-while-you-get-ready-to-lose-your-lunch kind of ride, but it's still exciting and exhilarating all the same. It begins with a great walk through, as you are initiated as a member of the Resistance preparing to take a transport to the organization's secret base. Once you get into space, however, you're met with First Order forces, and after being pulled on to a Star Destroyer via a tractor beam, you must find your way to an escape pod so that you can get away.
Set between the events of Star Wars: The Last Jedi and Star Wars: The Rise Of Skywalker, the ride features a number of excellent cameos from notable characters – including Daisy Ridley as Rey, John Boyega as Finn, Oscar Isaac as Poe Dameron, Domhnall Gleeson as Admiral Hux, and definitely-not-Adam-Driver as Kylo Ren, and the whole experience is outfitted with incredible sets and animatronics. For any Star Wars fan, it's a pretty incredible thing to walk out on to the hanger bay of a Star Destroyer, or zip around the legs of an AT-AT.
You can watch me discuss Star Wars: Rise Of The Resistance and get an inside look at the ride itself by clicking play on the video below.
Also, while it may not really be an option for many at this point given the long lines that currently exist for Star Wars: Rise Of The Resistance, it should be acknowledged that this is a ride that is really fun to go on multiple times. There are four different cars going at the same time during any given run to escape the Star Destroyer, and each of them offer a slightly different experience for riders (though you can't exactly choose which car you get on, and you don't exactly feel comfortable asking for a preference when the First Order officers are barking orders at you).
Even if you wind up doing the exact same thing twice in a row, however, it's still a whole lot of fun. Star Wars: Rise Of The Resistance is absolutely a great addition to the activities at Galaxy's Edge.
The Play Disney App Offers A Whole Extra, And Great Experience
On beyond the adventure that is Rise Of The Resistance, and the experience of flying the Millennium Falcon on Smuggler's Run, Galaxy's Edge is not entirely unlike a very Star Wars-centric mall. Sure, it looks amazing, and the dedication to detail is tremendous, but photo ops are basically the only thing that isn't going to cost you at least some money in the theme park, as every establishment – be it store, restaurant, or snack bar – has a "cash for entertainment" exchange involved.
If that doesn't sound all that attractive to you and/or you're trying to stay on a budget, then you should try give Galaxy's Edge a whirl while playing around on your smartphone, as that's shockingly not as lame as it sounds or you'd think it would be. Prior to going to the park, you can download the free Play Disney app, and using it on the ground on Batuu you'll discover a whole other level of interaction with the environment that you may not have known you could have.
Within Galaxy's Edge, there are many functions that the Play Disney app serves, transforming your smart phone into what's called a Datapad. Wandering around the park and following instructions and prompts from the screen, you can discover and solve puzzles by "hacking" computer terminals and pieces of technology; you can scan particular symbols posted all around that deliver you "secret" information, and you can use it to translate the fictional Aurebesh language that is used on various signs and locations all over the place. Utilizing these tools helps you earn digital credits, and unlock puzzle pieces of larger mysteries.
And that's just the app's Tools section. You can also dive deeper into the whole experience that is Galaxy's Edge by choosing a side – the Resistance or the First Order – and then accomplish various "jobs" that will help your chosen organization. Serving like a scavenger hunt prompt, it gives you places to visit and tasks to accomplish, providing you a cool activity that costs you nothing beyond what you paid to get into Disneyland.
It's fun that can be enjoyed individually, or by a group, and like basically everything at Disneyland, it's enjoyable for all ages.
How To Get A Super Cool Thing For Free If You're Already Spending Money
While that last section was for folks looking to go to Galaxy's Edge without destroying their personal financial situation, this one is more for those of you who are ready to go in and spend some cash at the place. After all, there are a lot of amazing, exclusive things to buy if you're a dedicated Star Wars fan.
In recent months, the internet has been filled with stories about people building their own lightsabers, constructing their own droids, eating and drinking a variety of themed foods, and getting all kinds of various knick-knacks from the various establishments in the park. But while some of those things can be purchased/done for under $50, if you go in planning to spend north of $100, you should really consider performing a currency change: American cash for Batuuan Spira.
Batuuan Spira is the official currency of the planet Batuu, and what they are in the real world context of Galaxy's Edge is a gift card that you have to fill with a minimum of $100. You simply have to go to a cashier, tell them how much money you want to load on to the card, and then after your total is paid they will give you a six-sided metal coin that comes in a paper envelope (pictured above).
You can then use the coin as you would any gift card as you continue to shop throughout the day, simply handing the coin to the cashier when you are ready to check out. You use it until it's empty (if you go over on a purchase, you simply pay the extra balance with cash or card), and then you get to keep coin as a souvenir/memento of your trip. Because you don't actually pay any extra money when loading cash on to the coin, it's technically free… which is not something, as noted earlier, that's true about 99% of things in Galaxy's Edge.
Are you going to Galaxy's Edge with the intent to purchase a $100 Build-A-Droid? Do yourself a favor and get a Build-A-Droid and a Batuuan Spira coin. Planning on getting a $200 custom lightsaber? Then get two Batuuan Spira coins! If you're spending the money no matter what, you might as well get a freebie out of it.
These are just some of our favorite discoveries at Galaxy's Edge – but we're sure you've made some of your own as well in recent months. Hit the comments section to tell us about your own tips and tricks around the Disney park, and stay tuned here on CinemaBlend for more news and updates about what's going on at the special Star Wars lands in California and Florida.
Assistant Managing Editor
NJ native who calls LA home and lives in a Dreamatorium. A decade-plus CinemaBlend veteran who is endlessly enthusiastic about the career he's dreamt of since seventh grade.
Your Daily Blend of Entertainment News
Thank you for signing up to CinemaBlend. You will receive a verification email shortly.
There was a problem. Please refresh the page and try again.