Disney World: Which Star Wars Galaxy's Edge Ride Is Best?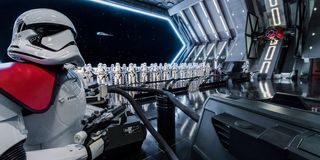 (Image credit: Walt Disney World)
There are not one, not two, but three Disney World rides dedicated to Star Wars. Two of them are in the elaborate and must-see Star Wars: Galaxy's Edge, and all are available to ride in Disney's Hollywood Studios. Each one is a great homage to a fantastic franchise, but which among the three is the best?
Honestly, that's an impossible question. Each ride is like comparing apples to oranges, as people are looking for different things from their theme park ride experience. With that said, here's a breakdown of each ride, its strengths, and the type of experience to be expected for anyone wondering which one they'll like the most should they get a chance to ride any one of them in the near future.
Star Wars: Rise Of The Resistance
If Batuu being canon wasn't enough of a monument to the sequel trilogy, Star Wars: Rise of the Resistance absolutely legitimizes it. This ride starts with the queue, as ride-goers play Rebels captured by the First Order who are captured only to make a daring escape courtesy of Finn and the Resistance. By the time one even sits on the ride, they'll already feel fully immersed in the experience.
This trackless ride sends riders on two unique paths, as they attempt to complete their escape from the First Order star destroyer and Kylo Ren. The ride utilizes a mix of animatronics and projection effects, which combine to make an experience that feels truly immersive and, at times, kind of stressful. It all ends with a daring exit in an escape pod, and a crash landing back on Batuu where Rebels wait to congratulate the rescued spies.
On a scale of classic Disney park ride to thrilling roller coaster, Star Wars: Rise of the Resistance is somewhere in between. There is definitely a couple thrilling drops and moments, but the narrative of the ride itself is the focus. Those who can only handle the most basic of carousel rides might get a little spooked on this one, but should totally try to brave through it anyway for this incredible Star Wars experience. That said, if you can't handle any sorts of drops or intensity, this may not be the one for you.
Millennium Falcon: Smuggler's Run
The first ride to grace Galaxy's Edge, Millennium Falcon: Smuggler's Run utilizes the most iconic ship in the Star Wars universe. Riders get a chance to pilot the Millennium Falcon on a mission to obtain coaxium in a joint job with the Ohnaka Gang. The adventure is perilous and rife with danger, but can a low-down group of smugglers really expect anything different?
Smuggler's Run is motion simulated, with six seats open for different riders. Two will drive, two will shoot, and two serve as engineers to repair the Falcon during the job. Riders beware, you are actually in control of the ship and must collaborate with your team in order to get the highest score on the job. Those who don't have 6 people available needn't worry, the ride automates any roles that aren't filled at the start.
Millennium Falcon: Smugglers Run has shaking and feels like you're in an actual ship, though I'd say this is more of an interactive experience than a traditional ride. It's almost like playing a really expensive arcade game that takes over for you if you start to fail miserably. For those that come to Star Wars: Galaxy's Edge for the immersion, how can anyone pass up a chance to fly the Falcon? To call this a ride is a bit of a stretch though, it's more akin to a super cool simulator.
You May Also Enjoy Star Tours
While not a part of Star Wars: Galaxy's Edge, Star Tours and the other rides are all technically a part of Walt Disney World's Hollywood Studios theme park. Given that this Disney World ride is in such close proximity to Star Wars: Galaxy's Edge, it feels wrong not to make mention of it and its role as the sole Star Wars ride for so many years.
Star Tours is an oldie, but a goodie certainly worth exiting Star Wars: Galaxy's Edge for. Riders plop down in the seats of a "ship" with C-3PO and R2-D2, but things quickly derail when a Rebel "spy" is spotted on the ship. The crew then disembarks on a journey throughout several different parts of the Star Wars universe. Beyond the droids, there's a good chance ride goers will run into a handful of other popular characters from the Star Wars saga.
One of the coolest things about Star Tours is that a person can ride the Disney World ride several times and walk out with an entirely different experience. There are 18 (with more to come) different segments to be experienced, of which riders will experience 4 of those scenes before their ride is complete. It's a great ride for all ages, though the thrill of the ride is practically that of a 4-D theatrical experience.
Why Not Ride All Three?
All three rides are in close proximity, and walking between Star Tours and Star Wars: Galaxy's Edge is easily done. Theoretically, someone who has no issues with the varying extremity of rides could ride all the rides in one day, though it would take a considerable amount of planning to pull it off. It's not an impossible task, but depending on the crowds, it takes a lot of luck and dedication to make it work.
Honestly, Star Tours and Millennium Falcon: Smugglers Run is entirely doable in a single day. Ride waits may vary depending on the day and time, but keeping an eye on the Disney World app at ride wait times or using a Fast Pass will ensure attendees aren't spending any more time than they need to between rides.
The real challenge of this process is getting a seat on Star Wars: Rise of the Resistance, which admittedly, isn't easy. The Disney World ride has been reaching capacity in its opening months in the park fairly quickly, and attendees are currently unable to utilize Fastpass+ to ride. The only way to board is through a virtual queue, and anyone wanting to ride has to be quick to the draw to get in.
If a Disney World attendee gets into Star Wars: Rise of the Resistance, then riding all three rides shouldn't be an issue in a full day. It's not entirely necessary for the ultimate Disney World Star Wars experience as there's still plenty of great things to enjoy at Galaxy's Edge, but still a great boast to share with other Disney enthusiast if it can be done.
7 Crazy Ways To Get Permanently Banned From Walt Disney World
Of the three options, which is the ultimate Star Wars ride at Disney World? Share your thoughts in the comments below and be sure to stick with CinemaBlend for more theme park news and other goings on in television and movies.
Your Daily Blend of Entertainment News
Mick likes good television, but also reality television. He grew up on Star Wars, DC, Marvel, and pro wrestling and loves to discuss and dissect most of it. He's been writing online for over a decade and never dreamed he'd be in the position he is today.
Your Daily Blend of Entertainment News
Thank you for signing up to CinemaBlend. You will receive a verification email shortly.
There was a problem. Please refresh the page and try again.