That Time Taika Waititi Said He'd Be 'Fired Within A Week' If He Made A Star Wars Movie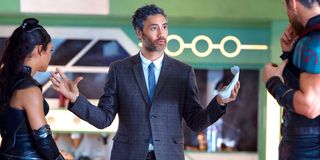 Taika Waititi has definitely proven he has what it takes to helm a blockbuster. So maybe it shouldn't be a surprise that Disney is reportedly trying to lock him in to direct an upcoming Star Wars film. It might be a shocker for the director, though. After all, a few years ago, he thought he'd be fired within a week if Disney ever hired him for the beloved series.
Let's set the scene: It's September 2017. Phil Lord and Chris Miller have been fired from Solo: A Star Wars Story. Colin Trevorrow has just, erm, mutually parted ways with the production team on Star Wars: Episode IX. Taiki Waititi is getting ready for the release of Thor: Ragnarok. And someone on Twitter brings up the idea of him taking on a Star Wars film next. His response? "Lolz. I like to complete my films."
Okay, so that was maybe a little bit of a harsh dig, given the circumstances. But he quickly clarified with a follow-up tweet:
Given the studio's track record up until that point, it was a fair assumption to make. He later told Uproxx why he'd been so flippant about the idea, doubling down on his stance that he was just scared of losing such a huge job once it was in his grasp:
Despite Taika Waititi's early reservations, Lucasfilm's president Kathleen Kennedy was on board with bringing him into the fold. In December 2017, she revealed that she'd been impressed with what he did with Thor: Ragnarok and would love to have him direct a Star Wars film.
Back then, the future of the franchise was uncertain, given the shake-up of two key creative teams. Now, it seems to be on equally shaky ground, as the studio tries to determine what direction it will take Star Wars in next. The lackluster response to Star Wars: The Rise of Skywalker from both fans and critics probably isn't helping. On the other hand, the positive response and buzz surrounding The Mandalorian is a promising sign that there could be more good things to come.
And perhaps that's part of the reason Taika Waititi may be tapped for a future film. He ended up taking the plunge into the Star Wars universe after all, both voicing a character and directing an episode of the Disney+ series. So, ironically, instead of getting fired, it looks like he may end up being promoted.
Your Daily Blend of Entertainment News