Dolittle's Robert Downey Jr. Reveals The Animal He'd Most Like To Talk To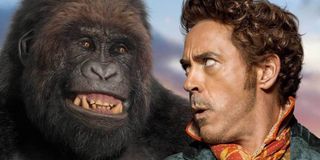 Robert Downey Jr. has cultivated a life-long love of the animal kingdom. So you might say that his role in Dolittle was a long time coming. He may not be able to talk to animals in real life (okay, he definitely can't), but he did recently reveal which one he'd like to talk to the most.
During an interview with Parade magazine, RDJ had an extremely RDJ-esque response to a question about which animal he'd choose to talk to if he had Dolittle's powers:
Okay, that's a little out-of-left field, but nonetheless fair. The actor also opened up about the fact that animals have been a big part of his life. He and his wife (and Dolittle producer) Susan Downey currently play host to a wide variety of animals, including alpacas, pygmy goats, chickens, Oreo cows, kunekunes, and two cats.
And it turns out he's been surrounded by animals for most of his life, as he grew up in a pet-loving household, too:
Robert Downey Jr.'s proximity to animals almost definitely played a role in his decision to take on Dolittle (so did the fact that he wanted to make a film he could show his kids). And even though the film is designed to be family friendly, the actor told Parade that it does have a deeper meaning. It deals with some heavier themes, too -- in Dolittle, the doctor isolates himself after his wife dies tragically. With the help of his animal friends, he's able to overcome his agoraphobia and anxiety in time to help Queen Victoria find a cure for the illness that may kill her. RDJ thinks the movie is about empathy and communication. Or, to put it more succinctly:
Though Dolittle gets to do all of those things with some fascinating animals throughout the film, RDJ didn't get the chance to talk to any of them himself. All of the creatures on screen in Dolittle are completely computer generated, and voiced by actors like Tom Holland, Emma Thompson, John Cena, and Rami Malek. There aren't any Gila monsters, seeing as how they're extinct. But the titular doctor's menagerie does include a macaw, a gorilla, a polar bear, and a duck.
Dolittle is currently playing in theaters. Check out the other exciting movie releases coming in 2020.
Your Daily Blend of Entertainment News