Bad Boys For Life Just Passed A Box Office Milestone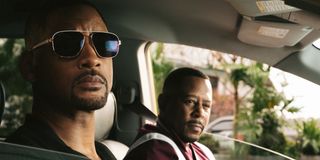 Fans waited years for Bad Boys For Life. So in retrospect, it should come as no surprise that the movie had a big opening weekend. It looks like it may have some staying power, too. Just two weeks into its domestic run, it's already hit a major box office milestone.
According to The Wrap, Bad Boys For Life will cross the $100 million domestic box office threshold this weekend -- a solid accomplishment for a film that's only been out for two weeks. The third installment of the popular '90s franchise brought in $68 million its first weekend. It broke the record for the biggest opening day in January and far exceeded box office estimates -- and now, the good news keeps coming.
Since the film is rated R (for good reason), hitting the $100 million mark seems like an even bigger accomplishment. But Bad Boys For Life, which brings Martin Lawrence and Will Smith back together for the first time since 2003's Bad Boys II, does have many of the markers that indicate it could become one of 2020's first blockbusters. Critical reception has been mostly positive, and it's earned praise for its entertainment value, the lead actors' charisma, and it's effectiveness at reinvigorating the franchise. It received an A rating on CinemaScore, and currently has a 97% audience score on Rotten Tomatoes.
It's easy to understand why the reaction has been so positive. It reunites Detectives Mike Lowery and Marcus Barnett in a gripping, action-packed quest to bring down a Miami drug cartel. Though the film boasts a pretty wild twist, and Will Smith made it clear they wanted it to feel like a "modern" story, Bad Boys For Life also offers plenty of the elements that made the first two films so successful. In other words, it walks a fun, exciting line between leaning into nostalgia and bringing the franchise into the current day. It's easy to see why fans are showing up in droves.
Now that moviegoers have shown they haven't left the Bad Boys franchise behind, it seems like there's ample opportunity to keep the story going. There are already reports that Bad Boys 4 may be in the works. And there's also the ongoing spinoff series L.A.'s Finest, which could both keep fans engaged and later be integrated into the film franchise.
Though Bad Boys For Life's success is certainly noteworthy, it's also worth pointing out that another buzzed-about film will also cross the $100 million line. Sam Mendes' World War I drama 1917 has also found considerable success at the box office, propelled by big wins at the Golden Globes and its current status as an Oscar frontrunner. We'll be interested to see if word of mouth continues to propel both films to box office success in the coming weeks.
Your Daily Blend of Entertainment News
Your Daily Blend of Entertainment News
Thank you for signing up to CinemaBlend. You will receive a verification email shortly.
There was a problem. Please refresh the page and try again.